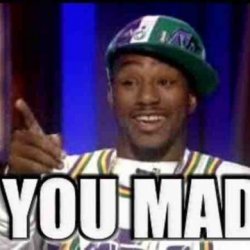 UABuckeye
Member since 24 January 2012 | Blog
Favorites
SPORTS MOMENT: LeBrons' 1st NBA Championship, FC BARCELONA BEATING REAL MADRID 5-0, 2009 WORLD SERIES, USA BEATING ALGERIA IN WORLD CUP, 2008 USA MENS BASKETBALL TEAM BEATING SPAIN, 12-0.
COLLEGE FOOTBALL PLAYER: BRAXTON MILLER
COLLEGE BASKETBALL PLAYER: College B-Ball is trash B.
NFL TEAM: Atlanta Falcons
NHL TEAM: WASHINGTON CAPITALS
NBA TEAM: Cavs
MLB TEAM: NEW YORK YANKEES
SOCCER TEAM: FC BARCELONA
Recent Activity
Haskins is the only one w/ NFL potential. I think Burrow and Martell end up transferring.
I expect players to be paid because I'm not okay w/ a university or any other entity stealing labor.
Can we get a running thread of demario pics somewhere before the season starts?????
This 2018 class is gonna be a doozy. Emory still taking visits. L'christian Blue CB'd to Kentucky. Dallas Gant high on Notre Dame. Gonna be a rough ride til signing day.
Theres def pressure on Meyer to land him. Top player in the state at a position of need. Cant lose this one.
I don't think we have a better QB on the roster and no, JT isn't elite.
Im surprised they used the extra scholly on him instead of Lynn Bowden
Yea hiring a guy who's allegedly abused players should be unacceptable
Martell will probably have the most arm talent of anybody on the roster until Emory Jones gets to town.
Yea but one of Birms sources is Pantoni
The theory about it just being a smoke screen doesn't hold up if you think about it. If he wanted to drum up fake tension he could just mislead the guys who cover this stuff directly but different writers are pulling this stuff from sources and not him.
Chalk this one up to limited schollies
JT in front of any of these guys is absurd.
I'm honestly okay w/ this brief period if it means a more developed youth system. One w/ players that come out of the academy w/ skills instead of just being try hards.
I don't think we should fire him. Theres no one we can get thats any better. We're not being tactically overmatched, we lose because we don't have the talent to win.
I wasn't impressed w/ the defense. Secondary played well but the front 7 was very very average.
Never mind. Read that wrong.
I am deeply concerned about DL. The misses, at DT, in recruiting may catch up to them this year.
Jurkovics mechanics need a lot of work. That release is gonna be a big repair project.
NFL draft coverage will help this class.
My point is that it's silly to make "hottake" character summations about people you don't know. He has enough character to lead a team to a 17-2 record. A team that lost its best WR before the season and started Mike Remmers at Tackle. That's not adversity?
If Mike Remmers doesn't play like Von Millers personal turnstile you aren't even having this conversation. Cams personality didn't lose the Super Bowl Mike Remmers did but I don't see any #hottake "character evaluations" about him.
Going 17-2 and doing doing things for kids doesn't make you great but answering arbitrary questions after a football game does? Sure lol.