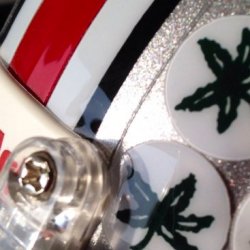 typeOHpositive
---
Monroe, OH (via Cincinnati)
MEMBER SINCE December 19, 2013
I've been a Buckeye fan for as long as I can remember....grew up with my Dad rooting for the Bucks during the end of the Woody era and have bled Scarlet and Gray ever since.
Favorites
SPORTS MOMENT: Beating Bama in 2015
COLLEGE FOOTBALL PLAYER: Chris Spielman, JT Barrett, Archie G and John Simon (all fierce competitors)
NFL TEAM: Bengals
NHL TEAM: 'Jackets
MLB TEAM: Reds
Recent Activity
What if Grandma had balls?
Welcome. Remember we are a bit like brothers/sisters here, we can argue w/each other at times but we don't when it comes down to Ohio vs the world we are united.
I do agree with that, I rarely, if ever listen to it anymore because of what you stated.
It reaches a ton of people, it's a powerful station that serves the majority of the Southern Ohio markets. It's not national news but to Ohio and when related to Ohio sports it's a big station to announce it....that's all I was saying, if you don't agree that's fine.
what I heard Seg D say on WLW was exactly what I typed, so true or not I was a bit shocked to hear them pretty much say it's so.
I was shocked to hear it actually announced (by Seg D on 700 WLW for those in the Cincy area).
I watched the Fiesta Bowl in SkyCam mode and will watch this the same way, love seeing that angle, you see the holes better, the spacing, the routes etc plus you get replays if you want to see the standard angle....BONUS: only crowd and PA announcer, no other announcers that grate on my nerves the entire time.
Great post....I've directed so many fans to this site as the definitive Buckeye site....content and format are unmatched....other sites just don't compare.
With the success of OSU running backs why is there a problem landing one of the best in the country, can someone let me in on why running backs aren't set on coming here year after year?....what am I missing?
I see no comparison in my mind, in order to win a conference Championship in the BIG for example you really can't lose more than a game at most, it's very hard, you have to be on every week, to me it's much more of an accomplishment than being 10-6 and making the playoffs....the stakes are so much higher in CFB....we are spoiled as Buckeye fans but it almost makes watching the season a burden because there is no joy in winning because the issue is always "we won, but we have to win the next one", over and over....it's an emotional drain sometimes, but in the end if you win the Natty is it unparalleled and means so much more than a conference title or super bowl....just my opinion.
I'm sorry but anybody thinking he's coming back needs to just stop....HE'S GONE!
When I thought Chewy died I was pissed, of all characters to be knocked off that one hit me hard....of course he was alive but damn!, for those minutes afterward I was ready to walk out...he was by far my favorite.....loyal, tough, selfless, the best shot and loved by all.
Actually we are Scarlet and grAy.
Gray on sleeves is Fire. Black shoes are fire. No huge BIG logo on the jersey would be fire. Black numbers on shoulders are fire but could be a little thicker.
Field looks great the way it is but with a bit more gray.
Any stripes that are on the uniform, that are supposed to be alike should all have the same thickness, when they don't it looks sloppy as hell.
I really like the updated logo that they put in about 6-7 yrs ago, I didn't at first but it's clean and is instantly Ohio State.
in the end just win!
We get caught up in who was best, what's the order, etc.... but it's all relative, how long did they play, how many carries, how good/bad was the line blocking for them each year, how good was the passing game, etc...it's so hard to actually tell "who was the greatest".....I'll say this though, we have been spoiled with beasts at running back for decades and JK is one of them!
Getting your ass beat by a better team is so much easier to take than this loss, but this absolutely sucks as we were clearly the better team!!...yes the Bucks left some plays on the field, made some mistakes but I bet if you examine it from the Clemson side they did too, it pretty much evens out in that department, in this game the officials were the difference because it was such a close game, and that is just unacceptable.
I also thought about those playing their last game and to have it end that abruptly, when you play the semi-final you don't have the knowledge that it's your last game and to have it just be over with no way to mentally prepare for it has to hurt.
in the end, I love our Buckeyes, football is not the most important thing on Earth of course, but I also know that many people going through struggles, in the military, dealing with illness, dealing with life, etc., love the Buckeyes and it is a necessary distraction from the everyday, so for those reasons it really does matter. I proudly put on my Buckeye gear yesterday and will always do so.
PS: **** ttun and **** Dabo
"posed a lot of interesting points like .....where did Snoke come from"....sure and then they killed him off unceremoniously in TLJ and it meant nothing. That movie was a trainwreck imo....but, I did buy tickets for Christmas Eve for the new one so maybe I'm the sucker.
Spot on....Mando and Rogue both "feel" like Star Wars...they are/were very well done.
It's like ttun fans going to The Game.
I'm gonna focus on the amazing recruits that signed with the Buckeyes...I don't care about the ones that didn't.
This is like early Christmas presents all day long.....just one after the other! Nice looking class !!!!!