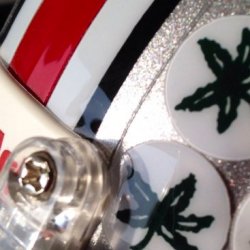 typeOHpositive
---
Monroe, OH (via Cincinnati)
MEMBER SINCE December 19, 2013
I've been a Buckeye fan for as long as I can remember....grew up with my Dad rooting for the Bucks during the end of the Woody era and have bled Scarlet and Gray ever since.
Favorites
SPORTS MOMENT: Beating Bama in 2015
COLLEGE FOOTBALL PLAYER: Chris Spielman, JT Barrett, Archie G and John Simon (all fierce competitors)
NFL TEAM: Bengals
NHL TEAM: 'Jackets
MLB TEAM: Reds
Recent Activity
It should be a new tradition to number all starters 1-22
If you like seeing QBs ruined then root for the Bengals to take JB, the line is terrible and until that's fixed don't wish that on JB.
He'll have over 300 carries this season and you only have so many in you, he will get paid next year in the league....not a chance he comes back.
Actually that's a helluva lineup and an oddly satisfying thought....I think of useless stuff like this sometimes, glad I'm not the only one.
Myers is nasty (in the best way), that dude has some attitude when he plays, damn good center and a key to that line....now our pass pro....cough cough tackles need to get on track quickly.
There was a thread on this topic on the mgoblog, they were pissin and moanin about the amount of Buckeyes in the crowd.....some of my favorite reading of the year is the mgoblog the day or two after the OSU ass whoopin.....they estimated 20-30% Bucks....I'd say it was 30% minimum.....and about 80% at the end ! It's worth a read.
Broken fingers, thumb, fractured ribs, bruised pericardial sac around my heart, etc....but the craziest was in HS playing a scrimmage, I went up for a highly thrown short pop pass for a first down (I was a tight end), as I came down two guys hit me at the same time, one right under my helmet, the other on the side of my helmet, it flew off and the impact was so hard that my lower teeth went through my mouth piece, I was out for a few secs, coaches came and walked me to the sideline, nose bleeding, face killing me.....I checked to make sure I still had my teeth....I remember swelling immediately but didn't know what was wrong.....my Mom comes down to the sideline behind the bench, "what's wrong", I sort of mumble something to her...."well you're going back in right?"...."yeah"....she was a football mom through and through ha ha....turns out my nose and orbital socket were both broken on that play (found out at hospital the next day)...as we rode the bus home I remember my coaches actually laughing a bit at how swelled up my face was and making light of it. For the record I hung on to the ball. FB was a little different 30 yrs ago ha ha.
Mick saying " IT IS TIME" may be the only thing that can keep me from hitting the snooze button.
I just went from 6 to 12 !
I want to see this movie, heard it was good. BTW there is a pretty good documentary on Netflix about the whole Ford vs Ferrari saga. Also the GT40 mk II is a sweet car but the mkIV that followed was ridiculous!
If the Bucks play him/LSU then I of course want the Bucks to stomp their ass...but the notion of him "taking a Heisman away...." is just ignorant, he's earning a Heisman if he gets it, he's a damn good QB....JF's only issue is he's only had to play about 1/2 the game time this year, not his fault....LSU's D has forced JB to stay in games and rack up big stats.

Of course he understands the weight of these 2 games and the rivalry(s)....even w/out the rivalry, these are must win games to accomplish the goals the team has in mind....I don't really understand the need for this post/question, it seems ridiculous.

I love OSU, I hope this blows over quickly, but I think God has more important things to be concerned with.
Nothing if you want to express yourself....you do want to express yourself don't you?
...and the lack of Buckeye Leaves flare (15 at minimum) should have been a tip-off.
The only "lights out" will belong to any QB that has to play behind that sh*t show of a line.
Some people hold their values above music, television, movies, etc,....they don't have any other way to "protest" these folks other than to not watch/listen to/support/give money to their artistic endeavors, that is their right and I respect that. There are plenty of people I'll no longer support because of their stances on things, I just can't bring myself to give them my time or money...to many of us that is more important than a movie or a song.
I don't have much to add other than have a great time, Madison is a really nice city and a great college town....situated between two lakes it's an awesome place to eat, drink and watch a game.
lmao....brilliant comment!
spot on....pound for pound cats are the some of the most effective killers on the planet.....they are built for stealth, speed, quickness and killing, it's in their DNA....you get size above a house cat (which can still give you scratches and bites) and you are asking for problems.
I think for college it's ok because the names and numbers change so for the most part it's just the ultimate game-day team centric item.....but I don't wear them outside of game-day. As for the NFL, I think as a 47 yr old man it's ok to wear the legends/HOF'ers, but buying the latest 21 yr olds name and number on my back as a grown man seems ridiculous.
Personally I think Clay Matthews and Chase Winovich have a bad look with their flowing hair but it's their hair so who gives a sh*t....maybe I'm just jealous that I have a vanishing hairline and they can still rock the Fabio. I think the dreads/braids look pretty cool, but man I would hate to get any long hair grabbed or snagged out there on the field.
PS: Chase Young's hair is awesome.

That is incredible work, I would love to know JTs reaction to this.
JM was the kind of guy that you knew that once he was ready he was going to be nothing but solid, he's been a beast on that line, love his approach and work ethic...he's got some nasty too which is awesome!