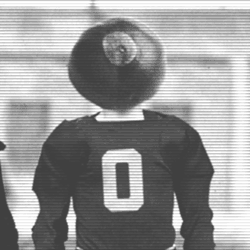 tymackey
---
MEMBER SINCE November 30, 2013
Recent Activity
Storm the field Rutgers, you've earned it.
Remember 2005 when we had Santonio, Ginn, & Gonzales? All 1st round picks. But, yeah, this group might be even better.
BYU & OSU grad here. For skill positions, a 2 year mission is bad. For linemen, it tends to be good more often than not. But, worst case, he goes to a place where food is scarce and he gets a parasite and loses 80 lbs (it's happened). But usually linemen bodies mature and 24 year old OL can be beasts.
Don't know who should be starting, but it's worth keeping in mind that every game he started, Cardale got at least 230 rushing yards out of EZE. Braxton & JT might have looked pretty good with EZE in beast mode.
Urban's playin chess; Brady's playin checkers.
"because we couldn't go for one" --Brady Hoke