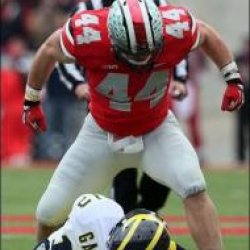 Tyler Durden
---
Member since 03 January 2014 | Blog
Favorites
SPORTS MOMENT: When the good guys won the national championship against the U in 2002.
COLLEGE FOOTBALL PLAYER: Troy Smith
COLLEGE BASKETBALL PLAYER: Scoonie Penn
NFL TEAM: Green Bay Packers
NHL TEAM: Detroit Red Wings
NBA TEAM: Cleveland Cavaliers
MLB TEAM: Cleveland Indians
Recent Activity
The one about camera shots of D.C when the Redskins play made me think about how the New York football Giants, and the New York Jets don't play in New York at all. That kinda drives me crazy
Finally an article I can get behind.
I hate when people who know nothing about a sport are the ones with the biggest mouths. The worst is when they turn and ask about what they just yelled about. Go home if you want to hear yourself talk!
"I don't give a damn for the whole state of *ichigan"
Mike Doss. He knows what it's like to come back after disappointment and finish what he started.
Sweet hype video, but I am ready to see new highlight reel plays come Monday!
I can't figure out anything that is in that swag bag except for the pub cream pies and ping pong balls. That being said, I'm kinda hungry now.
Sure am. He looks darn good.
Who is that huge kid playing on the D line? Anybody have any clue where he might play his college ball?
I was envisioning that poor guy who picked up his incomplete pass and got beheaded, but yours is another great example
I think the New York Giants used to have 4 DE's on the field in obvious passing situations. They called it their NASCAR package if I recall correctly.
Nope... but Michigan still sucks
Break out the diamond formation... JT at QB, Braxton at H, Cardale could be the goal line fullback, and EZE behind in the pistol. Could you imagine Cardale being the lead back meeting a linebacker in the hole? Or Braxton pulling a PSU again? or JT throwing to any of his options? Or EZE doing what he did all playoffs long? Sucks to be a Defensive Coordinator these days.
Kind of thought it would have been implied.
"Just visiting, I visited, I wanted to make sure I got to visit both schools. I wanted to see if the place for me was in Florida. But I just think it's easy when you know, and I knew after the visits that Ohio was the place to go."
Does he want to be a Bobcat or a Buckeye? Hoke, and possibly most of the state of Michigan, is confused.
Yay July recruting championships. It does feel great to be on top of the mountain!
I haven't seen this one yet, so ill say "airplane." And don't call me Shirley
My wife had really bad test anxiety and took the NCLEX too. We would go for walks through a local park. We stopped at every bench and did 10 practice questions. There were many benches, so we would walk and talk, then sit down together and do a few questions, then rinse and repeat. For my wife, it helped her go through the questions while calm and relaxed. Getting her used to the types and kinds of questions in a calming relaxing environment was huge for her. Also, if she began to struggle and get anxious we would finish the 10 questions the go for a nice hand in hand walk and take in the scenery to relax. I think for her it was huge to have practice time in a not so stressful situation. It helped her build her confidence so when she took the real thing she was more confident and less anxious. I know everybody is different and it may not be the best thing for your lady fella, but it might be worth a shot. Sorry for the long rant, just trying to be helpful. I know how stressful that can be for you as well. Wishing her and you good luck!
That should apply to every computer, not just office ones
I won't believe anything about recruiting today until Birm says so. Sorry
I agree on the good call. There is no reason your feet should be parallel with your head. I understand hanging on for a second to make sure you don't land on someone, but you don't need to swing your body up like that. But, I also don't think you make that call with 44 seconds left in a close state championship came.
Crean: Vinegar strokes contest. Ready, go...
Jim: "your an idiot"