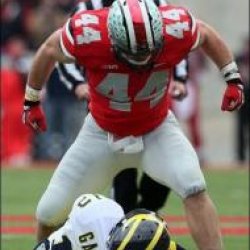 Tyler Durden
---
MEMBER SINCE January 03, 2014
Favorites
SPORTS MOMENT: When the good guys won the national championship against the U in 2002.
COLLEGE FOOTBALL PLAYER: Troy Smith
COLLEGE BASKETBALL PLAYER: Scoonie Penn
NFL TEAM: Green Bay Packers
NHL TEAM: Detroit Red Wings
NBA TEAM: Cleveland Cavaliers
MLB TEAM: Cleveland Indians
Recent Activity
785
557
OSUsuperman, don't talk about the Michigan program that way. It makes Tennessee feel bad about themselves.
Wow. Can't believe they gave up a first rounder to get him. AB didn't get anywhere close to that. On the plus side getting rid of Peppers is a win no matter what they got back for him.
OBJ to the browns?!?! Can't believe I'm saying this but the browns will be good this year. Wow
College Hockey has some long hauls in the WCHA. Alabama Huntsville has to travel to Alaska for 2 teams. Thats more than 4,000 miles. Sometimes twice a year!
I don't either, but paying the players isn't going to stop the issue. That's what I was trying to get at. It's just going to line the players pockets more than they already do.
I have always been against the 'pay the players' side of the argument. I think there is a component to this that very few people have voiced their opinion about. If I had a high powered job (I don't, i'm a teacher) and got paid hundreds of thousands of dollars to be important I no longer really have to worry about money. If someone walked up to me after a meeting or presentation and said "good job, here's 500 bucks" there is no way I turn down that money. I think the same thing applies. If schools give out huge signing bonuses or weekly checks to their star players none of them are going to turn down more money no matter what. This then turns into who has the deepest pockets or best 'bag men.' While this is currently a problem, the best way to fix it isn't to just pay the players. That is just compounding the problem even more. While I don't have any idea if there is even a 'fix' to it, I really don't see this helping in any way, shape, or form.
Having coached that drill in particular, for many years now, it is very useful. If players didn't start like that there would be many more people end up like Ryan Shazier, or worse, because of a lack of fundamentals. I'm not saying he doesn't have fundamentals, obviously he does, but that is one of the building blocks to full speed tackling. Kind of like walking before running. If you can't tackle at a slow speed without anyone trying to get away from you, you'll never be able to safely tackle anyone at full speed while they are trying to evade you.
Watching the Iowa game highlights I noticed what looks like a 1 legged ball boy for the bucks! Check the 6:47 mark. Maybe I am seeing things, but thats pretty awesome.
It couldn't be because the game didn't tip off until 9:20. I'm sure most of America had to work today.