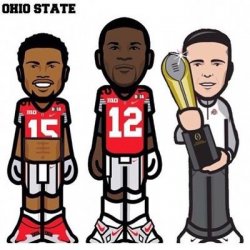 txbucknut
Austin, TX (via Toledo, OH)
Member since 01 December 2011 | Blog
Spent most of my childhood and adult life in Toledo. Went to TOSU for 3 semesters before I had to come back home for personal/family reasons. Finished my degree at University of Toledo, but I will always be a Buckeye. I've been living in Austin, TX for the past 6 years as a result of work relocation.
Favorites
SPORTS MOMENT: Being at the inaugural College Football Championship game in Dallas on January 12th, 2014 and witnessing Ohio State win it all. Every moment of that game from pregame to kickoff to the team celebration afterwards. Me being there was quite simply the best sports moment of my life.
COLLEGE FOOTBALL PLAYER: Eddie George
COLLEGE BASKETBALL PLAYER: Jarred Sullinger
NFL TEAM: Cleveland Browns/Oakland Raiders
NHL TEAM: Detroit Red Wings
SOCCER TEAM: Team USA
Recent Activity
It did finally happen.....but unfortunately not until the Cotton Bowl
Assuming he comes back for his final year, I feel like they may already have that in Dixon. The guy was a touchdown machine this year, esp early on. With Haskins' arm, it could be a dangerous combo.
This mans name was dragged through the mud based on totally unsubstantiated reasons, and Tennessee took actions based on that. I am no lawyer, but valid MOU or not, it seems to me that Schiano has a case, simply because he could argue that no school will ever hire him as a head coach out of fear that they will experience a similar reaction from its fanbase. For that, he deserves to be compensated.
I wonder if Ryan Day is the assistant that turned down a coordinator job-that being as OC of Oregon?
Rest In Peace. One of my favorite Buckeyes of all time.
Yes, as in these helmets make me want to shot myself in the head with a silver bullet.
Don't hate the jerseys, but not a fan of the helmets. At all.
Only thing I can think of is Herman is working with the QBs and doing the majority of the play calling while Beck handles the remaining OC duites.
If I could up-vote this more than once, I would. Well said.
Thank you for posting this. There's been a lot of "why isn't Jalen Hurts on anyone's Heisman list" lately and I don't understand why. Other than the fact that he is the QB for Alabama and the narrative is someone playing for Bama has to be one of the best in the country, it doesn't compute. Against the best defense they've plaid so far this year, which is FSU, the guy barely put up 150 yds of total offense and a score. Nothing overly impressive about the numbers he's put up so far this year, as a passer or as a runner.
It is entirely possible, and likely that he ends up with those stats actually. With 5 games left, albeit vs much better competition (save for Illinois), he won't have to put up world beater stats to achieve that. I think the bigger issue is Baker Mayfield. Unless JT puts up significantly better overall numbers than Baker, then in the Heisman voter eyes, Baker will get the edge because on the day they played one another, Baker was by far the better player. I think the question is whether or not he gets invited, and not whether or not he wins. This is of course assuming that both Ohio State and Oklahoma win out.
This is why I hope he plays well enough in the remaining games to, at the very least, get an invite to NYC-even if he doesn't win the award. They guy has earned it!
Incredible piece of work and extremely grounding. Thanks for bringing all that JT has done for this squad back into perspective, Ramzy.
So how'd that work out for them?
Was already excited about seeing this young man in action, now reading how humble and committed he is just amplifies that. No doubt he's going to be special.
looks like tweet has since been deleted. Think before you press "send" coach.
Tennessee, followed by Clemson, and Bama-in that order of preference. There are no fans worse than Tennessee fans and I'd love nothing more than to have Urbs curb-stomp Butch Jones back to Knoxville.
How is Michael Thomas NOT a nominee?? Just because there happen to be 2 other rookies already on the list from Ohio State should have had no bearing on whether or not Thomas made the list, but I can guarantee you that is the only reason why. Certainly he's far more deserving than Wentz!
This.Is.HUGE. If true....
This late in the process, where would Warinner go? He hasn't exactly raised his marketability with the way the offense played this year, so it's not like he can grab another OC job anywhere, so he may have to just be content with a demotion at least for one more year. I'd like to see Coach Stud move over to the TE's, and Warinner get moved back to being the OL coach. Come April there will be room for both of them, and Wilson can take an analyst title between now and then before he's officially promoted to OC.
Which is exactly why I like the hire. I knew nothing about Herman when his name was dropped, and that worked out ok. Beck on the other hand, I was aware of during his days with Nebraska, and didn't care for the hire when it was announced.
Another point to add her is that since OSU opens the season on a Thursday, it gives them an extra few days to prepare/rest-up for the big non-conference vs the Sooners.
Hard to turn down first round money. We've seen too many times before what kids risk by staying another year in terms of injury, change in draft stock, etc. If he does stay, I'd love to see what this kid can do taking on a bigger overall role: kick/punt returns, maybe even getting in a couple of series on offense. He's so talented that I have no doubt he'd put up Heisman number....and I'm talking real Heisman number. Unlike No. 5 for TTUN.