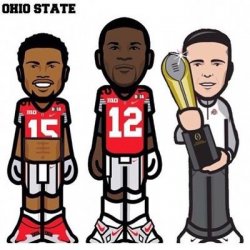 txbucknut
Austin, TX (via Toledo, OH)
Member since 01 December 2011 | Blog
Spent most of my childhood and adult life in Toledo. Went to TOSU for 3 semesters before I had to come back home for personal/family reasons. Finished my degree at University of Toledo, but I will always be a Buckeye. I've been living in Austin, TX for the past 6 years as a result of work relocation.
Favorites
SPORTS MOMENT: Being at the inaugural College Football Championship game in Dallas on January 12th, 2014 and witnessing Ohio State win it all. Every moment of that game from pregame to kickoff to the team celebration afterwards. Me being there was quite simply the best sports moment of my life.
COLLEGE FOOTBALL PLAYER: Eddie George
COLLEGE BASKETBALL PLAYER: Jarred Sullinger
NFL TEAM: Cleveland Browns/Oakland Raiders
NHL TEAM: Detroit Red Wings
SOCCER TEAM: Team USA
Recent Activity
So how'd that work out for them?
Was already excited about seeing this young man in action, now reading how humble and committed he is just amplifies that. No doubt he's going to be special.
looks like tweet has since been deleted. Think before you press "send" coach.
Tennessee, followed by Clemson, and Bama-in that order of preference. There are no fans worse than Tennessee fans and I'd love nothing more than to have Urbs curb-stomp Butch Jones back to Knoxville.
How is Michael Thomas NOT a nominee?? Just because there happen to be 2 other rookies already on the list from Ohio State should have had no bearing on whether or not Thomas made the list, but I can guarantee you that is the only reason why. Certainly he's far more deserving than Wentz!
This.Is.HUGE. If true....
This late in the process, where would Warinner go? He hasn't exactly raised his marketability with the way the offense played this year, so it's not like he can grab another OC job anywhere, so he may have to just be content with a demotion at least for one more year. I'd like to see Coach Stud move over to the TE's, and Warinner get moved back to being the OL coach. Come April there will be room for both of them, and Wilson can take an analyst title between now and then before he's officially promoted to OC.
Which is exactly why I like the hire. I knew nothing about Herman when his name was dropped, and that worked out ok. Beck on the other hand, I was aware of during his days with Nebraska, and didn't care for the hire when it was announced.
Another point to add her is that since OSU opens the season on a Thursday, it gives them an extra few days to prepare/rest-up for the big non-conference vs the Sooners.
Hard to turn down first round money. We've seen too many times before what kids risk by staying another year in terms of injury, change in draft stock, etc. If he does stay, I'd love to see what this kid can do taking on a bigger overall role: kick/punt returns, maybe even getting in a couple of series on offense. He's so talented that I have no doubt he'd put up Heisman number....and I'm talking real Heisman number. Unlike No. 5 for TTUN.
Very unfortunate. I was excited to see this kid's athletic gifts on display in some capacity this season. My guess after this is that he'll transfer out and we'll never get the chance to see it, unfortunately.
I love this. He's working his way up to a early round pick, maybe even 1st! I hope he continues this all the way through the combine and gets all the good things coming his way.
Yes, but they are custom-made Dockers sweat pant khakis
I get that in the end, the only thing that matters is how each of these young men perform on the field and in class, and not the rankings, but you've gotta appreciate the irony in this just a bit.
This speaks highly about how these kids gravitate to playing for Tom Herman and his recruiting ability. That being said, I'd be shocked if Allen actually ever plays for Tom Herman as I doubt he'll still be Houston's head coach in 2017. If Allen wants to play for Herman, he should transfer to Texas.
I thought about that, and honestly in the end I think that with less options, the offense will function more efficiently with less skill guys on the team demanding touches-without significant injuries of course. That being said, he most likely would have been the feature weapon on offense next year (assuming Mike Thomas also declares) seeing that he'd be the most experienced WR on the roster. In the end, he probably figured that he might as well get paid to improve at the next level rather than play for free and risk injury for one more year, which is sound logic. He'll definitely get drafted in the mid-to-late rounds.
I agree. I knew he was mulling it over but I am surprised he decided to do it. With the exodus of talent on offense, I thought he'd assume to be more of a feature in the 2016 offense and get a better opportunity to showcase his skills to scouts. Either way, best of luck to that young man!
This one will remain a mystery to me for a long time. Auburn has no DC, and with the lack of experienced depth at that position next year, he would have had a really good chance to contribute early. I just don't get it. Moving focus to Rashard Lawrence, that won't be easy. Birm just tweeted that Urban has never been able to land a Louisiana recruit. And it looks like the Rashard Gary ship sailed a while ago. I don't believe the rumors I've read that Schiano puts OSU back in the fold with him. Buckeyes need to bounce back big and I'm sure Urban and co. will do just that.
"ONE-MORE-YEAR, ONE-MORE-YEAR" come on everyone let me hear it....oh well, a fan can dream. Joey Bosa is truly one of the greatest to ever play the position at OSU and he'll be sorely missed. Good thing another Bosa will be here next year to take his place. Looking forward to seeing Big Bear go first overall in the draft!
I think it's also important to point out, and I'm sure it already has been in these comments, is that both Fournette and Henry have already had a chance to shine in their premier games this season. Henry took advantage, Fournette did not. That is one reason I don't think Fournette will win. It's one thing to rack up a ton of yards against inferior competition, it's another thing to do it against great defenses. Fournette had the chance to have his true "Heisman moment" and missed it. Henry took advantage, no matter how overrated LSU and Miss St may have been. That is the best thing about Zeke's chances. He has 2-3 games against really good defenses to shine. If he is able to put up decent numbers in 2 of the remaining three games (assuming OSU gets to the BIG csg), then I think he'll have a really good chance to win the award. At this point, he has more chances left to do so then either of the other two backs. It's still considered a close race, and Zeke has the most opportunities left to separate himself. Go Bucks!
This team needs a challenge, so I am eager to see how they respond to MSU. As far as the O-Line and Farris go, the pass protection was pretty pathetic at times on Saturday, so it will be interesting to see if Urban and Warinner decide to make a personnel change mid-game if there's a repeat poor performance.
Man this is much needed good news, both because of how the bye week started and because of how decimated the secondary has been. Welcome back, young buck!
I'd like to see less designed QB runs for Cardale. I felt like last year vs Wisconsin and Bama, he was most effective only if he scrambled after he couldn't find an open receiver. This year it feels as if they've called a lot of runs for him and they have been pretty ineffective.
Birm also said this in his article about Williams' commitment "If he doesn't make an official change in his status in the next 48 hours, I think that's a great sign for the Buckeyes moving forward.". That was on October 18th, so looks like Birm was spot on if you consider that a little over 48 hours after his last statement, he reaffirms his commitment to OSU. Still a long way to go and what appears to be a few other visits, including to Alabama.