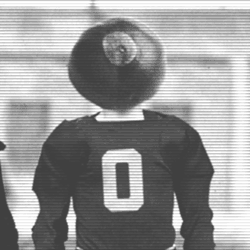 TxBuckeye5
---
Austin, Tx (via Bay Village, OH)
MEMBER SINCE January 14, 2018
Favorites
COLLEGE FOOTBALL PLAYER: J.K Dobbins
NFL TEAM: Cleveland Browns
NBA TEAM: Cleveland Cavs
MLB TEAM: Cleveland Indians
Recent Activity
Also can't forget Kamryn Babb
Maybe the best city in the country, but I am certainly biased being from here. If you need any recommendations on food or drinks let me know!
Jaelan Phillips was the most surprising name to me. He'd be a take and most likely immediate starter for any school in the country.
You have to account that even some of the wealthiest in the 1% remain frugal. Warren Buffett still lives in the same house he bought in the 50's and lives very frugally. They will make the choice they believe is in their best interest. Even though the Cleveland Indians may be worth well over $1 billion Dolan may not see that $30 million as just a drop in the bucket just as most regular people wouldn't. Sure he could spend more money, but he runs the team like a business and not a passionate sports owner.
I don't understand why Tate would leave, as he would have to sit out that year due to transfer rules anyway. By the time he'd be eligible to play at another school he would most likely be in line to start at OSU.
As a current student at Texas Tech, I've never been more disappointed in a performance than I was tonight... save for Iowa last year.
As a former Westlake HS alum, I can say that our football team has a knack for maximizing the talent we have. Only a few D-1 players every year, yet always seem to be one of the best 6A teams in the state.
Not SEC/ACC territory but I live in Austin, Texas. Naturally, I went to ACL this past weekend wearing my OSU Ezekiel Elliott jersey and you would not believe the amount of O-H's I got from strangers, amazing there seems to be buckeyes everywhere.
As a Westlake alum it was a huge surprise to see a win like that, but glad Garrett Wilson was the one to account for both of their scores
Hopefully this means a spot for Noah Cain or Trey Sanders
If Jose can get going again and Donaldson keeps it up I like the indians chances to get to the WS. Will also be interesting to see how much Yonder Alonso factors/contributes
Tuf Borland looked really slow there
At least it's looking like Dorsey hit on his 1st rounders this year
Great play by Denzel Ward
Recommend going to Guy Fieri Vegas Kitchen and Gordon Ramsay's Hell's Kitchen restaurants. Had the bacon mac and cheese burger and filet mignon and it was some of the best food I've ever had.
If Dwayne sticks to K.J, Johnnie Dixon, and Terry McLaurin he'll put up some heisman worthy numbers
Good thing there's another 5 star in Jonathan Cooper to fill in
Pryor and Wint do not know how to take angles. Need to start giving Riep, Proctor, or maybe even Brendon White a shot opposite Fuller.
Haskins throws the prettiest ball I've seen from an OSU QB in a long time. Accuracy, anticipation, and touch off the charts
The angle Pryor took on TCU's 93 yard TD run may have been the worst I've ever seen from an OSU safety
Never realized how absurd some of our fans can be due to the smallest amount of adversity. So called fans saying the game was all but over when we were down 8 at the half and some even calling for Tate Martell to come in after one underthrow to Ben Victor. Seems some fans like to hate more than encourage our own team.
The fact we have a lead should be enough. Yes they have been burned, but they're playing well enough to where we can actually have a lead this late in the game.
You've been so negative all night it's like you want us to lose
Johnnie Dixon doesn't get the ball enough