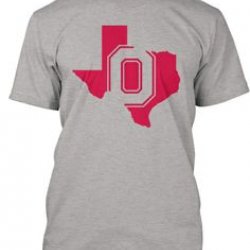 TX_Buckeye
Frisco, TX (via Cincinnati, OH)
MEMBER SINCE January 06, 2015
Favorites
SPORTS MOMENT: 85 yards through the heart of the south!
COLLEGE FOOTBALL PLAYER: Eddie George
NFL TEAM: Bengals
NHL TEAM: Stars
NBA TEAM: None
MLB TEAM: Reds / Rangers
SOCCER TEAM: Chelsea FC
Recent Activity
Dayum! Never knew that. It is f'ing awesome
Sitting in coffee shop in Austin, just heard sax solo from Billy Joel's Still Rock and Roll To Me and it made me think of this column. Every time I hear a sax solo now, that happens.
I'm with you. But you do gotta give 'em some props. That is a pretty sick burn. The only proper response is to kick their ass on Dec 28
I want Baylor. :) Oregon wins tomorrow and the Bears win the rematch vs OU and there we go. It's a long shot. But that's my vote. Full disclosure: My daughter is a senior at Baylor
I realize that this seems to be the consensus thinking (only need a W for #1 seed). But I'm not convinced that we don't need a dominating score to keep the top seed even if LSU wins a close one. I could easily see the committee giving more value to a win over the #4 ranked team (from the SEC no less) than a win over the #8 ranked team - possibly enough to make a change in the order of 1 & 2. I think Day and company need to keep the gas on until the end or until they are up 4 scores in 4th quarter.
Thanks. I knew I saw it somewhere. Not sure why I failed in my search. Tried many variations on "Red banner guy" (instead of "Scarlet Sheet Guy"). Doh!
So much this. Wisconsin is a good team with a history of playing close games vs our boys. They'll be playing with an edge after getting stomped in the shoe and us blaring Jump Around in the 4th quarter. Anyone who thinks we are automatically in the CFP even with a loss is nuts. If the guy is truly injured and can't go, then of course he sits. But to suggest we just rest him is insane.
It's ok to be angry. But suck it up for your wife and son. Eagle Scout is a big deal. Use the technology of the dvr. On the bright side, you can skip the commercials
"Wa La"? LOL. I guess maybe their academics aren't all that after all.
I will *always* be nervous before this game. No matter the circumstances. That is part of what make it so f'ing awesome. Point spreads don't matter. Last week doesn't matter. Records don't matter. Anything goes as as soon as you start taking it for granted, you've lost. Go Bucks! Crush their souls into oblivion.
This may be unpopular, but I find talk about running up the score presumptuous. It disrespects the rivalry. It makes it sound easy and flippant that we can just decide to run it up or not. There is no such thing in war. It's just when you think you can't lose that you are most vulnerable. I certainly hope (and believe) that this thought is nowhere near being in the heads of the staff and players. If it is, we are doomed. Focus on beating the life out of them in any way possible. Mercilessly. If that means winning by 1 or 50, take it.
Bucks 31-0. If we pull the starters early then Penn St might score a couple garbage TD's.
Ain't no way the starters get pulled early in this one. Given the history of 4th quarter comebacks in this matchup, we'd have to be both up by at least 5 touchdowns and into Q4 before starters sit.
Love this:
Day said he made a deal with the kickoff team that if they tackle him inside the 20-yard line, they'd do it on the third kick, and they held him to it.
Give the kicking team a little extra mojo and then reward them for solid execution with a little bit of fun! Great way to build a team.
Whomever wrote the headline for that article is a lazier writer than people claim the show runners to be and is just looking for clickbait. It's clearly *not* what he said : "He said: "How will it all end? The same ending as the show? Different? Well... yes. And no. And yes. And no. And yes. And no. And yes."
But beyond that, of course it will be "different." It will be several thousand pages long and involve characters and stories that didn't exist on the show. That doesn't say a lick about whether the general endings for the characters aligns.
That's basically what happened. He didn't stay at Castle Black. He went North with the Free Folk and Tormund and Ghost.
Yeah. GRRM flat out said that's BS: https://ew.com/tv/2019/05/13/george-r-r-martin-song-ice-fire-books/
Good list, but I think you gotta include Beric & The Hound. They shepherded Arya to safety. It seems Beric was brought back from the dead 6 times to ensure she survived.
In the final episode of last season, Dany said she had seen the army of the dead and Jaime asked her how many. She replied "more than One Hundred Thousand" The North has 8000 unsullied and 16000 Dothraki (minus any that were killed in battles like the Loot Train and Casterly Rock). Plus they have what is left of all of the northern banners (except for the Glovers who are being whiney bitches and not helping). So 30K is probably a good guess. Maybe a few more. Typically an entrenched defending force can hold off a much larger attacking force. But I suppose it is different when the attacking force is the living dead. Plus they have dead giants, a dead dragon and who knows what other creatures.
So it seems to me that if the NK is just chasing the Bran GPS, why not just put Bran on the fastest ship to the furthest reach of Essos?
I could've lived without the "Cold for a southern girl" / "Keep your Queen warm" / make out with Drogon lurking scene. But that was pretty short so not gonna complain too much. I think they did a great job of cutting to the chase on many of the big questions coming into the season. Things like "when is Jon gonna ride a dragon?", "when will Bran/Sam clue Jon in on his true identity?", "what will happen to the Theon rescue party?", etc. Now that all that is out of the way in the first episode, the board has been cleared and we can start moving pieces into place for the end game.
Nah. She took The Hound off her list. And no one gets to take down The Mountain except The Hound. #CleganeBowl!
Or anyone else, according to " No. 2, win every game after that.""
I don't follow this logic. We got beat by 29 at 6-6 Purdue. How is that better than losing by 20 at 9-3 LSU? Other than that loss, Georgia won every game they played by 3 scores or more. I have no problem with their current rank based on the entire corpus of their season so far. Now if they stay there after they lose to 'bama, that's a different story.
Well played Buckeyneer. I had the same thought when I read that quote!