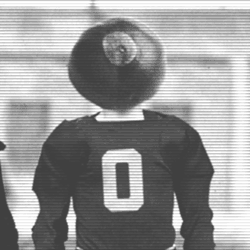 twotimebuck
---
MEMBER SINCE February 08, 2018
Recent Activity
I'm not crying... You're crying!
I wouldn't say totally different... We were gassed for long runs against Oregon State and TCU prior to Nick being out... So...
I know it's a whistle, but it kind of looks like Ryan Day is smoking an old pipe.
Make the fonts bigger for the graphs.... Hard on the eyes for older people.
I'm not a fan of objectifying women. Be better guys.
Somebody likes working in r.
Do you know how r square works?
I think they need to make the experience interactive.. or provide stats that are not available on TV. It would be cool to have an App that tracked player speed, advanced stats, or success rate of current down and distance. The delay in commercials is way too much and I don't know what could fill that time to make it enjoyable. The games are getting too long.
1) Quick Calls were the dumbest thing tried by Urban and I think the players thought so too.
2) I enjoy watching games at home rather than at the stadium (no thanks to red hat guy and tv commercial breaks).
3) I don't always answer in the OH - IO chant.
4) I would go to University of Michigan over OSU for grad school (if given the chance).
He says that he has no interest in the NFL (but what else would he say knowing that he just got hired and all the fans would be a little pissed otherwise).
I thought his comment about Day doing the head coach duties was telling to how much this Day to HC was planned beforehand.
I'm not convinced that he's done with coaching. I wish I could cite specific examples, but I remember hearing journalists and people close to the program predicting that he would coach again. He may not, but he seems to find immense value and purpose from coaching which his new role may never fill in the same way. I hope that he reflects on the costs and benefits thoroughly.
The time investment for a game is a killer. When I was an undergrad (05 - 09), it was easy to justify going to a game since I love football, I could walk to the games, and my commitments were much lower. It's almost impossible to give a full day for a game with family, a full time job, and grad school commitments. Even after I finish this summer with grad school, I'm not buying tickets because I cannot give a full Saturday away to sit and watch 5 mins of football for 5 mins of red hat guy.
That shape shifting picture of Ben Victor threw me off for a minute.
Beautiful people online dating article.... made me puke in my mouth a bit... what a dumb concept.
It's tough to study economic theory and reallocation (not meant to play on the plant closing phrase). Theories hold the merits of ithe efficiencies, but the stories of those affected are never really elevated or focused on. The people affected are more of a footnote in the story of rational markets.
I don't understand the attacks on the reporter. He reported what was in the testimony and connected the dots. You can cast your attack on the witness, but the reporter is doing his job, by reporting a newsworthy story. I love LJ and I believe his character, but that still should not shield him from the report. Wetzel even brings context to the credibility of the witness at the end of the story.
I'm surprised that nobody has commented on the p-value article, what other news could be more significant.
I don't agree with this take. I think he is aggressive in the run game and has potential. He had a new DB coach last year and maybe Hafley can help this kid. I don't think it was a surprise that our corner play regressed after Coombs left.
Let's pump the brakes a bit until otherwise.
No disrespect to the staffs picks for WRs, but I think they snubbed Jalin Marshall. He was an amazing slot guy.
Also, there is too much time wasted on media timeouts. They've got to find a way to shorten the games but keep their ad revenues.
Also, as a millennial, it's getting harder to justify spending six hours a Saturday on football. The games are too long and my family enjoys doing other activities during the fall. Although I have student tickets as a graduate student, I know that I will not continue buying season tickets in the future once I've graduated. The time is just too much of a commitment on a consistent basis whereas I can cut that down a few hours by watching the games on TV.
I think this is great that Meyer is feeling more comfortable with his assistants. I am worried that people will be disappointed with the offense next year and blame Meyer when Haskins and Day are gone. It's hard for me to know how much of this success is Haskins or Day.
I feel bad for Chris Ash. I wonder how much time he has left. I get it that it's Rutgers, but a some point he's going to get let go unless he starts winning more.