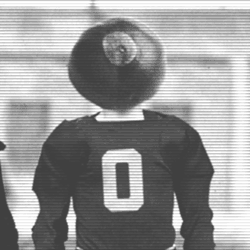 tvosra87
---
MEMBER SINCE March 29, 2014
Recent Activity
Harbaugh's Humble Pie, made fresh daily, comes with a large glass of milk
Can we give Toledo back? Caveat Emptor
What gets me is the sideline or fan reaction shots, and they cut back just in time for the snap; I want to see the formation and personnel at least a few seconds before the snap. I could care less about what some idiots are doing in the stands or sidelines. Also weird camera angles on field goals or crucial short distance downs.
Bama also benefits from having a protected cross division "rivalry" with Tenn, and play a rotating schedule for the only other cross division game they get that include Vandy, UK, Mizzou, and SC. They are less likely to play Fla and UGA more than 1x every decade unless it's in the conference championship game
Wisky running all over the wolverines, I hope our game plan for next week doesn't include 15+ JTB designed runs, and completely ignore Weber and Dobbins, they should pick these guys apart.
As is OSU vs an undefeated Wisky
Hoping our corners can turn their head and find the ball unlike we did vs OK, and hope to see the return of Pick Six U again!
This team lacks an identity, and the answer isn't JT running designed draws; we need to establish the running game and control the LOS, and we have 2 backs that are capable of wearing defenses down. This opens things up for the passing game with PA, crossing routes, etc. I also feel that Campbell, McLaurin, and Dixon are not helping the passing game, these guys can't get any significant separation on the deep or intermediate routes; putting in Haskins doesn't change this; unfortunately our upperclassmen receivers didn't pan out or have been dealing with injury for several seasons.
Campbell needs to be benched, put in McCall
Is that Tom Brady quote from his Pre-Super Bowl days?
I always wanted the ability to add Natty banners to the stadium after each season. That and tweak recruit visits to be affected by game outcomes, ex a player has More interest in PSU over OSU, schedule the recruit to visit the week of PSU, and a 21+ victory sway the recruits top 5.
Give it 3 days RICE, check out Thessaly Test on YouTube, easy self test for meniscus tear.
"Over the Top" It was an excellent movie, now that I think about it. After all, you know, it does combine the emotional drama of a custody child hearing with, uh.. ARM WRESTLING!!
This team has lacked a true identity for the last 2 years, what do we do well as a team that you can consistently use to win games. Bama has a solid D and controls the LOS and runs the ball effectively, the 2014 team did just that. The fact that Beck is realizing this now means he has to leave, bring in someone competent and with a little imagination when play calling
What teams do we play that have a bye the week prior to playing us?
I agree that this team has no offensive identity; what do we do great on offense consistently, nothing. The lack of creativity with the play calling is the most frustrating thing, when all 4 receivers are running curl routes, and nobody is open all four receivers stand around and JT has to scramble or throw the ball away. I'd like to see some quick slants, cross patterns, so deep routes off of play action; NW gashed us with the cross patterns today, why can't we do the same with better athletes at every position.
Gray Sleeves vs Non-Gray Sleeves
Other than what was mentioned:
Modern War movie: The Hurt Locker
Old School War movie: Last of the Mohicans.
Went to the air show in Columbus about 8 years ago, they had a B2 bomber fly over for about 10-15 minutes, that was dead silent, looked like it was floating in the sky (probably because it was so quiet), but when it left, they opened up the engines, and took her out of "stealth mode" and she sounded like any other jet aircraft.
Best: 2005 @ um, Gonzo made "the catch" in the scum students section, Pittman ran it in for 6.
2012 v Purdue, Kenny G OT rally
Worst: 2007 v Illinios, Juice and Mendenhall carved up our d for a lot of yards on the ground.
Best: 2005 @ um, Gonzo made "the catch" in the scum students section, Pittman ran it in for 6.
2012 v Purdue, Kenny G OT rally
Worst: 2007 v Illinios, Juice and Mendenhall carved up our d for a lot of yards on the ground.
Look up Active Release Technique and try to find a provider near you, we utilize myofascial release in my office, we get great result with true nerve entrapment cases.
Makes you wonder if harbaugh was on a "recruiting" trip in Wisconsin October 31, 2005.
"Those who leave, will be champions."
Gonna be rooting for Sparty, we need them to put the final nail in the SEC myth's coffin, I feel like a one loss bama team still gets the benefit of the doubt over a one loss non-SEC team.