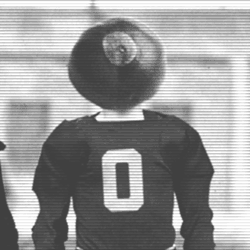 tussey
---
Salem MA (via Fort Wayne IN)
MEMBER SINCE March 27, 2013
Favorites
NFL TEAM: Indianapolis Colts, Cleveland Browns
Recent Activity
michigan beats bad B1G team and Illinois is a bad B1G team.
Birm also said on the latest Talking Stuff that he expects a Ryan Watts commitment sooner rather than later.
I'm pretty sure he already decommited from OU
I agree with your inclusion of Smith, however I disagree with your assessment. He was a good recruiter, but not a good position coach.
I was actually thinking the same thing.
He was solid in the Rose bowl. Are you concerned because he has played exclusively at LT?
Congrats Terry! Thanks coach Hartline, the jump he made from junior to senior year was really impressive for Terry and it seems like he has continued to improve now that he's in the league.
I'm glad they didn't. I know we put in on in the second quarter, but to me the strip sack in the endzone removes fields plus the running game didn't look all that impressive with the starters in there.
I know it was Miami, but I was super impressed with Chugs. He was surprisingly accurate on the both rollout throws.
Welcome! In my opinion Connecticut drivers are the worst, would you agree?
What's your take on Dunk'n Donuts?
I'm buying what the defense is doing and so I think they hold IU to single digits.
Also, chicken fried steak is bad. (I grew up in Indiana.)

Thanks for the note about Wint. I feel like I remember that play on kickoff, I just didn't realize who it was that got leveled. I thought the hit could have been flagged bc it was nasty.
Nice article Dan. I had noticed the few snaps for White during the game this past week. If I'm being honest, it's just weird to see White out there with the twos, which is when it seemed he got most of his snaps against Cincy. The guy makes plays when he is on the field. If he doesn't see an increase in snaps this week, I'll begin to wonder if it will happen at all this year.
In watching the Tyreke Smith/Togai clip, Togia's first step off the ball is so impressive.
Also in the in the clip where Chase Young steals the sack from Harrison, Tyreke put the RT on skates.
So the more I think about this, the more I think when Hill is out, we just go to a two TE set since we have lots of depth there. Which is something I was not expecting, as I too am surprised Gill has not seen more snaps.
After week one there were some positive things but also things to get worked on. This week after what appeared to be a near perfect game with no real glaring issues, should we expect a let down this week on the road at IU?
I appreciate that Teague runs hard and would love to see his yards after contact. He seems to show patience in the hole and his leg drive never ends. Last year he had that long TD run after he broke through the pile and he about did it again yesterday.
How does the camera crew always find fans having a melt down?
The real question is whether or not LSU will be able to run the ball well enough to ice the game.
LSU as DBU more like PI-U

I'm looking forward to listening to the Michigan podcast this week. It should be a doosy.
meh, the SEC is getting exposed for being extremely top heavy. It's really Bama, UGA, and LSU that are good. Rest are a combination of meh and hot garbage.
I hadn't heard that, but at the same time it wouldn't surprise me.
Joe has looked really good and LSUs WRs are abusing the Texas secondary. Stingley Jr (?) #24 is going to be really good for them. He has made some amazing plays.