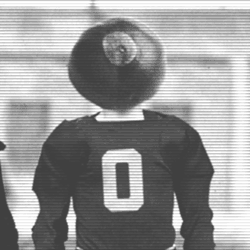 tussey
---
Hamilton MA (via Fort Wayne IN)
Member since 27 March 2013 | Blog
Favorites
NFL TEAM: Indianapolis Colts, Cleveland Browns
Recent Activity
I down voted you because your attempt at a joke is distasteful and not funny.
I think you are right because he is listed on the 20 yard dash. Good observation :)
Andrew, Any reason for Owen Pappoe's drop in rankings? I remember him being like a top 10 player nationally after making it to the Opening as a Sophomore. Did something happen? Or are people not as high on him after his film from this past year?
While that may be true for Zeke in the back half of his Soph year and his Junior year, it wasn't true for him the entirety of his first year starting. There were many times that he would get tripped up similarly to how Weber did last fall.
I loved the incite that coach Coombs gave to the passing game improvements and also about how important the spring game was for his guys.
Was this after JT left the game?
I agree with your assessment of the strengths of the Burrow and Haskins. Haskins can make all the throws just needs more time in the offense.
I'm just waiting for the depth chart to read: 1. JT Barret 2. Joe Burrow OR Dwayne Haskins
I thought he looked good on film too. Although he probably could have gotten called for holding a few times on those pancakes. lol.
I agree, the Patriots have a QB friendly team and system. Their 3rd string QB, Jacoby Brissett, looked serviceable earlier this year.
The play highlighted for Knox was actually is second. I say this because I texted my dad during the game after his first since he did alright in pass coverage and I thought we might still be okay with Jordan out. Then the next play it didn't look like he knew the snap count and the rest of that night was awful.
I think this is great. I was surprised at first, but then I thought about it and it makes a ton of sense. Kwon was the QB of the defense last year and I think they are wanting someone to be able to do that again. Worley has played each of the last 3 years so he is very familiar with the defense as a whole. I know everyone is worried about his size, but all I can think about is the middle linebackers from Wisconsin that don't seem like they are very big, but are just tackling machines (I do understand that they run a different scheme).
The onside kick rule change is the most ridiculous thing I have ever heard.
The 5:30 mark on Harris' highlight film put the little circle on the poor soul who's ankles he broke. lololol
Back then they didn't want me....
I laughed really hard at this :)
What's also interesting is I'm just curious how many of Hill's yards came from Burrow throwing to him? Burrow seemed to find him often when he is in there throwing.
I'm wondering if this is a catch 22, we need all 5 out in routes to try and stretch the defense since the WRs aren't consistently getting open and getting separation. This leaves no left to help. I would think they should have the TEs just chip on their release to help out Prince before releasing but we can't always have a TE aligned on the right.
Kyle, thanks for the article. I've always enjoyed reading them and you seem to have a knack of talking fans back off of the ledge after each offensive struggle.
One thing I've noticed throughout the year, but especially with the all go play you diagrammed above is that we have guys open deep but JT just doesn't seem to be able to find them. To me it looked like both Paris and Terry were open on that play with KJ partially open. Of all the throws that JT could have made on that play, the one he threw to Samuel was of the more difficult kind because he needed to get it out over the top of the trailing lb. What's even more interesting is that it appears that Paris is his first read. Did he just feel the pressure and come off it? Paris is even with the safety at the time.
He was out of position on a lot of plays. When JT had that long run, it was bc Peppers shifted back to safety and send the safety down into the box but out of position. He's an athletic freak, but a average defensive player.
I loved the switch with the 3rd down nickel package. It's all about match ups and I'm glad to see the defense adjusting to prevent favorable match ups with their #1 WR on our #4 CB.
I agree, I think he also led a 90 yard td drive too
No because Gibson doesn't know how to play the position either. He's a gifted athlete like the others...
Next drop, you're back to being a goat.
I thought GOAT meant Greatest of All Time...
I agree and was thinking the same thing. If we are going to be vanilla and run cover 1 all the time, let's at least put our best guy on their best guy. They ran the same play like 7 times and we stopped it like once. A safety and nickel back should never be asked to cover the best receiver on the opposing team.
I was hoping that he would go to Indiana/B1G. But I totally agree with you. I think that might have had something to do with it too. But either way best of luck to him!