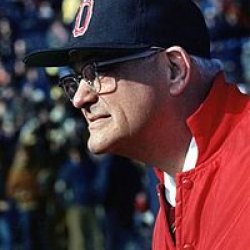 TURD_BUCKET
---
OHIO
MEMBER SINCE August 07, 2014
Favorites
SPORTS MOMENT: Seeing Woody Hayes in the stairwell at St Johns Arena during the OHSAA state wrestling tournament in 1974, and having a few words with him.
COLLEGE FOOTBALL PLAYER: Jack Tatum, John Hicks, Chris Spielman, Cris Carter, Orlando Pace, Carlos Hyde
COLLEGE BASKETBALL PLAYER: Larry Bird
NFL TEAM: Cleveland Browns
NBA TEAM: Cleveland Cavaliers
MLB TEAM: Cleveland Indians
SOCCER TEAM: please
Recent Activity
Eddie, Eddie, Eddie!!!
Next stop NFL HOF, baby!
The sack by Zach Harrison: the first of many!!
BTW Matt, I think Garrett Wilson is a native of OHIO, but graduated from Lake Travis HS.
Love the tracker.
Back in the day, Spielman used to try to beat Coach Bruce to the film room every morning. Browning stated that he began to watch film more regularly at the end of last year. Watching film will slow the game down for you. Putting in the time on the mental part of the game (film) will always help a player. Preparation separates the good ones from the great ones.
Well done, again, Mr. Ramzy.
Mike Sensibaugh had 22 career interceptions:
1968 = 5
1969 = 9
1970 = 8
I worry more about the players we do not know about yet, or those that fly under the radar.
National Championships > than Heisman finalists and Heisman trophies.
Randy Gradishar not being in the NFL Hall of Fame already is criminal. And he has only been a finalist twice? C'mon, man, stop the nonsense and get him in there!
I am as proud of Buckeyes graduating as I an as any accomplishments on the field. Represent!
He was offered jobs at Alabama, A&M, Fla St, and 3 NFL teams.
Keep it in the family and bring the family to Columbus.
If TOSU wants to continue to compete for the best recruits then by all means spend some money on the WHAC. It should be THE showcase in all of college football. Gene Smith should send a couple people around to all universities to get some good ides to make the WHAC is the BEST. And involve the players to see what kind of stuff they might like. Now if the WHAC is already at the top, then lets keep it there.
Alabama was interested in hiring Zack Smith? Interesting. Was that according to Zack Smith?
Maybe Jones can shed some light on his OSU career, or lack of, after his college day are over. He is gonna be one motivated dude when they play the Bucks. Good Luck to him, but I hope the bucks CRUSH Maryland.
Was there a mention of the Jim Tressel to Urban Meyer drop-off?
Fritz kept Woody from mauling Clemson's Charlie Bauman any further.
And #1 in January. GO BUCKS!
Lead the LBs, Malik, on the field and in the LB room. He is an example for the others to follow. Kill it this year and get paid next year.
JB: I was excited as hell when he signed and thought he was gonna be the next Buckeye All American LB. I thought/hoped Browning might breakout last year. The great LBs at TOSU seem to get plenty of reps if not start by their sophomore years. He still has a shot to be a Big Time player, but he has gotta make it happen this year. Yes, the clock is ticking.
I would love to see ALL of the players you listed get meaningful reps this year. Great list. Especially Taradja Mitchell. Nearly all of the great linebackers (All Americans) at TOSU started by their sophomore years or played extensively. GO BUCKS!
Team Gray. Master Teague.
I'm looking for big things from both Justin Fields AND Tyreke Smith. Well. actually the whole damn team. GO BUCKS!
Having Drew Brees as a QB and Sean Payton calling plays might have helped his career a bit versus what he experienced in Columbus. Mike Thomas definitely needed to get paid and well deserved. Keep it rolling Mike!
4th generation Buckeye, all born in central Ohio. My first recollection of my fandom was when I was twelve and lived through the 1968 season. I bought my Buckeye item that year, a small throw rug, that I put at the side of my bed so I could see 'BUCKEYES" every day when I woke up and every night before I went to bed. it was in pieces when my wife threw it out 30 years later, even though it had been relegate tp the garage, I still watch most games with my parents.