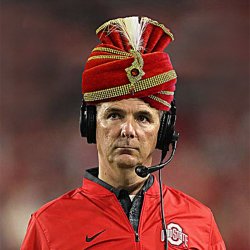 Turban Meyer
---
MEMBER SINCE October 05, 2013
Recent Activity
"First-year coaches were not considered."
Why?
Dobbins shows zero patience.
It's worse. You're at HOME. During the DAY. There's no CANCER KID (RIP, Tyler) rallying the fan base. Just MHO.
Looks like my son at homecoming.
To the cranky old men here, styles change.
Technically, Iowa State, but perhaps a distinction without a difference.
BIG TEN COACH OF THE CENTURY.
I am sincerely more afraid of facing Wisconsin than I would be of Oklahoma.
Terrible officiating. Not one hold on MSU?
At least one of them is getting paid for it.*
* - booster 'donations' aside.
What a botch. He should re-enter the portal and come out at UNLV.
"The 1930 Ohio State Buckeyes football featured with a winged front panel in a lighter color than the rest of the helmet."
Indiana had contrasting stripes and Michigan State had a single contrasting stripes in the early 1930s.
Crisler didn't start using the contrasting winged helmet at Princeton until 1935.
I hereby declare Chugunov's nickname to be Red Scare.
I have a soft spot for Beth Mowins. I think you know where it is.
Those jeans aren't that bad.
An undefeated Notre Dame makes things tricky for OSU in the playoffs.
Only other places I could see Urban:
Notre Dame
USC
That's it.
I used to hate Musberger pre-Herbie team-up. When paired with Gary Danielson, he seemed insufferable, but blended really well with Herbie.
BY YELLING ALL THE TIME????
They did schedule A&M this year, but I don't know how you fault them for the rest of the turd-ridden ACC. Miami, FSU, Boston College and Pitt used to be relatively good programs ...
Green Waves! Golden Hurricanes! (speaking of which, has there ever been a hurricane in Tulsa?)
It's sad to see the Rose Bowl so empty.
Chip Kelly should retire.