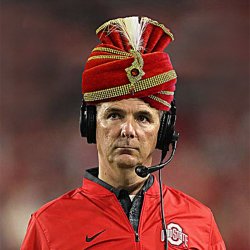 Turban Meyer
---
MEMBER SINCE October 05, 2013
Recent Activity
This team is so underwhelming at times.
To clarify, I'm not calling you Jan, but the Clemson fan.
"after those steps"

Sure, Jan.
>--------- JOKE -------->
Head
NCAA violations or not, it seemed like it stopped being fun for Dantonio. I really miss his smile.
It's hard NOT to hire a guy who won 4 National Championships in 7 years.
What if your defensive coordinator could scheme against WR bubble screens?
Girls, swimming pools, bikinis?
Jimmy is 8th in Rating (102) and 12th in QBR this season (60.2) 49ers 8th in overall offense this season.
Dilfer had a Rating of 76.6 in 2000, the Ravens Super Bowl season.
And scheduled to play at Oklahoma in 2023. And Clemson in Atlanta in 2024.
(all subject to change of course)
Georgia plays Oregon in Atlanta (boo) in 2022.
Texas is at home for them.
Auburn plays at Penn State in 2021
LSU plays at UCLA next season. (Big Whoop)
Alabama has a home-and-home with Wisconsin in 2024/2025.
Holding on a 3rd and 1 run?
Sure thing, refs.
BS casting.
I was hoping he was raising money for the poor LSU champion players who will have to repay OBJ's largesse.
Why does Aaron Rodgers have such an idiot agent? They really need to give that guy a win. Everyone in the ads in crapping on him and he's really not that bad of a guy -- makes Rodgers look bad.
Laziness all around on that play. Maybe they were gassed. Just a shove works and no one gave much effort. Also, when he's a runner, you can level him.
Yes, I know. I would argue that Terrell Davis's career was too short to be considered for the Hall, but he did so much in so little time, it's acceptable he was voted in. I do think that guys like Gradishar and Atwater who are as good as or better than other players for more 'popular' teams tend to be overlooked
we only allowed to tell them "No thank you, jackass"
Allowed? There's a spectrum of responses. One of them is certainly pressing charges. I just wonder whether or not using state resources to charge/prosecute in this matter is the most appropriate response.
I like Beth Mowins, and I am not ashamed to admit it.
He played in Denver, which has been No Man's Land for the Hall of Fame, outside of slam-dunk like Elway or Champ Bailey. I'm a Broncos fan and I'm hoping he and Atwater can get in.