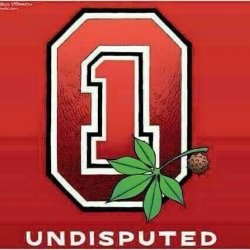 tunehtraef
---
MEMBER SINCE August 03, 2012
Favorites
SPORTS MOMENT: Dorsey being spun and watching the ball flutter to the turf from the seats!!!
COLLEGE FOOTBALL PLAYER: AJ Hawk
COLLEGE BASKETBALL PLAYER: Aaron Craft
NFL TEAM: Browns
NBA TEAM: Cavs
MLB TEAM: Indians
Recent Activity
I see your Mecole and raise you a Timmons.
How do you know we haven't even "reached out to him"? Just because insiders haven't mentioned him doesn't mean the coaches haven't contacted him. Seems like a pretty big assumption.
Since they still have a year of high school, I bet they should go back and finish that one.
The downvotes come from those that don't want to accept that reality is, we haven't participated in the last 5 championship games, while Bama and Clemson have been in four of five.
Are we just as talented, probably... could we have been there in any of those years, probably also... but we weren't. It's Clemson, Bama, then a slight gap, then OSU. Wish it wasn't, hoping it will change in the coming years and Day and Co. give us multiple championships, but right now, on field results are exactly what he said, and others don't want to admit that holding onto the idea that "we are just as talented". When we prove it on the field, he won't say we aren't in that top tier and the downvotes will cease.
I think he hits on a very valid point, but doesn't want to say it because it's a counterpoint. The overall classes are the same, but look at who Clemson and LSU (this year) have had under center.
OSU has a huge talent gap over Michigan. That gap keeps getting wider, and while Ari is right that talent is a good indicator of success, it isn't the end-all be-all as he makes it seem. If you have lesser talent overall, but have equal talent at the most important position, you can and will compete consistently. Michigan doesn't have the overall talent, and the guys taking the snaps for the last 15 (his timeframe) years wouldn't have a single combined start at OSU. To me, that is where the rest of the talent gap is allowed to shine, because you are already playing the trump card with the huge gap of talent at the most important position.
I think this is another reason strong recruiting from current recruits is a must. You can't "show" that family atmosphere on a virtual visit the same way you could in person, so our current recruits need to help show that consistently to the other targets in group messages and other social outlets.
(Also, any and all adults- PLEASE do not take this as an invitation to tweet recruiting targets, as stated above this is what current recruits need to do. Sorry, just wanted to add that disclaimer, even though it should be unnecessary.)
AE responded to the comment below yours, but I think it was to your comment.
The article being referenced is Kevin's article about the gap between our recruiting and a certain other school to the North. It doesn't say we will get two top 20 guys soon, but I can see how they "could" read it like that. It says we will get some commits soon, we lead for a lot, two of which are top twenty guys (at least that is how I read it).
Is that supposed to be whoever they want or whoever they pay?
It clearly works both ways.
Eight weeks in a row with no breaks, all conference games too, is not an easy task. That would be the same as other conferences (cough, cough SEC) playing ALL of their conference games in a row with no byes or dangerous FCS foes. Make no mistake, this is a schedule that would make us very mentally tough as well as physcially ready to play anyone in the Playoff, if we get there.
Imposing the bowl ban one year earlier. I honestly believe that swaps a championship with Bama and makes OSU even better than it was during Urban's career (which is pretty crazy to think about).
Strange to see a Michigan guy running his mouth about how easy an upcoming opponent is.
Spooner can you add Buckbornbred to the Big Board, apparently he's a big deal...
I'm sure Haskins is thinking the same thing.
Honestly this is not a rude question: how old are you? I ask because I am curious of the ages of OSU fans who share your opinion, so I try to ask when I can.
Then you clearly can't see or don't want to admit it. From the point they stop the film and show where Olave broke off the route/slowed up, the safety is not breaking on the ball. If Olave runs the post, he's in front of him and it hits him close to in stride, and it's six.

I don't think so. It took two to untie the shoe and I think our first string equipment manager could do that solo.
If we only have 38 yards of offense, we probably won't score much, but at least we held them to 13 total...
Wait, is that what you meant?
I think he is referring to different games there, three different ones in fact.