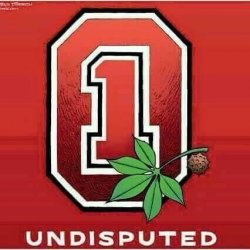 tunehtraef
---
Member since 03 August 2012 | Blog
Favorites
SPORTS MOMENT: Dorsey being spun and watching the ball flutter to the turf from the seats!!!
COLLEGE FOOTBALL PLAYER: AJ Hawk
COLLEGE BASKETBALL PLAYER: Aaron Craft
NFL TEAM: Browns
NBA TEAM: Cavs
MLB TEAM: Indians
Recent Activity
O-H...
Let's get a score before half and get the momentum.
Can someone please ask to see Urban's too? It's long overdue... (though he gets a pass in my book if he wins his next two games)
I think this is exactly what he means. A visitor for Maryland this weekend or Michigan State next weekend that is a commit of ours.
A stop and a score. That's all we need to change momentum.
The intermediate routes are open. Go five wide and tell the slot guys (Samuel/Wilson) to beat their guys one-on-one.
Then pound Weber for for the win!
2- one total yard each
*Every time I put in what I think is realistic, the team plays like crap and I'm way off. Might as well go the other route.
Signed up and downloaded the app.
How are your views from 19D? I've never sat up there, but have seen good prices for The Game up there and was curious. Thanks in advance!
Birm, am I reading too much into you just mentioning being at the top for Kelly-Powell with no mention of DPJ in the Cass Tech section, or is the writing on the wall with him not visiting for the Junior Day that he won't be in the next class?
Thanks as always for what you do!
I was asked a question I thought was ridiculous, but the more I thought about it, I could see others feeling it isn't the worst outcome...
Would you rather not have a Larry Johnson type recruiter (that obviously did a tremendous job getting Jackson and Lawerence to be so close) and miss on some of the true "elite" talents that you feel you have a legit shot at, or not be in the game at all with them and just have a really good coach (LJ is that too) that doesn't put you in the game with these guys and just "teaches up" the talent that we get?
I thought it was absurd not to want to at least have a chance at these guys, but are there other opinions on that out there? Is it worth the "let-down" when we miss on these guys to be in the game like I feel it is?
Another example of Birm being respectful of a recruit.
Thank you 11W for always being classy!
O-H...
Is it a bad sign that Devin Bush Jr. (also considering Auburn) has the EXACT SAME tweet at Jackson with just the date changed? Seems weird that they are identically written (incorrect capitalization and all)!
O-H...
Held to a FG- JT needs to lead us down the field to another 7.
The Buckeyes would, they would all have two conference losses.
Had J. Charles, and have A. Foster... I'm in first now, may not keep that spot though...
_ichigan with 666 points, seems logical to me.