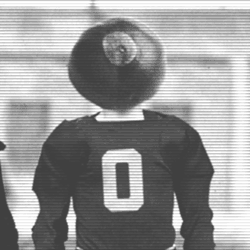 troy7721
---
MEMBER SINCE November 20, 2015
Recent Activity
Hey, this wound looks like it has almost healed. Why don't I tear it back open?
It seems like it would be similar to buying/selling a house without the help of a real estate agent.
It can be done, but are you certain that you know what you're doing?
We are seriously considering cutting the cord from DirecTV and moving to Sling TV and OTA channels via antenna as mentioned by several people previously.
One question though. We don't watch much live TV. We tend to DVR our favorite shows and watch them later when it's convenient. Can we still do this with Sling TV and an antenna? Do we have to buy a separate DVR or can Roku record any content?
But, see, Iowa and MSU beat each other up so badly that neither one has recovered yet. Right? Only explanation
At this point you're right we should do just fine against a Bear front.
The biggest issue I see is our lack of starting DT's. Hopefully these will be valuable reps for some younger guys whom we will need to rely on next season.
"A friend of mine" who attended a public institution of higher education which will remain unnamed, earned 5 such parking citations during "his" tenure there. All five of these went unpaid and he received his diploma without delay.
So, it's easy to see why some people might think they could simply ignore such tickets. It seems results are varied when it comes to future consequences.
That's the (only) fun part of a bowl game from my perspective!

I've got an almost 1 year old golden named Zeke! He's been a great dog. We plan to get another one probably next summer
Braxton will be remembered as one of the all time greats and one of my all time favorites
Yeah he got owned there. Deservedly so
I feel a lot better about the whole situation now.
But really though I hope MSU beats Bama in some kind of miraculous impossible last second kind of way just to make Saban's tears extra salty.
Right. Lee and Apple are the two that I'm really hoping come back for another year.
My wife's family are largely ND fans with a few OSU fans mixed in. And her one set of cousins are TTUN fans, but they don't count. I really hope we destroy them without mercy because if we don't I'll never hear the end of it.
That would be possibly the worst out come
Cook is a douche for sure. But I still hope the B1G wins all our bowl / playoff games (except possibly TTUN).
If we are ever going to have a shot at two B1G teams making the playoff, we will have to keep making them look smart for including us.
Let us have a go at Stanford. I would love to watch us wreck the team they kept saying could jump us in the rankings.
The announcers are baffled that someone could score an offensive touchdown against Bama
Yeah I'm starting to hate Stanford more and more. Getting so much love for being a 2 loss team
At least Florida is getting chippy. They should have been like this from the start
Ha ha ha... already lobbying to keep OSU out... we don't need a committee.. shut up gary
Exactly. Any competent team would be putting them away right now
I'd rather hear the story about Brett Favre drowning a deer
They must hand out scholarships indiscriminantly
The might as well blitz the house every play. DB's can't defend anything
It's probably a bone bruise. It's not going to feel better for a while