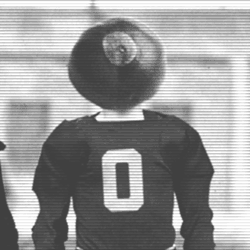 Trout dog
---
MEMBER SINCE October 22, 2016
Recent Activity
I saw Al Bundy scored four touchdowns in a single game while playing for the Polk High School Panthers in the 1966 city championship game versus Andrew Johnson High School, including the game-winning touchdown in the final seconds against his old nemesis, "Spare Tire". Did MC ever do that?
Korey Feldman wants to sell a documentary about Charlie Sheen.
Crystal Balls for two 5 star OL to Clemson. Day may need to change his approach and have a couple of Jr. Days before mid-march.
I also agree. Going from the sixth ranked CB in the Composite to the 32nd is a big drop off.
Can he recruit running backs? If so, make him the running and passing game coordinator and pay him Steve Sarkisian money.
Deshaun Watson and Trevor Lawrence have not won the heisman because they were pulled at halftime (limiting their numbers) because Clemson is blowing their opponent out and they never play a marque game to give them their heisman moment.
Number 1 for me would be EZEKIEL ELLIOTT IN 2014. Like Urban Meyer said all season, throw out the games against the cupcakes and only look at the games against teams with the same amount of talent. His 3 game performance in the playoffs was Elite.
I would say a class that has a bunch of guys rated really high and a bunch of guys rated low (for tOSU standards). Not as much in the middle. It also correlates to positions. Some position groups (WR's) highly ranked, some a bit lower (OL excluding PJ).
Drayton interviewing with Dallas has less to do with Texas Tom and more to do with the Cowboys changing their assistant coaches with the hiring of Mike McCarthy. Cowboys probably want to have the guy who recruited and developed Zeke as their RB coach. Zeke's performance dropped off in 2019 under Gary Brown.
I think Cam Akers was the #1 target in '17 and Zamir White was the #1 in 2018.
His running style reminds me of the 1990's version of Hershel Walker. Stiff hip. I hope the RB by committee approach works until we land the next Zeke/JK.
Take a look at the 2017 and 2018 recruiting rankings. Total of 8 5 star players and top player averages per class tOSU history
2016 was a rebuilding year and it was impressive that we made the playoffs. 2019 just hurts. I thought the 2019 team was the best chance that Ohio State will have for a Natty for awhile.
Terrible decision by Ryan day. Needed to go for it on fourth down. Too hard to stop a great offense from getting into field goal area.
Is chase young playing? Complete non factor.
Day needs to fucking taking charge. Terrible decision to go for the block.
Need to run fields down there.
Need to run fields down there.