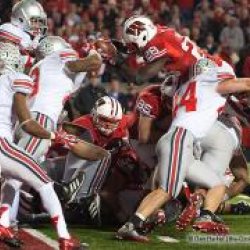 trock
MEMBER SINCE November 25, 2012
Favorites
COLLEGE FOOTBALL PLAYER: Joey Bosa
NFL TEAM: Dallas Cowboys
NBA TEAM: Chicago Bulls
MLB TEAM: Cleveland Indians
SOCCER TEAM: FC Barcelona
Recent Activity
between 11W & Letterman....i don't see the point of paying $13 to access a site.
And his source was correct
Where are you seeing these rumors? All we have on Young is the dumb TMZ. Haven't heard anything on Jeff
Correct. I'm talking about GameDay's ratings. For everyone trying to say it's not a good show the numbers say otherwise
But if you have ratings....sponsors come flocking and pay you
Fowler isn't even the host for starters. And i'm not wrong because the numbers show that it's doing amazing.
Thank you. I feel like we just hit an all time low.
Not sure about falling. Their ratings have been the best since 2015
Are you really blaming ESPN? Do you honestly think Kirk or anyone at ESPN knows the rules for recruits? No. This was a mistake by OSU.
maybe not on this site. but i know on Twitter people were freaking out. The fan base needs to calm down and realize ESPN isn't out to get us. You think they want 2 SEC teams in the CFP? They are going to get the ratings, a second team doesn't help. They want OSU in.
ESPN doesn't hate OSU...in fact they want them to win. And one person was anti Chase Young and that's what you look at. Every other ESPN person was defending him.
OSU fans need to stop being so sensitive to every little thing that isn't pro-OSU. Reporters go where they are sent and don't care who wins. Analyst might root for the team they played for but don't hate on OSU. Joey Galloway has had OSU outside of his top 2, does that mean he is anti-OSU?
A couple weeks ago everyone was upset GameDay wasn't coming to Columbus and are now saying we don't need it.
Thanks. We've gone away from the guests being on every week to more story telling. But we will still have one some big names from time to time.
Stanford Steve and the Bear
No problem. Would love to hear your feedback also
Yeah. His podcast is "Marty Smith's America The Podcast". We sometimes have guest on and other times we just talk about college football or whatever we did over the weekend and random stuff.
Have you checked out Marty Smith's podcast? I will be honest, i am the producer but feel free to give your honest thoughts
Is there a list of players that have gotten injured in bowl games?
Paris may have dropped a few balls, but he continued to excel on special teams. It was one game... I'm not worried about him. As far as Boren, his high snaps need to be fixed, but I have faith in him.
I placed an order Friday morning for a pair and then received an email today saying they were unavailable. Nike told me the over sold them and all they could do is give me a 20% off promo code.
If I had to pick I would say Hoosiers, but I don't care to watch either. Give me Remember The Titans.
I graduated high school in 2006 and if you went to a regional campus all you needed to transfer after the first year was 45 credits and a 2.0
I always loved when they played "we ready" before the team went to the locker room for the final time before the game
Honestly, is there any other website dedicated to one school with better coverage than 11W?
Why is Lou allowed to wear that color at the WHAC?