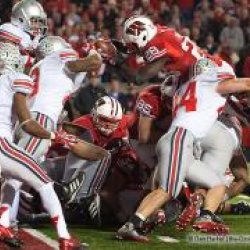 trock
Member since 25 November 2012 | Blog
Favorites
COLLEGE FOOTBALL PLAYER: Joey Bosa
NFL TEAM: Dallas Cowboys
NBA TEAM: Chicago Bulls
MLB TEAM: Cleveland Indians
SOCCER TEAM: FC Barcelona
Recent Activity
Is there a list of players that have gotten injured in bowl games?
Paris may have dropped a few balls, but he continued to excel on special teams. It was one game... I'm not worried about him. As far as Boren, his high snaps need to be fixed, but I have faith in him.
I placed an order Friday morning for a pair and then received an email today saying they were unavailable. Nike told me the over sold them and all they could do is give me a 20% off promo code.
If I had to pick I would say Hoosiers, but I don't care to watch either. Give me Remember The Titans.
I graduated high school in 2006 and if you went to a regional campus all you needed to transfer after the first year was 45 credits and a 2.0
I always loved when they played "we ready" before the team went to the locker room for the final time before the game
Honestly, is there any other website dedicated to one school with better coverage than 11W?
Why is Lou allowed to wear that color at the WHAC?
I used to have a strong hatred towards Kentucky basketball, but working in sports it is starting to go away. I now root for story lines and what makes the job more fun. The exception is ttun.....I will always hate them.
The one time Ohio State fans won't be rooting for Zeke
I would kill to relive spring break one more time. My friend on the other hand not so much. Nine months later....he became a father.
Here's a fun fact....you kissed your sister
I believe that belongs to Mr. Gilmore
I can only imagine what Mark Titus' blog post would have been from this trip. Reminds me of his "Love In An Elevator" story
Nothing like ending my work day with the Skull Session. I can't go to bed without it.
Oh how I miss Kewpee. I could go for a double right now.
I guess I can wear my 47 jersey again even though its a few years old now
Who do I bill at OSU for replacing the hole in my wall I just created?
I'm not saying Thad needs to go, but maybe a change in his coaching philosophy would help.
It's pretty nice getting paid to watch sports. Except when you're a nervous wreck because you have to work during the OSU/Alabama game.
It's a good thing I work in sports. I am simply researching.
I'm at work, so I'm off the hook for needing a life.