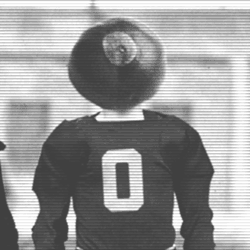 Triv
Columbus, OH
MEMBER SINCE January 25, 2012
Favorites
SPORTS MOMENT: Attending the 2014 National Championship
COLLEGE FOOTBALL PLAYER: Chris Gamble
COLLEGE BASKETBALL PLAYER: Scoonie Penn
NFL TEAM: Cleveland Browns
NHL TEAM: Columbus Blue Jackets
NBA TEAM: Cleveland Cavaliers
MLB TEAM: Cleveland Indians
Recent Activity
Penn State and Joe Pa had all 112 vacated wins restored already
When a post hits -10 net votes it locks the voting to avoid piling on and accumulating say -150 on a single post, hence why you see greyed out posts that appear to have no votes at all. So 10 downvotes and 10 upvotes is a net of 0, so it looking normal is how the system is supposed to work.
A post hitting -10 net votes is 100%, definitively, the only way for it to be greyed out. Mods do not even have that capability.
Yeah, that's kind of my point. Is it Fields that's avoiding the middle unless someone is WIDE open (which would be a concern), or are we scheming more outside the hashes and only going over the middle sparingly by design. Fields needs to be comfortable throwing to the whole field by the time we play the top competition, so I'm cautiously optimistic that it's option 2.
He knew Burrow, the funny part was him asking Urban "how did you let this guy get out of Ohio? Why didn't you recruit him?" because he genuinely was unaware that Burrow had transferred to LSU from OSU.
Well I went full tilt on it and said I could 30 miles an hour
Considering Usain Bolt's world record 100M dash clocked him at a top speed of 28 mph, I think it's safe to say you didn't come close to 30 lol
This has certainly been true of JK in the past, but I don't think it was that evident on this run. It looks like he never sees the guy on his left, and starts veering that way to ensure the guy on his right doesn't get an angle. The defender on the right never makes up a single step on Dobbins, but veering left kinda sent him straight into the guy who attempted the punch.
And Alex Hornibrook is now in Tallahassee.
Coan is certainly no Hornibrook, but he's not beating OSU throwing for 128 yards (his statline against Michigan). He's yet to be relied upon to win a game with his arm, and the one game the rushing attack struggled a bit (vs NW) he went 15/24 for 113 yards and an INT, and was bailed out by his defense scoring 14 points against the worst offense in division 1 football (seriously, NW is dead last in yards per play).
If OSU hold Taylor under 180 on the ground, I don't see Wiscy keeping it close. We're simply too athletic on offense to be slowed down for an entire game, and I don't think Coan is talented enough to win a game with his arm if OSU gets a lead.
Bucks by 2 or 3 TDs. I'll say 37-20 final
Yep, it's fairly simple. OSU sees him as an elite CB, but not as one of their top 5 WR targets. There simply isn't room in the class for him if he's deadset on playing WR given who we are currently favored to land.
it says a lot more about our staff
I would argue it says significantly more about Jordan Fuller, Josh Proctor, and the lack of talent in the ND secondary, but that's just me. Pryor was performing at a worse level than Fuller and Proctor, if ND doesn't have someone better than Pryor playing safety, that says nothing about the OSU coaches. Hafley has already proven to be one of the best in the country.
I do wish Pryor well and hope he kills it at ND unless he meets OSU in the playoff, in which case I look forward to taking a 93 yard slant to the house.
I will continue to tell myself that the tight end seam route splitting the safeties is being saved for an opponent who is actually able to slow down our running game. A route the entire fanbase has been clamoring for over the better part of a decade.
As good as Fields has been, it's a slight concern that he's only thrown 9 passes over the middle of the field, but like you said I'm thinking that is more of a scheme design to keep him comfortable than Fields just not choosing to use the middle.
His grandfather/ great grandfather ( forgot which it is) is Jack Nickolas
You got a source on this? Because I'm like 95% sure this isn't true...
His Buckeye connection comes from his dad owning the hotel that OSU always stays at when we play in the Fiesta Bowl.
Maybe it didnt sound as good in 23C, but I was in 17A and the crowd seemed pretty loud on just about every 3rd down to me. The recruits even complimented the atmosphere
For sure, I was simply stating the plays that were completely and 100% self inflicted. Didn't even factor in the conservative play calling of the first 2 possessions of the game.
Yep, my buddy had to miss the game for his sisters wedding and texted me after for a recap since I was there. He said the game looked a little ugly in the box score but still looks like we dominated.
I told him that OSU had some bad self inflicted plays that made the game seem much closer than it really was. It was never once felt in question once we went up 3-0, and if we play cleaner game its something like 56-10
There were opportunities for Sparty to score more points but their own ineptitude stopped them.
This can be said for almost every team in the country every week. Take OSU for example:
Haubeil missed a chip shot FG
Victor dropped a 70 yard TD pass on a drive that ended in a punt
Fields threw a pick on a play where KJ was open inside the 25
KJ dropped a first down pass on 3rd down
Fields fumbled at midfield
A questionable block in the back negated a pick 6
That's at a minimum 17 points left on the field by self inflicted plays (missed FG, dropped TD, and pick 6 called back). And its only 17 if you assume all of those other drives mentioned still end in 0 points. That game very easily could've been a 40 point blow out.

I don't know what replay you watched but it wasn't the same one as everyone else
This.... literally says exactly what I stated.
The exception for religious missions applies to the 5 year clock, but only military service is an exception for the transfer rule. The part in bold states absolutely nothing about missions.
Obviously it didn't have an impact on the game, but Victor and Hill had crucial drive killing drops. Clean those up and Fields adds at least another 80 through the air and a TD
Losing to TTUN ruins you for an entire year
Adding another year to the rafters a month and a half later would certainly remove any and all sting felt from losing to them. Nobody from Bama cares that Bama lost the 2017 Iron Bowl. Michigan can celebrate a win every 8 years in The Game, while OSU counts the diamonds in their championship ring.
I love shitting on Michigan as much as the next guy, but being kings of college football is a hell of a lot cooler than being kings of the B1G.
Scenario 1 100/100 times
I get what you're saying, but someone literally asked about the rule and how it pertains to Vimahi and OSUs scholarship numbers lol. So someone cared enough to ask about it, hence the answer. I just wanted to make sure he got the right answer and not a completely made up one.
This is absolutely not true, you are spreading false information as fact. NCAA deems you an official transfer if you were enrolled full time at any 4 year institution for any amount of time, or if you participated in any organized practice with your university. Vimahi has done both. From their official transfer rules:
14.5.2 Conditions Affecting Transfer Status. A transfer student is an individual who transfers from a collegiate institution after having met any one of the following conditions at that institution: (Adopted: 1/10/90, Revised: 4/26/01, 4/14/03)
(a) The student was officially registered and enrolled in a minimum, full-time program of studies in any quarter or semester of an academic year, as certified by the registrar or admissions office, provided the student was present at the institution on the opening day of classes;
(f) The student reported for a regular squad practice (including practice or conditioning activities that occur prior to certification per Bylaws 14.3.5.1 and 14.5.4.6.7), announced by the institution through any member of its athletics department staff, prior to the beginning of any quarter or semester, as certified by the athletics director. Participation only in picture-day activities would not constitute "regular practice";
If Vimahi wants to enroll at somewhere other than OSU after his mission, he 100% is considered a transfer by the NCAA and must spend an entire academic year at the new school prior to participating in athletic competition. There are a number of exceptions you are welcome to read here at section 14.5.5.2 but none of them are related to taking a religious mission after enrollment. The only exception afforded to religious missions is on the 5 year eligibility clock.
He does not count against our scholarship count, but he absolutely 100% is unable to transfer upon returning from the mission without following official transfer protocol since he was enrolled for an entire academic year and attended practices at Ohio State. This is directly out of the NCAA rulebook.
Here's a breakdown of how PFF grades pass rushers: https://www.pff.com/news/pro-signature-stats-spotlight-defensive-line
Pass rush win rate is the percentage of snaps the defender wins the rep with no pressure. So saying Chase Young has a PRWR of 34.8% of snaps means on roughly 35% of passing snaps, Young gets a clean look at the QB without being held up by a defender, which is insane. Basically, 1 in 3 dropbacks Chase Young will be in the backfield without being blocked.
Man, we truly got cheated of the Tony Stockman/LBJ dynamic duo none of us knew we needed.
So in the 03-04 season the Buckeyes went 14-16. If Lebron comes to OSU for that year you get a starting 5 of:
6'1" Tony Stockman
6'5" JJ Sullinger
6'8" LeBron James
6'9" Terrance Dials
7'0" Velimir Radinovic
They might not win the title, but that is a sweet 16 team at a minimum just by adding LeBron. And we would have easily been one of the biggest starting 5s in college basketball.