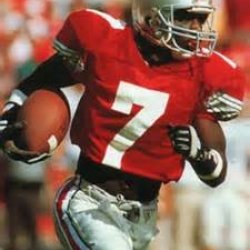 Tritz50
---
Member since 17 February 2014 | Blog
Favorites
COLLEGE FOOTBALL PLAYER: JOEY GALLOWAY, MAURICE CLARETT
COLLEGE BASKETBALL PLAYER: KEN JOHNSON, JARED SULLINGER
Recent Activity
Perhaps some of us should heed our own advice and "stay classy"
Again I said he should not have punched the fan, I'm just not going to get all upset at him for it. He just lost the biggest game of his life in double overtime and a fan runs on to the field and gets in his face. I don't think his reaction to that was that out there. Again he shouldn't have punched a fan, but any of you thinking you would just walk away from that and not want to hit the guy clearly have never been in an intense competition like that.
I'm on Peppers side on this one. While he shouldn't have punched the fan, I hate fans who think the are entitled to run on the field run into a player say whatever they want to him and think he should just do nothing about it.
I typically enjoy talking about the game with real life friends rather than internet friends.
and will have a top 5 match up week 2
Tulsa in the top 5? Interesting
We is it when things go bad for the basketball team it's fire Matta, but when things go bad in football it's fire all the assistants?? Now I'm not saying fire Urban, but I am saying the basketbucks need better assistants. Jeff Boals may be a solid recruiter but I believe he is in charge of developing post players which is not happening on his watch. I think it's time to bring in someone that can develop an offensive game for our bigs. While Trevor Thompson was much more watchable than Amir and Tre, I didn't see alot of offensive improvement from Giddens through out the year, I have a feeling this may be more of the reason for the transfer than anything.
Everyone knows the only correct answer here is good ole' uncle Teddy and Stranglehold
That's a real nice house, that is until that first hurricane rolls in. Not sure I want to live in a house on an island during hurricane season.
"Pistol" Pete Maravich career points scored and career avg. Pete scored 3,667 pts in his collegiate career. That's 83 games over 3 seasons (freshmen were not allowed to play varsity then and no 3-point line). Career scoring avg.....44.2 per game. Anyone good enough to come close to those numbers is in the pros after their first season.
I don't think what Harbaugh is doing is as bad as it seems. Remember two days ago when we flipped two highly rated recruits and everyone celebrated, well where does that leave Maryland?? Recruits choose to switch allegiances a mere weeks and sometimes days before national signing day leaving the school and coach with nothing. A coach who's very livelihood depends on the decisions of these kids. If a kid has the right to change his mind why can't a coach??
Now, where the damage is done is going to be going forward a lot of recruits are gonna lose trust in Harbaugh and it will make it tougher on him to land recruits early in the process, or keep recruits committed.
What makes everyone think the kid won't get a degree after turning pro?? Many college athletes take classes in the offseason to get degrees while in the league.
Can we please stop bashing every recruit and family that doesn't choose ohio state? Just because they kid finds the combo of academics and football more appealing at another fine institution doesn't make him stupid or a liar or looking for a handout he just simply prefers something else.
If he his mom does have an account on any site like this then she should expect to see some criticism. That what these sites or for to discuss sports topics some will applaud decisions some will criticize it's what makes them fun. I think the general rule of don't be an a-hole (very difficult for quite a few people on here) applies when discussing recruits and their choices.
I'd say don't go. I'm sure your friend will appreciate knowing your not a real true friend to him choosing a football game over one of the biggest days of his life. Like everyone said, buckeye football will be on every saturday for the long foreseeable future. If you can't miss one game for a friend, then your a shitty friend.
What will be more surprising Braxton throwing out of the wildcat, or Braxton actually handing off in the zone-read?
When was the last time Ezekiel Elliott didn't grade out as a champion?
was McLaurin on that report?? maybe it's him
Brown, Smith, Campbell, Dixon and my guess is KJ Hill. I know Meyer said on his radio show Hill would play but I don't recall seeing him play so maybe that's who Meyer was referring to? The only other guess is Jeff Greene who I have not seen play yet this year so not sure if he is just not good enough or has some nagging injury.
Craft, because basketball is a business and he will sell more tickets and a helluva lot of jerseys.
I think their skill sets are similar enough that the team doesn't lose much if anything at all and its a much better business decision.
Kevin Durant, Kyrie Irving, John Wall, Mike Conley, Derrick Rose, Anthony Davis, Kevin Love....
Have you actually watched Kentucky play this year?? They are a very fundamentally sound team, the play great defense, run the floor and rebound as well as any team. And despite the common misperception this team isn't full of a bunch of one and done's. Cauley-Stine is a jr., The Harrison's are soph's. Poythress (possibly their best player until he got hurt) is a jr. and Dakari Johnson is a soph. and Lee is a soph. They have 4 frosh that contribute and only one of them is guaranteed to go pro after this year.
I agree with whomever said this is a historically great team. What they are doing in this age of the game is ridiculous. UCLA was dominant because their players stayed. Kentucky is dominant despite some of their players leaving. Anthony Davis would be a senior on this team if he stayed like what had to happen when UCLA reigned.
I think it's funny how you say UNLV was dominant...until they lost. If Kentucky goes undefeated it will be a greater accomplishment than any of those teams outside UCLA and Indiana. The goal is to win whether by 1 or 100, they have beat everyone they stepped on the court with. Even on their worst nights, they still won, that's dominance
Despite all you naysayers I still fully support Braxton at QB. He should and will be the starter against VT
Perhaps you don't remember what Duke and UCLA could roll out.
This would probably be my starting 5 as well, I was old enough to watch Jackson but don't remember it as well. First team I really remember was Redd and Penn. Might substitute Redd for Lighty but Lighty would still be on the team.
Craft's game reminds me a lot of Eric Snow, Smart PG, great defender, awful shooter. Im honestly surprised the Cavs haven't looked at him. They need D and a distributor, Craft's strengths, and delly is absolutely awful.