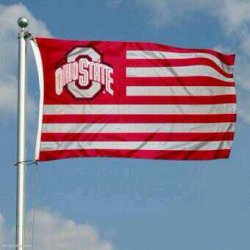 trigg03
---
from Dayton Ohio (Northmont)
Member since 16 November 2012 | Blog
My father's childhood best buddy was Bo Ryan. He met & thought highly of Woody. He also raised me on OSU football. Some of my earliest memories were OSU vs. scUM or USC in the Rose Bowl. I've been following OSU since the early 70's.
Favorites
SPORTS MOMENT: 02' NCG - no doubt !!!
COLLEGE FOOTBALL PLAYER: All Time: Chris Spielman / Now: Braxton Miller
NFL TEAM: Pittsburgh Steelers
MLB TEAM: Cincinnati Reds
Recent Activity
Thanks wiki
The most important aspect of this is that the coaches arent allowing these kids to rest on their success. Teaching them that everything starts all over from zero and only those who go all out will achieve their goals. Complacency results in failure.
aside from the no water aspect...yes...i remember clearly...but we were allowed small drinks of water to prevent all that unsafe stuff from happening. this was back in the mid 80's also. maybe you were before my time.
The bottom line is this.. if there weren't recruiting service sites who place so much emphasis on these kids then there wouldn't be nearly as much publicity. But for people to think that it's ok to send these kids stuff in the mail is scarey. It is scarey that they even know their addresses.
How anyone has ever gotten away with slamming OSU's schedule without also slamming most if not all of the SEC is beyond me. It's one thing to add a Charlotte type out of desperation like months before the season is to begin...such as when OSU had to add Florida A&M...but to schedule them this far out is sickening.
Actually I remember reading stories concerning the way former OSU teams got along with eachother in the exact opposite fashion. There are multiple accounts of segments in the locker room who were against each other which is a great explanation for why they didn't finish their year successfully. I know Coach Tress always attempted to make the team as one but unfortunately it wasn't always the case. In fact that is an extremely difficult task to accomplish but it seems Meyer has conquered this every season thus far.
Awesome
Ha! While this is the best case scenario...it is not likely. There may be a few series where the Oregon offense mounts some type of threat. It would be the greatest defensive game ever played if THE SILVER BULLETS completely shut them down, but realistically speaking it would be a triumph to just keep them out of the end zone most of the game.
There is something to the whole notion of Oregon's dominance in the 2nd half of their games. It says that none of their opponents took them serious enough to prepare for a full 60 minute game. The difference though is that OSU is cut from the same cloth in principle. They have finished each of their games in the same fashion as when they began them. IMO I believe this neutralizes that aspect. So it will come down to talent, will, & heart. I have to give the nod to the Buckeyes in that department.
Not only are these twerps who financially benefit off of a college football players signature the lowest form of life but they then use it as leverage with the kids in a form of blackmail. They deserve yo spend some quality time with Bubba, Ray Ray, and Tiny in some dark state run facility cell. Let them learn the hard way what it means to be owned.
I had such high hopes for Trey. I really thought that he had the potential to be a great contributor for OSU. I hate that his career is going to end due to a medical issue but I hope he continues on in his journey of life and finds success.
Well that's quit possible. wouldn't be a 1st. I appologize for not understanding.
Did I speak on something that wasn't said in his post? There were only 3 points to it...he remembers his recruitment (which was all of 2 years ago) he is happy he picked OSU. I can't remember the other point but all I did was comment on the 1st point he made. So. I didn't paraphrase or add to it or put different words in place of the wording he used. I don't know if it was necessary for me to say anything but I definitely didn't "read too much into it"
So - according to the guy who posted this...he is stating that the most important key to this game is the one part that neither team has any control over...the coin flip...50-50 chance that we win or lose...and if we are lucky then we win. I just can't believe I just read this.
My Gawd. That D line will be scarey. It sux that we have to say good bye to Michael Bennett but bringing back everyone else is amazing. As far as Bosa...Thank you NCAA for that crazyass rule of 3 years before being eligible to turn pro.
I don't grasp the significance of a female who has sex for money as an incentive to make a decision. There is no conquest in hittin' something that has been had by so many others?? If I were to be given a proposal by a "pro" I wouldn't be at all impressed. No matter how big her Tits are.
I wouldn't say "the best team all season". Bama was the best team in the country without any debate. MSU isn't a slouch either. So...I would say that "Oregon is the next best team we have to play."
You act as if his recruitment was decades ago. I really hope you can remember 2 years ago.. (My bad. I shouldn't assume anything) So...instead...I will congratulate you on such an amazing memory despite all the outside factors.
Stunned. No words but I still felt it necessary to acknowledge your words which took all of mine. Awesome bro.
Wow. That's huge. I absolutely hate that now the Oregon fan base will have an excuse for why they got stuffed. It's a travesty in every sense.
Only if you were born after the 2011 sugar bowl. But i, along with many others witnessed OSU beat da fuq outta Arkansas in that BCS bowl game.
I understand what Meyer is saying...I think... OSU has always been a great program. There have been various methods of achieving that level along the way due to Whomever happens to have been at the wheel. Meyer has achieved greatness outside of CBUS and has brought his methods here. Chip Kelly has an excellent method for greatness too. There really isn't a reason to copy Kelly. Meyer has already done the damn thing. People emulate him.
Anyone who denies the obvious attack generated by ESPiN towards the B1G should now take heed of this article. The reasoning for why ESPiN came after the B1G is purely out of greed. By Delaney refusing to accept their contract they lost out on a ton of loot. If each school is making 50 mil...then you can make an educated guess that the network is making much much more. So it was a loss financially for ESPiN to not get the B1G contract. They responded by deliberately trying to destroy the credibility of the conference and by most accounts they were successful because all the shepple bought it.
If cooper were the only weapon at Bama then it wouldn't be difficult to shut him down but taking into consideration their RBs are all future NFLers also it is going to be a tough task.
Wow. The sad part of this video is that this guy is not the exception to the Bama fan base - he is a very good example of what all those retards act like. It would be one thing if Bama brought in average recruiting classes every year but yet was still able to win all those championships but when they have had the top ranked recruiting class year after year it is common sense that they would win. Duh. On the other hand is OSU who have been finishing right behind them. So...it will be a lot better game then they care to admit.