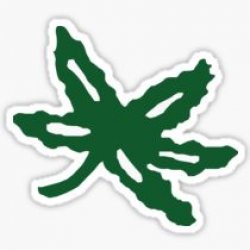 TresselforPres
---
MEMBER SINCE September 09, 2017
Recent Activity
This team is special. Thank god they are able to play, I expect tremendous success
"if you've gotten this deep into another one of my nothingpieces on this web site it's likely you care too much about Ohio State football" Guilty
I used to think of Nebraska as just a bunch of corn shuckers..they still are but they forever get my respect for not laying down and taking it!!
A "task force". They love to call it that lol
Let them play. If a player opts out they should get no penalty or loss of eligibility, but to restrict every single player that's on a B1G team from playing is ridiculous. Let's at least give it a try, if in mid-October the B1G needs to last minute cancel the season because the world is on fire then so be it
I like how they are reconsidering their decision a month after it was made...it's almost as if they jumped to conclusions way too early and should have pushed the season back a month to reevaluate instead of straight up cancelling it. Why does Kevin Warren have his job again?
...and Xichigan still sucks!!!
Wait..I thought they already voted and the answer was no? Seems like Kevin Warren never took a vote the first time and now that Nebraska wants documentation of the first vote he's scrambling like the piece of scum he is
What they've been up to since March, burying their head in the sand...
It would be a great year to change the Cfp to 6 teams with all of the changes being made anyway - 1 and 2 get byes the first week. There is almost always debate over the top 4 teams selected (see UCF in 2018) and it would give us an underdog story every year
What EXACTLY does Kevin Warren think is going to change between September and November that he thinks it will be okay to play then? This is absolutely ridiculous....
Yes..sigh :(
Kevin Warren really thought he was going to get another plaque to hang on his wall behind him for being one of the first conferences to give in. Problem is, the others didn't. Warren could have pushed the season a few games back to reevaluate but he foolishly jumped the gun. Maybe the other conferences will eventually end up shutting their seasons down too, but we'll never know if B1G schools could have handled Covid and a football season now. There are going to be cases on campuses - no shit. Would a football season have put the players/coaches at more risk? Many players reported feeling even safer, OSU was ready to identify and manage myocarditis. Too many decisions being made out of complete fear
Hmm..I honestly sense a B1G (ha) change in college football coming after this year. You got some conferences playing in the Fall and some not, an unlikely Spring season, the players unionizing, definition of an amateur, recruiting woes, eligibility and scholarship issues, etc. I wouldn't be surprised or honestly feel bad after all the poor leadership of the NCAA if The Rock's XFL steps in and has a huge impact with recruiting players coming out of high school. Why not get paid and not have to deal with the BS? Half the players ain't come to play school anyway
Columbus will take some bruises that's for sure, but thankfully it's got a lot going for it. I feel really bad for these college towns that have their university and that is literally it...it's borderline unethical that Kevin Warren ended all these B1G schools' seasons
He folds like a lawnchair
Hope this doesn't come off wrong, but imo the majority of college kids..I mean college adults, were going to get exposed whether colleges have classes or not - and that isn't necessarily a terrible thing. Many 18-22 year olds are (as already evidenced) simply not going to sit at home in a bubble for 1-2 years in hopes of not getting exposed to a virus that they will likely will not even notice they have, even with understanding the possibility of transmitting it to somebody at risk. If we are headed for herd immunity or the buy time until we get a vaccine approach, then at least this population has a very high chance of dealing with the virus if they come across it, which imo is inevitable within 1-2 years at the rate everything is currently going. At least with this age group on campus, they are spreading it to each other for the most part instead of their parents and grandparents - which in addition to online classes, students only heading home when absolutely necessary is what I feel schools should be emphasizing more.
No surprise that he is an attorney
Gene Smith does everything he can to save his job and that's it
All valid concerns, and so...speak up Warren?
JF got that national champions look in his eyes.. :(
Yes @Nm_Buck, unfortunately the truth indeed hurts many people these days..ignorance is bliss
- About 647,000 Americans die from heart disease each year — that's 1 in every 4 deaths. - In 2020, an estimated 606,520 people will die of cancer in the United States - 4.4 million Americans are injured seriously enough in automobile accidents to require medical attention + 38,000 deaths every year - Cigarette smoking is responsible for more than 480,000 deaths per year in the US + 41,000 deaths from Secondhand smoke - Depression affects 20-25% of Americans ages 18+ in a given year. Suicide takes the lives of over 44,965 Americans every year. (CDC) - The number of people who die each year from flu-related causes in the U.S. is 8,200 to 20,000 Not saying Covid-19 isn't a contender as it certainly is, but I found these facts interesting
Doom and gloom, it's a bit too early to make this decision - although thankfully they are preparing to make a decision in advance and evaluate biweekly unlike NCAA football. These poor wrestlers got their last season cut short and now the next season might be too, talk about a mental health liability...
I'm still baffled by the extreme swing in such a short time. They didn't cut the number of fans allowed (see DeWine with HS football), they didn't cut the number of games down, they didn't push the season back a game or two, they didn't give the players the decision to play or not play - they cancelled everything in a week. The leadership trash is certainly beginning to smell..somebody better take it out and put a new bag in