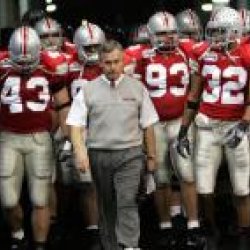 tressel12
---
Member since 30 August 2013 | Blog
Favorites
SPORTS MOMENT: My favorite sports moment was when I saw Cie Grant come in and disrupt Ken Dorsey en route to a huge and "upset" of the Miami Hurricanes tied with the rollercoaster of emotions felt when I thought the game had been lost and then the pass interference call. "Holy Buckeye" also makes the list.
COLLEGE FOOTBALL PLAYER: Craig Krenzel
COLLEGE BASKETBALL PLAYER: Jon Three-bler
NFL TEAM: None
NHL TEAM: None
NBA TEAM: None
MLB TEAM: Detroit Tigers
SOCCER TEAM: None
Recent Activity
That spin move at 1:03 was sick. Reminded me of another recent Buckeye.
Holy hell I am officially on board the hype train and sending this link to all my Buckeye friends. The camera angle that captured the Noah Brown catch he pinned against the defender was amazing would've loved to see that highlight all the way through but DAMN!!!!
One of my favorite QB runs of all time is Barrett's "runaway" lawn mower runs at Minnesota in the snow. So awesome. 14 seconds of pure craziness.
https://youtu.be/6OyuA5kRgVQ
Gotta give some credit to Lighty. Dude was dominant on both sides of the court today.
This is one of the best defensive plays I've ever seen in this situation always an upvote!
It worked out well but Tressel's situation because we got UFM but when Tress resigned the prior two seasons he had a total of three losses, two Big 10 championships, and two bowl wins. I absolutely loved Matta but what he did his last two seasons is a far, far different situation than Tress IMO.
Ala LSU vs. Wiscy last season.
I wish I could offer you another upvote sir! I will always upvote this!
Best report I've seen all day. Got what has been coming to him for a lonnnnnnng time.
Good lord he is powerful. Can't wait to see him in a Buckeye uniform!
ESPN:
Now that was funny. Instant upvote!
One game does not define a coach. Urban is undefeated against TTUN and has a national championship under his belt in 5 years. It isn't possible to go undefeated every year and his teams have gotten unlucky the last two years of losing to the wrong team at the wrong time in the Big 10. I have a feeling we are going to se something special this year.
I have defended Thad in previous posts but nothing can defend that......total lack of effort and no urgency.
It's sad that fans have resorted to root for an opponent when this team still has things to play for. Never will I root against Ohio State in ANY situation. GO BUCKS!!!!
Allow the downvotes to come if they must but I really believe Thad deserves another year. He built this program to what it is and lofty expectations of this program are a direct result of what he created. I am in complete agreement that there needs to be some shakeup with the staff but Thad should be able to have a chance to salvage this. This team dealt with a good amount of adversity and I think the KBD injury has been significantly downplayed. If we had his 10 or so points a game and his defense I think the outcome this season would have been drastically different not to mention the unfortunate health issues that struck team family members this season which no other team to my knowledge had to deal with.
The lineup change later in the year seemed to energize the team and both CJ and Wesson showed significant improvement as the year went on.
No way you can pin this loss on Marc but the dude plays with no sense of urgency on defense. Constantly looks lax and gets beat....
I can't agree more with this. What the hell is the point of college basketball if they don't review plays like this? And then they review a continuation call instead? I know the call on Melo didn't really impact the game at that time but good lord.....
God that was a needed win. Great play by CJ to find Loving!!! We really gotta stop with the first half turnovers....
I work in Columbia, SC and have to hear all the time how good the SEC is year after year. My response to gamecock fans is that the SEC east is a dumpster fire and South Carolina hasn't been relevant since Spurrier was there. That curbs their enthusiasm quite well.
I understand the point you make but not sure about your examples. Samuel was hurt for a decent amount in 2015 and playing behind the best running back in the NFL right now. Powell was a two year starter before his last junior season and had a good season by all accounts in 2014. UFM did play a good amount of talented freshman this season and I hope to see the trend continue. It's gonna be hard to keep this talented 2017 class off the field. I'm specifically hoping Grimes can recover from his injury quickly and get some quality playing time on the outside. Dudes gonna be a stud.
I can't agree more with this comment. The fact that he practically gave us a score with his whining antics really cost him in the game too but I'm sure he'd be quick to dismiss that as "bad officiating". What a doucheturd....
I'm not sure if the committee takes this into account but we also had to play in two consecutive hostile environments after they BOTH had a bye week. That extra week of preparation really helped both teams IMO.
This was just an unbelievable win..... snatching an OT win fro* TTUN feels sooooooo *uch *ore satisfying along with what was taken fro* the* in defeat!!! Curtis is a fucking BOSS!!!