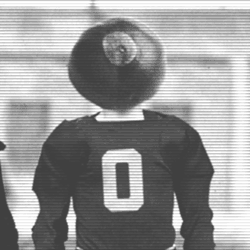 Trebor40
---
MEMBER SINCE July 14, 2016
Favorites
SPORTS MOMENT: Beating Miami 2002-2003
COLLEGE FOOTBALL PLAYER: Craig Krenzel
COLLEGE BASKETBALL PLAYER: Aaron Craft
SOCCER TEAM: My daughter's team
Recent Activity
Thank you for the insight
That is entirely to much reasoned argument for such an emotional topic!
The problem many have on here, is that the same ones who bashed JT Barrett REGULARLY are also the ones who attacked this defensive theory. If the guy they felt was mediocre was able to hurt it THEY cannot except it! By the way you are correct, JT made a whole lot of people look stupid. To be honest in ANY game the O-Line stood up to the opposing D-Line JT did real damage to the LB's and Safeties.
Or, playing devils advocate, Meyer goes with Burrows and we never have Haskins which means we never have Fields!
I am incredibly happy to read how highly a high level trainer thinks of Day, this is the type of testimonial that other colleges would have a rather difficult time overcoming in a competition come signing day!
The way Burrows handled going down to LSU also helped show what Day was doing in QB development.
Thank you for the context
Coach Washington put on display, in a short time, what a fantastic and interactive speaker he is. Out going without being ridiculous, encouraging and very interested in the energy level and / or speed with which his players play the game! Make sure you do your best with speed and force!
McLaurin's special teams play would elevate him in New England! Then he would rotate to contribute to their WR corps!
That was a display, receivers who will go in the first three rounds catching passes from a QB who will go in the first!
AKA 4 guys on rosters next year in the NFL who made us proud here at tOSU!
Holtmann AND staff, have made a remarkable run here so far regardless of tomorrow nights results - if they win the staff would be considered to have brought together the best a team could have imagined with our total pieces!
Iowa State looks tough to guard for our Bucks as we do not have a rim protector, yet we have a young man in Wesson who is different than most teams face during the season. I feel like this could be a hidden benefit - not just hat Kaleb matters for us to be competitive, it is HOW Kaleb is effective that is challenging for many teams. Or to put it another way, Kyle Young and Andre Wesson can guard any player they put on the block or the short corner, they have FEW that can guard Kaleb when he is on the block
Yes my friends, those young men can say "WE are here now!" I like many of us felt that 15-15 would be a reasonable expectation - They, staff and players alike, showed what team can do!
Our teams are filled with issues and doubts yet have the advantage of incredible resources and depth,
Two teams enter -
One team leaves,
for dreams
dying time's here
Cannot wait!
I am not in anyway seeing the point to this topic by the NFL other than a last shot at Meyer and Ohio State, by being as negative as they can about the only thing left for them to be negative about!
I have never felt Borland was as violent at the LOS as a Middle LB should be, I believe he often catches the blocker or RB than driving through them!
Yet I must acknowledge that he delivered several blows that led to fumbles the past season and so my desire to have him as a short yardage LB and mentor has grown. I just do not feel that he is a between the 20's MLB
Regarding Werner, this is where I am on both sides of the fence, he made a hell of an impression on special teams - his speed is uncommon and I am unaware of how he might play when I am certain between Davis poor teaching and the frustrating scheme which is all he has known in college is the only way I have seen him!
Werner might of course flop yet be prepared for him to come out on top of the position battle that so many have dismissed him from!
I agree about line play - yet all that has been said was last years line was just as good as the one preceding it! I believe scheme was VERY ugly and in fact while becoming enamored of the line Schiano hurt his (to close to LOS) LB's and isolated his DB's to allow our D-Line to be the stars of the show!
Agreed we MUST win battles at the line of scrimmage, someone when needed has to overcome the guy across from and NOT allow the play to happen!
Short yardage, goal line, as well as more so inside run oriented teams - Borland should see a large number of snaps, against the rest of the field he should see a limited number of snaps.
I also hope they move Browning outside and we see far more of the young MLB in addition to Hilliard!
The difference is I am not sure that Browning will become the starter out there and instead be Harrison's backup. I just cannot shake this feeling that Werner is going to hold onto the other outside position. I was hoping he would become the hybrid player that Peppers played at *ichigan and we could have White and Jordan for a year of consistency yet that does not seem to be the direction chosen currently.
All Baldwin has seen at QB ahead of him - whether high school or college are guys who have started in college and a couple who either now or in the VERY NEAR future will play in the NFL! I suspect that Fields is amazing yet not sure Baldwin gets overwhelmed or out played!
Fields on the other hand might get concerned that the guy he came to move past is not the victim he might have assumed.
I just read through the comments again and saw very few if any mention the starting LB's come on Eleven Warriors where is the gnashing of teeth and wringing of hands!!!!!
Larry Johnson will handle the D-Line yet Mattison will incorporate them into a more complementary role within the greater scheme!
A lot to be said for coming out relaxed! He in truth has very little pressure on him!
I believe these first pressers with Day are going to be interesting even with last year as practice, he will state things instead of malleable comments at first until we the people and particularly the 4th estate nail him for an assertion
Yes indeed, may all of them embrace the fitness and training for the all the benefits it grants them