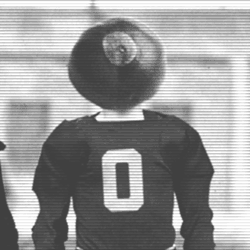 Traviscols
---
Columbus (via Mt Gilead)
MEMBER SINCE January 31, 2016
Favorites
COLLEGE FOOTBALL PLAYER: Eddie George
COLLEGE BASKETBALL PLAYER: Aaron Craft and Chris Jent
NFL TEAM: Cincinnati Bengals
NHL TEAM: Columbus Blue Jackets
NBA TEAM: Golden State Warriors
MLB TEAM: Cincinnati Reds
SOCCER TEAM: Columbus Crew
Recent Activity
I was going to say the same thing! I've been to dozens and dozens of OSU games outside of Columbus and I've never been to one that was so one sided as Saturday nights game in Indy... I was there for well over an hour before I saw a single badgers fan. Buckeye nation was quite impressive!
I took it to mean- we should be thankful that we were born Buckeyes
This dude is the real deal. I went to see him play against UA this year. He is absolute beast! I think you're gonna like this guy the more you see him play.
Went to the UA game at Winton Woods a couple of weeks ago... Miyan Williams is the real deal. He is an absolute beast. I would love to see him playing in Columbus on Saturdays!
Nice to see both hockey programs starting to come into their own! Hopefully both programs can become annual threats to bring home some championships...
It seems almost every athletic program at Ohio State is headed in the right direction except baseball.
Wow!!
What an impressive week!
I'm leaving in about fifteen minutes for Upper Arlington High School to watch Jaelen and WS play UA...
I'm excited to see what he can do!
You shouldn't snort them all at once? Lol
I like the "program power" part of the rankings...
It has Ohio State ranked as most powerful program with a 100... It gives Michigan program power a 80...
I'm sure that will piss off their fanbase!
This will be my fifth trip to Bloomington for a Buckeye game and there always seems to be just as many Buckeye fans as IU fans... And i don't expect this time to be any different... Except TBDBITL will be joining us! I can't wait!
Totally agree with you about the Evans Farm Development... I don't think a lot of people know the details about it, but it should be quite a development, but it will definitely add some traffic to that area.
Just wait until it's all complete through there in around a year!! It will be a major improvement!
Totally agree, Tim Hortons is definitely still a sponsor...
But Wendy's no longer owns Tim Hortons.
Q) why do Michigan graduates keep their diploma on their dashboard?
A) so they can park in handicap spaces
Q) How many Michigan fans does it take to screw in a lightbulb?
A) Not sure... but I'll let you know when they figure it out
Q) What do Michigan football players and Michigan cheerleaders have in common?
A) they both suck for four quarters
Oops I forgot a couple other "rust belt" areas from my list above...
•Milwaukee in WI -
•Buffalo and Rochester in NY -
Most consider the rust belt to be mainly in or near the following areas:
•Erie and Pittsburgh in PA -
•Cleveland, Youngstown and Toledo in OH -
•Detroit and Flint in MI -
•Gary in IN -
•Springfield in IL -
I've seen a few people say that "all of Ohio" is in the rust belt, but most experts agree that Columbus and Cincinnati are not in the rust belt.
Not anymore... Wendy's "spun off" Tim Hortons about five years ago.
Speaking of Buckeye Donuts... I live by the one on South High, and I want everyone to know about this amazing donut they have there, that if you have a chance to try, you absolutely should...
It's actually called a "Buckeye donut"... It's a yeast raised ring donut dipped in chocolate and then the middle is filled with a whipped peanut butter cream fluff... They are amazing. (They're pretty rich, so I recommend having a cold milk with it)
They go fast, but you can always ask them to make one for you if they are out. Also, the one on campus does NOT have them. You can only get them at the South High location.
Not that it's really that important...
But I did want to correct the top of the article that says Cuyahoga is the largest county in the state...
Franklin County actually passed Cuyahoga County as the most populous county in the state earlier this year.
Based on the recruiting classes that Calipari has signed since he's been at UK, I'm shocked he's only got one natty... But I love it!
Just found out today that TBDBITL will be at the game as well!
I can't wait... Got my tickets ready, and we are getting impatient... Only two weeks to go!