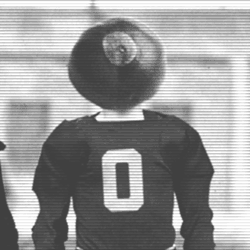 Trapper99
---
MEMBER SINCE December 16, 2016
Recent Activity
Sorry to hear about your fiancée losing her eye sight:)
Congrats man
Who's got it better than us?!?!?!
I only give him a 7 out of 10 on the dunk...
Needed to spread his legs more like MJ. That would have been an EPIC troll job.
LSU moving in front of Ohio State if both teams win is a load of crap, but I very well think the committee could do it because SEC!
Best situation for OSU to stay at 1 may be Georgia beating LSU. This way we can smack two SEC teams on the way to winning the Natty.
Another news source has said a woman in his apartment was arrested. Looks like a domestic issue versus a robbery incident.
Heal up man
Glad we won.....
.....but why no pass coach?
What did Urban whisper to Shelley right before commercial...something about "good being on tv"
WOW!!! Big Noon Kickoff is rockin!!!
Needs to be a black person but....
Hey Desmond,
I'm Black
I'm 25
I repay my loans
Didnt know Brutus had black hands?

Good troll, Desmonds a ass who shouldn't be on the air after his comment about Chase.
I wasn't going to say it but after seeing this clip screw him....
The only way he can prepare is lube and BOHICA
Just an average performance that is not even worth a mention in this article
Put me in Coach! I can take Rutgers
The answer is always Alabama
If a loss drops a teams performance, then they really aren't a good team. So I'll say a highly ranked team that has a loss early and ends the season with 3 or 4 losses isn't really a good team from the beginning.
Example: Michigan
Klatt made an excellent point this week. If Minnesota had the media hype this year that Nebraska had, they would be a top 4 team right now. Preseason rankings are a sham, especially with SEC bias.
It will also be his last time in the Shoe
Because the media has an agenda and their own darlings and don't hold everyone to the same standard. If every little incident an SEC school had got as much media attention as what OSU does, perception would be different.
Media has an agenda and different rules for different players
My now wife who is from Ukraine, first time I suggested Chernobyl, said "why would you want to go there, it's terrible place".
I think the locals think us Westerners are crazy for flocking there...
Lovin the Dobbin's stiff-arm compilation