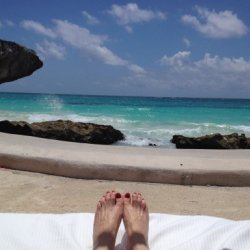 tracyre
---
MEMBER SINCE September 01, 2012
Favorites
SPORTS MOMENT: Being in the Shoe when i was 6 for my first game against Wisconsin. With my Dad. That was the end of that. I have bled Scarlett and Gray since. The other was watching the boys play in AZ in the 2002 game...AH-MAZING!

COLLEGE FOOTBALL PLAYER: Eddie George
COLLEGE BASKETBALL PLAYER: Jim Jackson
NFL TEAM: Browns and Skins (husband!)
Recent Activity
Looks like ur getting more downvotes!
I also think that seeing the whole field is an area growth this year by Fields. There were def. people opened that he didn't see.
Shame on you!! #buckeyeforlife
I had that same feeling...like oh, it's on. He gets it.
Whatever gets you through the night there, buddy.
Like lots of what u said but if LSU blows Clempson outa the water it's not a bad look for us. Nationwide everyone knows we were the better team. They also know we got robbed by officials.
I've been watching many years and this was a top 3. So much both in and out of our control. Double whammy. Besides the fact that we were so obviously the better team.
It doesn't have to be an either or situation. As far as I'm concerned one has literally nothing to do with the other. Btw, calls went both ways in that 02 game. 2019 not so much.
You most DEF forgot USC. Worst ever. Besides living out here, you can gage a lot by if and how many troll boards ahead of the impending match up. (On 24/7) and we heard so many usc fans pop off with one semi decent year in 15. But it all felt better watching the proof on the field that year. Univ. of spoiled children. Although it should de deliusional children.
Hop on to 97.1 the fan - this morning on Bishop & Laurinaitis the first 15 minutes James breaks down that Shaun Wade targeting call brilliantly. Says all 4 criteria needs to be met before the call on the field could have been made. Of which only 2 were met.
https://www.971thefan.com/ . You can hop on now, or in a few hours the show will be avail to listen.
Yes but I can look back at this last year and say we're in a better place now than we were then.
At the end of the day it's this simple - and independent sports news source owns brands within the sports world and reporting is no longer independent. +1 to OP
Heart of a warrior. He is a pure winner.
Wish him well as it sounds like he had a tough upbringing. With that reasoning it's def better he went there. Amazing tho to hear comments. It's like Dabo said them himself. Reading between the line lil ol clempson, lil ol a Dabo, and the lil ol police dept all look out for each other in a small town. Just sayin.
Kane was never a Buckeye if that kid bailed that quickly. Or he has a weak constitution. Either way he did us a favor.
Agreed. 100%.
But what he said in '16 was arrogant and beneath what most coaches would say regardless if it was true. Act like you been there before.
Got that right. He stands at a podium blaming other people for HIS kids failures on the field the year before last. This year he throws all of his assistants under the bus, has BIZARRE halftime interviews where he's clearly speeding on something...the list goes on. Amateur hour. He needs to lock it down big time.
Dude this is only ONE person to blame for this, and it's Herman.
I can't IMAGINE Urban ever doing something like this. What a joke this guy is. He might have mensa but he has no character.
I second all of this! Nice reply and direction!!!