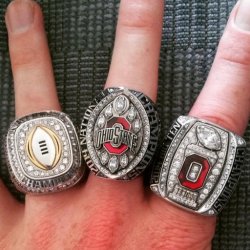 ToTheHouse
---
Member since 14 February 2013 | Blog
Favorites
SPORTS MOMENT: 02-03 & 014-15 NC'S !
COLLEGE FOOTBALL PLAYER: Archie, Pancake Pace.
COLLEGE BASKETBALL PLAYER: Hondo
NFL TEAM: Browns
NHL TEAM: Bobby Orr's Boston Bruins
NBA TEAM: Cav's
MLB TEAM: 1st Reds, 2nd Tribe
Recent Activity
Well, on the other side of this hosing...Tress + UFM = Double Barrel Cannon !
Well, for future Buck qb recruit's needing to transfer out & landing at a outside the B1G school in Div 1 isn't a aweful reason to get caught in tOSU QBU log-jam.
The Golden Bear...Paying it Forward ! Kudos, upvotes, accolades, & acertics !
This is a eSICpn spin spun fairly accurately, unfortunately but true: And this just in: The Celtics are good. The source of their downfall has been repackaged into a strength. They don't have a go-to scorer like Hayward or Irving, but they have the next best thing: a committee of worker bees who, collectively, offset the superstar void left by injuries. Bron's shoulders may not be big enough this series, this doesn't excuse the King's court...jesters.
They been pretending long before hairball, he just took it to a lower level, to fool all those fools...with more foolishness.
They would take the line that they are always...odd.
This will be harder than the Indiana series, King & Co. really need to go back home 1-1.
The top two League Pipelines go through Sick Saban...AND tOSU. https://www.google.com/url?sa=t&source=web&rct=j&url=http://www.cleveland.com/osu/2018/02/where_ohio_state_ranks_when_mu.html&ved=2ahUKEwiousnG9oTbAhWK61MKHcPvDA0QFjACegQIBxAB&usg=AOvVaw0W8sGFwqkLqIyGALLKZn5K But the recruiting rankings are NOT what UFM be competing for, SHIPS are. The Shawn Springs Report is OUT, hopefully Urb's 2nd CFC at tOSU will be...IN the books !
"They also check up on me outside of football," McCollough said. "[They're] always making sure I stay on top of my grades and making sure my family and I are [doing] well." Just what makes Urban Culture a continual top recruiting pipeline !
Thanks Andy. Would be great to have a headsup how the past 5 years of recruiting have brought the "elites" into the program ?
"So, there is something to this Urban (Cin'Quan) Culture after all." said hairball. "Now how can I modify sleepovers, euro-pee'n b.s., and all my tactical-tasteless smokenmiror harbology ?" "Shea Patterson, Harbaugh's new QB from Ole Miss, was born in Toledo, as well." Thanks Buckeyedude. And, UFM's hometown.
"As for Blue, it's nothing but disaster..." Dubber edit. Muck fishigan friday & all days that end in "y" !
His life since birth hasn't stopped being a growth SPURT...say hey, BIG Bubba Spurt !
LN brings-it...a B-12 intensity. Unless he's in Lue's doghouse, or hurt ?
There may be One that's ALWAYS peaKing, & if KJ & Jr. ever put in a complete series like starting against the Celts, we can only hope they would make a complete Finals Peak ! Did we mention The KING Factor !
1. Bron don't have no ceiling. 2. The newbies are jelling... 3. What's up with Nance ? 4. LBJ is GOAT, WHY ? 5. MJ didn't have to carry Pippen & Co. 6. BRON be WILLING his !carry technique! 7. Believeland, Ring #2 next, after Celtics.
Dito, dito, &...uh-huh. An Urban Culture project one very blest team will...definitely, Get !
We Cavs fans will never forget this trying to wrap our mind around another addition to the growing list of late-game LBJ heroics...he's beyond the shadow of MJ now, who didn't have to carry Pippen & Co. on his back like Bron since returning to Believland ! It's why we call him...The King !
Thanks Kevin for sharing these expressions from your heart, it's how we've come to know you a little through all your writings and just like always you pay it forward again...thanks again. I vote you stay on as another great Skully writer, you'll be a winner wherever you go.
I-O!!!
Thanks for this forum post AF, when the Cavs present I'll post and back LBJ & Co. There are everal possibilities to your wondering where's the Cav's Love ? (pun intended) No not all Ohio sport nuts are Cleveland Believer's, and with the rumor mill singing its tune about the King leaving after the playoffs; and KL & JR's regular inconsistencies this in part might explain the absence of 11W comments. fwiw.
The waste/crapper truck driver will have his hands...FULL. This whole thing, stinks.
There may be a "whiz" up north, but he sure isn't clever. Well the smoke-n-mirror whizzing sure seems to have the scUM yahoo's snowed for now.
"LarBon Jim tha Kang dumping"...is he with this fade-a-way being used more among his plethora of lift's, elavating his game to another G.O.A.T. level ? Shoot...he has NO ceiling, except age !
Just boss how...thee Boss: UFM & Co. keeps nailing Tx. Elite cruits even now with Herman ruling the state. /s