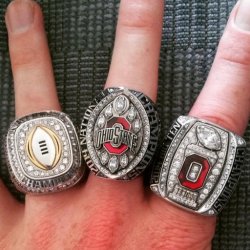 ToTheHouse
---
Member since 14 February 2013 | Blog
Favorites
SPORTS MOMENT: 02-03 & 014-15 NC'S !
COLLEGE FOOTBALL PLAYER: Archie, Pancake Pace.
COLLEGE BASKETBALL PLAYER: Hondo
NFL TEAM: Browns
NHL TEAM: Bobby Orr's Boston Bruins
NBA TEAM: Cav's
MLB TEAM: 1st Reds, 2nd Tribe
Recent Activity
Hoe.
-I-O That ain't protocal I don't care once a Nut always a Die Hard !
Thanks for the write up James, Coach Holtmann gotta be making you scribes job fun-er and that keeps 11W at the Top of...Thee Best Buck Sports site...ANY WHERE ! O-H
Just a Major Plus to trust UFM & staff with Cruit'n U. We're in Good Hands...in All States !
And the next sleep over... & What off-season for the Flip Master UFM ! It's always off even during...for pukigian. Now for Kane to hammer Micky's dojo !
"John Cooper always used to say if a dog is going to bite he'll do it as a puppy." But, but...he couldn't leave any bite marks on puke-igain.
What off-season ! Congrats young man...the Micky Marotti dojo awaits to take you to your next level of excellence ! Urban The Recruiting Mistro Meyer, does it AGAIN !
TRIPLE-DOUBLE-BOOM !!! WHAT...off-season !
"The good news is only 174 days remain until..." UFM goes 7-0 !
Exactly 91, and we know there isn't a ceiling except age and even that doesn't seem to be a factor presently for The GOAT !
He has won six straight Game 7s over the past 10 years, two of them on the road. He has won seven of the past eight elimination games he's been in, including three this postseason. And he has now come from 2-0 down to win a series three times in his career. (These stats came from eSICpn) The two times he has lost Game 7s were in Detroit in 2006 and in Boston in 2008. He has since beaten the Pistons four times in the playoffs and he's gotten the Celtics five times in a row now. "It's been roses," James said. "There have been thorns. There's been everything that you can ask for. I've said this has been one of the most challenging seasons I've had." Russell, kobe, mj, didn't have to CARRY their teams to the Finals, we are watching GOAT history...he's just on an elite level that's all his own !
Exactly, and another HUGE is LBJ's age, he's maintaining an incredible energy level against a very young team.
Happy Declaration/Memorial Day...freedom isn't free ! God bless the memory of my dear Air Force Captain Father's memory, love ya Dad ! "Seems like Tate is confident..." Getting into any opposing qb head, anyway he wants, get'r done ! GOAT. The King, literally CARRYING his team (minus Love, or any all-star) into the Finals. Could mj have done it ? Really can't compare different era's. It'll take a "Bron miracle" Believeland for Crown #2.
Well, on the other side of this hosing...Tress + UFM = Double Barrel Cannon !
Well, for future Buck qb recruit's needing to transfer out & landing at a outside the B1G school in Div 1 isn't a aweful reason to get caught in tOSU QBU log-jam.
The Golden Bear...Paying it Forward ! Kudos, upvotes, accolades, & acertics !
This is a eSICpn spin spun fairly accurately, unfortunately but true: And this just in: The Celtics are good. The source of their downfall has been repackaged into a strength. They don't have a go-to scorer like Hayward or Irving, but they have the next best thing: a committee of worker bees who, collectively, offset the superstar void left by injuries. Bron's shoulders may not be big enough this series, this doesn't excuse the King's court...jesters.
They been pretending long before hairball, he just took it to a lower level, to fool all those fools...with more foolishness.
They would take the line that they are always...odd.
This will be harder than the Indiana series, King & Co. really need to go back home 1-1.
The top two League Pipelines go through Sick Saban...AND tOSU. https://www.google.com/url?sa=t&source=web&rct=j&url=http://www.cleveland.com/osu/2018/02/where_ohio_state_ranks_when_mu.html&ved=2ahUKEwiousnG9oTbAhWK61MKHcPvDA0QFjACegQIBxAB&usg=AOvVaw0W8sGFwqkLqIyGALLKZn5K But the recruiting rankings are NOT what UFM be competing for, SHIPS are. The Shawn Springs Report is OUT, hopefully Urb's 2nd CFC at tOSU will be...IN the books !
"They also check up on me outside of football," McCollough said. "[They're] always making sure I stay on top of my grades and making sure my family and I are [doing] well." Just what makes Urban Culture a continual top recruiting pipeline !
Thanks Andy. Would be great to have a headsup how the past 5 years of recruiting have brought the "elites" into the program ?
"So, there is something to this Urban (Cin'Quan) Culture after all." said hairball. "Now how can I modify sleepovers, euro-pee'n b.s., and all my tactical-tasteless smokenmiror harbology ?" "Shea Patterson, Harbaugh's new QB from Ole Miss, was born in Toledo, as well." Thanks Buckeyedude. And, UFM's hometown.
"As for Blue, it's nothing but disaster..." Dubber edit. Muck fishigan friday & all days that end in "y" !