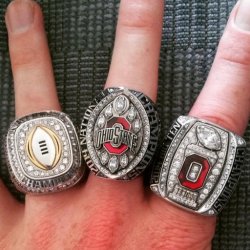 ToTheHouse
---
MEMBER SINCE February 14, 2013
Favorites
SPORTS MOMENT: 02-03 & 014-15 NC'S !
COLLEGE FOOTBALL PLAYER: Archie, Pancake Pace.
COLLEGE BASKETBALL PLAYER: Hondo
NFL TEAM: Browns
NHL TEAM: Bobby Orr's Boston Bruins
NBA TEAM: Cav's
MLB TEAM: 1st Reds, 2nd Tribe
Recent Activity
To the dv police, its invisible italics humor, lighten up. *We're praying for you DJ.
There used to be what we called UFM Culture, now Day is making...his Culture. These Cameron ballrs represent his culture on and off the field. Different HC's and staff are virtual artists, unique as their recruits. TEAM players, T.ogether E.ach A.ccomplishes M.ore. Team is everyone, all trying to reach their ceilings, and push past it. These position coaches are coming and going from the League bringing it, spot on hot takes to these future 1st rounders and beyond. Welcome Mr. Martinez, and to all present and future associates. Excellent write up Colin. It's. Sweet. To. Be. A. Buckeye.
"...CARTON TEASES RETURN ?" Wo Kevin, this 245 word warehouse; didn't know you could give write ups on *no info*...that exquisitely (my word for my day). You should hire a secretary and take orders for mid-term, and finals papers. Your a master at creating word appendages that would all grade out A+'s. Set your price per word, think of all the extra $$$, you could retire say...by the next skunk weasel game. Can I. Be. In. Sales.
The no clue about anything...is a major violation.
It's definitely gonna be hard on his social life. There's got to be another way to get off this off-season stuff...
Who's all in with Coach Holt... I. Am.
"Mother-eff'n Buckeyes !!!" "They own us..."
Well duh...
K.H. "When you break an NFL record, you get to wear whatever you want. Those are the rules. Michael Thomas got some insane custom Jordan 1 cleats celebrating his single-season receptions record " *See 1st tweet in this Skull.
Can't Guard Mike *Enraptured* Thomas.. Boom & Wow. Just keeps giving intense pleasure & joy to: • The Saints • tOSU • & Buck Nation *New records, new shoes...who new. Can't. STOP. Mike.
70 DAYS UNTIL 3,000 DAYS SINCE MICHIGAN BEAT OHIO STATE Forum: by Dividedby6 December 4, 2019 at 7:01am "with a permanent coach and a chance at bowl game??" Let's hear your answer ?
The Buckeyes' longest streak in the history of the rivalry. Choke. on. this. hairball. *He definitely does every Nov...0-5.
The Buckeyes' longest streak in the history of the rivalry. Choke. on. this. hairball. *He definitely gags every Nov...0-5.
Well then, let's hear how stupid your name is..not ?
Hairball & skunk weasels still...suck. Muck Fichigan is everyday that ends in y.
The No. 1 overall player in the state of Indiana who is a three-star prospect and a top-15 rated offensive guard nationally …was selected to play in the All-American Bowl in San Antonio… his versatility allows him to play any position along the offensive line. "the coaching staff and the players are just like family to me." JF "This blogger is a huge fan of slobs with personality, and so far, it looks like Fryar is a five-star in that department." KH Josh be like 5-Star on&off the field. He joins 5-star ballrs, 10-star coaches & staff. And Thee tOSU Star of the B1GC. Last and pretty much least...Owning Hairball's skunk weasels...0-5. Here's to 0-6 in '20.
The football Bucks, and now bb Bucks, the 1st Owned the skunk weasels again last Nov....in the Stink House, and now the round ballrs bring the W...back Home. How. Delicious.
Fire both stinking *ichigan B1G wanna be's, never will be elite anything ever up there.
No doubt the skunk weasels are slobbering all over their twisted thinking they now gonna own little brother...and it'll definitely be a couple years for Sparty to resurrect. Same. Old. *ichigan. Diarrhea.
Like this dweeb'r woulda got us to the Final 4 TWICE, besides having back surgery. Well Duh. *goblow troll...
https://www.theblaze.com/bill_murray_super_bowl_ad
Jeep's 'Groundhog Day' SB ad is hailed as 'genius'...and Punxsutawney Phil, the popular groundhog could not find his shadow, which means we are due for an early spring. Sheesh. Lil'bear Bosa (30.8%) was the SB MVP's shadow all night (no other defensive player was higher than 20% registering a sack, hit, or hurry.) Thanks Kevin for this PFF. Early Spring has already Sprung on the League from the Rookie Defensive Player of the Year. *Major represent tOSU.
Wo, Lil'Bear's 3rd Rookie of the Year award...now Can't Guard Mike OP of the Year !!! *Choke on it Hairball & skunk weasels. **Incredible off-season.
Wo, Lil'Bear Rookie of the Year...now Michael OP of the Year !!! *Choke on it Hairball & skunk weasels.
Washington: "...It's just heartbreaking to have an unfortunate accident like that." Yes. This. It was KB's time. Its appointed to man once to die, and then the judgement. We all have a time, an appointment. Hope you and your daughter and the others RIP.