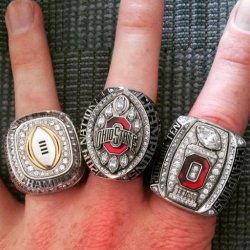 ToTheHouse
---
Member since 14 February 2013 | Blog
Favorites
SPORTS MOMENT: 02-03 & 014-15 NC'S !
COLLEGE FOOTBALL PLAYER: Archie, Pancake Pace.
COLLEGE BASKETBALL PLAYER: Hondo
NFL TEAM: Browns
NHL TEAM: Bobby Orr's Boston Bruins
NBA TEAM: Cav's
MLB TEAM: 1st Reds, 2nd Tribe
Recent Activity
I miss The Wave...anyone with the wave gif, step up. O-H-
If there isn't an Ohio Humanitarian Hall of Fame...there should be !
Your a sight for sore eye's to GTH, good thing this is social media. I know, corny right off the cobb...
Linga you always know how to sling-a...
O-H-
The Burgh is safe & secure...they still have their Cup !
*Another day at the office for: Urban Flip'n Meyers. **Welcome MT3 to: The Shoe into NFL Time ! Welcome BACK, Donald Joseph ! Here we go Believeland...GO CAVS !
Donald Joseph
Flip, Flip, Flip.
"NATIONAL CHAMPS ! Ohio State women's tennis duo Francesca Di Lorenzo and Miho Kowase secured the program's first-ever national championship." *It's worth...repeating !
Thanks Kevin for these *always welcome* Buck updates; keep making 11W thee Best total OSU SPORTS GLADIATOR ! O-H-
Thanks GTH, miss keeping closer tabs on 11W ! Hope you're maintaining your off season sanity...
"MILLIONAIRE COMPLAINS. Jim Hairball..." Always makes an off-season no-football Sat. better to see 11W's muck-fishing Fri. roll into *ichigan still *ucks Sat. Thanks Marionaire. *Cav's set record in lopsided victory ! http://www.espn.com/blog/cleveland-cavaliers/post/_/id/4148/cavaliers-open-up-largest-halftime-in-postseason-history-take-2-0-series-lead-in-boston Wo...& K.Love this series...is he back ? Didn't think Bron had any more levels...wrong ! O-H-
C'mon, it's a late April Fools joke...wait...it's not April, or is it ? Hey, YOU, ya you..get off my lawn !!!
Thanks, kudos, UV's to Jason, & 11W for these off-season Skullies. And to D.J.B. one of if not its *best writers for getting us through another week of no pigskin Sat.'s ! O-H-
WMD: Climber caught hiding in a cave to avoid paying to climb Everest. *Hairball practic'n for "overnites" !
*Only 3 mths, 2 wks, & 5 days till the Hoosiers are 0-1. **the 1st of 12 benefits from this off-season...& everyone said...A-men !
For May 6, 2017 the 11W writer @ward for #1 Skull "Off-season" mo-jo...stays on Donald Joseph's plaque covered den wall ! There's just no *Flecking with this 4:59 a.m. Marionaire...amiright dubbers !
Grind Time: *Just 12 days to Spring Game in the Shoe ! Gonna ROCK Buck Nation !!!
*ichigan & hairball still suck ! **There, my Muck Fichigan Friday is complete...and your's !
April 15, Saturday, 1:30 p.m...Spring Game...YES !!! Buck Nation...just 31 days.
Urban Culture got the official...*Gill Chill on...Ka-BOOM !!!
April 15, Saturday, 1:30 p.m...Spring Game...YES !!! *OSU coaches will wear pink caps and the football team will sport jerseys with pink accents that will be auctioned to benefit the Stefanie Spielman Fund for Breast Cancer Research. Buck Nation...just 38 days...but whose counting !!! O-H-
7 weeks 2 days till Spring game at the Shoe ! *To soon to be excited...said no die-hard ever !
Major props to the Columbus PD for the prompt securing of Reagan Tokes attacker, it doesn't bring her back, but the family can definitely get closure sooner rather than later. *Young lives to soon ended...#53 we will never forget.