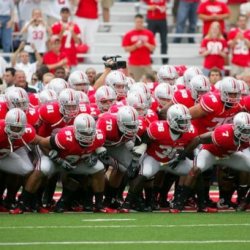 tOSUperiour
734 (via Toledo, OH)
Member since 13 August 2014 | Blog
Favorites
NFL TEAM: Detroit Lions
MLB TEAM: Detroit Tigers
Recent Activity
Jeff Okudah gets my vote
If it has anything to do with Rocky, it has everything to do with me.
Any "Rocky" themes are +1'd involuntarily by me.
Keeping the game close against a lesser opponent might hurt the Buckeyes' chances to make the playoff. Unless, of course, the winning touchdown is the score on the opening drive of the game.
Thad Matta: The "in terms of" coach. Good luck to the Basket Bucks. Few programs I despise more than Sparty these days.
Another L chalked up in the streets of Ann Arbor.
Dayum.
Hope Urban send out a tweet that reads "BOOOOOOOOOOM!"
Jacoby Boren steamrolling his way in there doesn't hurt either.
ESPN reporting it also...for what it's worth.
End zone color designers for Oregon are safe if they go by the ol' "ROY G. BIV". Red, orange, yellow, green, blue, indigo, violet. Pretty safe bet for any of those colors with Oregon's uniform color palette.
He'd be doing "snow" angels on the field.
"Here's a little song I wrote
You might want to sing it note for note
Don't worry, be happy"
- Bobby McFerrin
I refuse to comment on something as irrelevant and trivial as this. Wait.. Son of a @#$@#
I agree with the idea of your prediction. ;-) Whatever happens, I don't believe the game will be within double digits. I really do believe Buckeyes win in convincing fashion. 38-27ish Good guys. Wait - GREAT guys. I mean Big Ten Champions.
Luke Fickell in Beast Mode?
Always wondered why Hugh Jackman looked eerily familiar. Great picture.
The fire of a thousand suns!
The only thing relevant to the "south" in and after this game will be Alabama's trajectory.
I say we take a missed field goal back to the house. Studies of Alabama have shown...
If they put Jameis Winston's name on the cover, it'd have to read "The Case Against..." , not "For".
After we win I'm going to yell "ADRIAN! I DID IT!!!!"
Is there a limit on how many times I can watch these?
"Sincerely,

"Retired" David Stern"