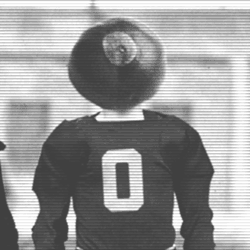 tOSUman
---
Member since 07 March 2012 | Blog
Recent Activity
To be fair, they were without Jourdan Lewis who is probably one of the top CB's in America.
It gives upcoming teams something to think about. scUM only threw the balls three times in the second half. I don't personally see how Harbaugh was such a dick. They could've won by 100 if they wanted. Hard not to score when the other team opens up like the Red Sea on every play.
Rarely? There are plenty of exceptions to the hearsay rule. One is present sense impression that may fit this exact scenario. Since this is hearsay within hearsay, both statements would have to fit into the exceptions to be admissible. Not as far fetched as some seem to think.
Terrible, just terrible. I can't even fathom the pain that little guy and his parents went through. Puts things into perspective. Thoughts and prayers for the family.
Peppers is much more than an above average safety. He's usually the best player/athlete on the field, and this is his first year playing the position. But I will agree that he could be (and already is to some extent) a big time playmaker on offense.
I sort of figured this was the only way to handle this situation regarding Zeke. Best way to let the story blow over.
I agree. I have hated him all year, but I like how he handles himself and press conferences. He honestly does not care what anyone outside of their locker room thinks.
Why are we picking apart a press conference? You don't hink Urban is a bit cocky and arrogant? That's a trait that many people at the top share. It takes some of that to get there.
All signs seem to be pointing to Durkin as their new DC. That is not great news. It seems he's one of the best recruiters in the country, is from the Youngstown area, and is well known/liked in SEC country.
You're not factoring in CA taxes. Oakland would have to offer around $12m to competitively outbid UM. They're going to have to give a lot of financial incentive for him to be their coach as they will be terrible no matter who coaches them for the next 2-3 years.
Ectasy is also a bit more dangerous than marijuana. It's a little more of a hardcore drug. Seems more disturbing to me when a kid fails multiple drug tests for a substance othe than marijuana.
Is there a reason so many people think Braxton will redshirt and come back next year? It seems to me his draft stock is limited to mid round anyways at QB. Wouldn't he still have a good chance to obtain that mid round status as an athlete?
5 star recruit who averaged 5.5 yards per carry as a true freshman. Pretty good pick up no matter what team gets him. That gives them two five star and one four star RB commits in one class. However, like has been said above, let's see if they can block for these guys.
It was being discussed above, but I would take Isaac over Weber hands down. As for Harris? I am not sure yet. It's tough to compare two five stars when one has not even played a year of college football. Hope this helps us out with Harris though.
I don't think it is an inferiority complex. UD is a school of about 6,000 students compared to us with about 50,000? UD has great academics and good basketball. They are taking their moment to shine when they should. Everyone getting so upset should take a step back and relax. The city of Dayton lives and dies with basketball. Anyone thinking trolling us will hurt UD is very wrong. UD is a proud school that is on a different level than UC (saw that comparison) in terms of alumni support.
Ahrens is not going to the good guys. I think we're going to be too late to offer (if at all). It just seems to me that we are not recruiting shooters. We are recruiting athletes which is not translating on the offensive end. I have wonder for the past two years why we never recruited or offered the Mathias kid out of Elida (Lima). There is a hard working, smart kid who is a 6-5 wing that can shoot the hell out of the ball. Purdue is getting a good one there and the type of kid I wish we would pursue.
Just yesterday and the past week it was essentially a battle between the Michigan schools and FSU/OSU essentially had no chance. Now today it's exactly the opposite? I don't believe this latest report from "recruiting experts." I think we should just wait for the announcement and not believe new things every other day.
Leadership is not the problem. Scoring is the problem. We have recruited a bunch of guys who are all the same--6'6", athletic but can't score too well. We don't have too many guys who can consistently knock down a jump shot when someone attacks the defense.