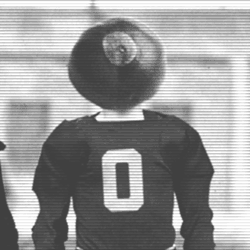 Torpedo Vegas
---
Member since 08 October 2012 | Blog
Favorites
SPORTS MOMENT: 2006 #1 vs. #2 Ohio State-Michigan Game. You never forget your first.
COLLEGE FOOTBALL PLAYER: A.J. Hawk
COLLEGE BASKETBALL PLAYER: David Lighty
NFL TEAM: Cleveland Browns
NBA TEAM: Cleveland Cavaliers
MLB TEAM: Cleveland Indians
Recent Activity
Here's where I make a pitch regarding U.S. Grant's record as president. Not only was it his strategy that helped win the civil war, it was his actions that made those gains stick. His leadership during Reconstruction helped to destroy the first iteration of the KKK and allow Blacks to vote and even hold office throughout the South. Unfortunately many of those gains were rolled back with the end of Reconstruction, but it went a long way towards moving the country past the Civil War. On top of that, he had some pretty forward thinking policies towards Native Americans and was the steward of a strong economy, a majority of his run at least. Sure, he didn't have the best second term, but most Presidents struggle through second terms. As an added bonus, he wrote an excellent set of memoirs that was published and marketed by his good friend Mark Twain.
This is not to take away from Jesse Owens. I think either would be a fine choice. Just wish there was more acknowledgment of one of our most underrated presidencies.
Ooo, a lesson in not changing history from Mr. I'm-my-own-Grandpa
He just doesn't have the same Ohio cred as a Wright Bros. or a Neil Armstrong, especially with that whole Michigan background. They didn't call him the Wizard of Milan after all. That's not even considering his questionable business ethics.
Can we please just eliminate Edison already everybody?
Very true. I'm just not that high on Scott, Thompson, and especially not Williams/McDonald. Then again who knows, 4 years from now I may be extolling the virtues of all those guys' veteran leadership on a Final Four squad. If anyone can make it happen, it's Thad. Now, let's all focus on forgetting this past season as soon as possible.
Don't forget, Sully and Craft's freshman year had Lighty, Diebler, Buford, and Fort Swatterdale already on the roster. Heck even the 06-07 team had Jamar Butler, Ivan Harris, and Ron Lewis as returning players. Not great, but I'd take any one of those guys heading into next year.
The thing that hurts for me is that this is exactly what an OSU win in the 07 National Championship game would, and frankly should, have looked like. Urban Meyer finally got Tressel'd.
Vonn uses Invite to Party. *It's not very effective*
Freshman Girl uses Give Number *It's super effective!*
Dibs on "Hip Deal". Might use it if I finally start that indie band.
Also worth pointing out that respecting women is something Urban highlights as a "core value".
EDIT: Just to clarify, those are not ironic quotation marks.
The Chuck Bear if you aren't feeling as formal. Chazz Bear is also acceptable.
No shout out to Ohio's former motto "Imperium In Imperio" or "Empire within an Empire"?
My favorite part of that of that video is the singer knew to stop singing. There needs to be more crowd sung national anthems. Always one of my favorite parts of Buckeye games.
I'm sure the huge amount of money the NCAA, the BCS, and the schools were going to lose if OSU didn't play their star players had more to do with the Tat5 playing in the Sugar Bowl than any "conning" by Tressel.
I'd donate to a Kickstarter page dedicated to making this Tressel statue a reality.
Craft and Thomas in the Fiiiiinals
Is this goatee a signal that we have crossed over into a darker timeline? I don't think I'm ready for an Evil Aaron Craft.
I don't think Silver is claiming to make predictions here. He is just making a forecast of possible outcomes. If they played this tournament 100 times, Louisville would only win 22/23 of those times and they're his favorite. In short, you and Nate Silver are on the same page here.
Let's not overlook the admittedly non-OSU awesomeness that is Jason Kipnis in the parrot costume.
Doesn't look like they're doing much boxing out today.
The reverse psychology worked
Love Craft's defense, but he needs to save the Lebron on offense impression for the gym.