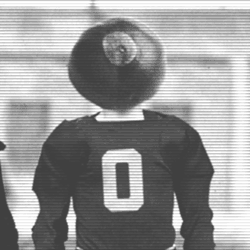 topgun67
---
MEMBER SINCE April 12, 2013
Recent Activity
another s**t show. *sigh*
it's just reality I guess. oh well
Personally, i think holtmann is clueless but he will keep making NCAA appearances and occasionally win a tournament game or two for many years to come. So, just adjust your expectations and stop being so mad when we play this way.
always liked him.. solid coach and he loves OSU.. that matters more.
sorry but who cares.
championships are won on the field. and we failed at that.. that's what matters. spending time on some formula "after" the season is over, is meaningless and waste of time
not sure how you don't know that as a defensive coordinator... nonetheless, it's past and move on... after today, maybe we get some peace and stop dwelling on the past.

what game? i am watching the huge game that Cavs are playing....
LoL... it says a lot more about state of men's BB parity across the country... there isn't a dominant team this year.. any of the top 12 can potentially win it all.
bad hire but who cares. after 40+ years of being a Brownie, i have zero hope. starts w/ a crappy owner.
can't stand Baker Mayfield.
too much whining and complaining by fans. we aren't very good so we lose to really gritty good teams. none of this is a surprise really. have you looked at our roster? i will be happy if we make the tournament as 8th or 9th seed and compete to the best of our ability. that's who we are. i think we are neither overachieving or underachieving. this is about what i thought we would be... 4-5 losses in Jan
hate these thread headlines losing streak to "fill in the blank" games....2, 3, 4... it will stop one of these days but we need to stop worrying about our rankings (we don't deserve top 25 ranking) and just play the game with intent to improve overall game. we play like bunch of scared kids. there is no organization to our offense, no leadership, no confidence, and no BB IQ.
Not sure if Holtmann will ever lift this program to greater heights. i think he's Matta 2.0 - slightly better, but that's like saying AOL 3.0 version was better than AOL 2.0.
relax.. it's just a stupid game.. i've learned not to ever set high expectation w/ OSU BB team... just enjoy life and check back in March - if we made the 8th seed, be happy and if we win one in the tournament, have a beer..
if you really, truly assess each player on this team and as a whole, do you really think we are elite? top 5? top 25? i didn't last year and i certainly don't this year. it's just an average team that will likely be a bubble team or slightly better like it has been...
maybe we go from #1 #2 in most of computer ranking to #100 by end of Feb. I remember all the Holtmann can do no wrong fans here when we were beating UNC, Nova, etc.
not watching.
so we will win
i think it's just reality check. we were never #2 in the country. some wins - UNC, Nova came when these teams were down. Kentucky was a good win.
We are where we should be - a middle of the pack BIG team I believe. Potentially though, i think we could make a run at sweet 16 if we get a lot of things fixed and everyone stays healthy.
this is what i expected at start of season... then we 'looked' awesome... now back to reality.
been a Buckeye fan since 1979 but just hard to get too emotional w/ BB team... not sure why. i just don't expect much from our BB teams over the years since Oden days when we made 1 final. Last 10 years have been very forgettable

That's an odd decision. really solid player.
Fire Holtmann.... j/k
well, each game is worse than prior. just seem so lost. total lack of confidence. coaching has to take some responsibility as the kids just look totally lost, merely passing the ball around like hot potato until one last guy shoots and misses. rinse and repeat. do they have a game plan? can we adjust? i swear to god i feel like Thad Matta is back
well, OSU is still a football school by a mile.. these players are playing scared.. no confidence. just passing the ball around for 30 seconds and then someone shoots from the 3 (and misses)
Washington and Muhammad (when i stopped watching) were 0 for 11 from 3's.
I can do that equally.... on my good day
Holtmann gets too much credit i think.. he is god awful in making any adjustments and not sure what he does w/ his motivational talks or getting his players ready to play.
his technical didn't help any either
let's just face reality and enjoy this 5th or 6th best team in BIG... we might be around 20-10 ish for the year and prob make the tournament only b/c we beat Nova, Kentucky, UNC early. but i doubt we do any better than .500 in BIG conference.
make the tournament and who knows.. they can go on a run like they did early in the year...
done watching.. too painful.. need to chill until March maybe
we will go from #2 in country to outside 25 soon... then the expectation will come down and maybe a lot of these posters will enjoy the game more
team is really really good at helping each other off the floor when we fall down... you can see 2-3 other teammates coming to lend a hand or two... every time..
that's something
at one point in this season that we were seriously considered as #1 team in the country... then the truth showed up.
no one can shoot in this team. you triple team K Wesson, not much he can do.
ugly. horrific offense. no leadership. just passing the ball around but has no real purpose