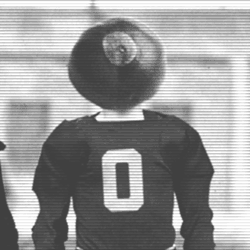 TonyK
---
Member since 01 October 2013 | Blog
Recent Activity
His video at the end of the NC game when we beat Oregon is pretty good.
We will be fine. Urban Meyer is a great coach and he will get us on the right track. It's not like this is the last year we have a shot at a NC. I just want to beat the hell out of Michigan because they are talking so much trash because we lost.
Hey, at least the guy only got hit while riding his bike. He could be the guy that ran onto the field while Anthony Schlegel was around....
https://www.youtube.com/watch?v=POL-4Kg_H4c
This was the year we should have won it all. IMO we were better than the '06 team, because our defense was so good, especially the linebackers.
So close...
This is jacked up. So sick of hearing about Alabama, they beat a TERRIBLE Florida team. MSU should have jumped them, they just beat the No. 4 team in a slug fest! There was not a better game yesterday than the Big Ten championship. Oklahoma should be ahead of them too, they have a pretty impressive resume. I hope Sparty wins it for the Big Ten. Big Ten has 6 teams in top 25, best conference this year.
Ohio State can beat any of these teams.
Yeah, Marshall should stay.
Looking stout at DE with Lewis and Hubbard! I think our linebackers and secondary will be solid again. A lot of weapons on offense and JT back, we should be pretty good and get better as the season moves forward.
Biggest question is can the O-line be good with so many new starters?
It would be nice to see Dontre Wilson have 1,500 -2,000 all purpose yards next year!
We need MSU to crush Iowa. Two reasons for this. 1. If Iowa loses big, that should put us in the Rose Bowl. No one is going to put Iowa ahead of us if we only lost to Spary by 3 in the rain on a last second field goal and they get blown out. I wouldn't be upset if we went to the Fiesta Bowl though and got to steam roll Notre Dame. 2. If Florida were to beat Alabama and USC can beat Stanford, we should get in with the the No. 4 spot. We also need Clemson, not North Carolina to win. I would not be surprised to see North Carolina jump us if they knock off Clemson big.
We should have beat MSU, bad play calling and execution there. Sparty won fair and square, but it had more to do with us beating ourselves in that game. Does anyone really want to play us right now, especially on a neutral field? I don't think so. People are talking about Oklahoma having a good defense. I didn't know there was such a thing in the Big 12. Ohio State is THE best team in the land, I have full confidence that if we find our way into the CFP, we are coming home with the trophy.
Maybe I am out of the loop. Does anyone know what is going on with Dontre Wilson?
Michigan State was hungry, hungrier than we were. The play calling was bad, no doubt about it. #15 only gets the ball 12 times? Ypu could feel the loss coming at about the 6:30 mark in the 4th. Well guys, hopefully some of the players coming back next year will use this as motivation, especially JT. This team has several problems that need fixing if they have any chance of winning again this season. Play calling has to be held accountable with almost the entire offense returning from last year and they are sluggish against any team with a pulse.
We we get to face an even hungrier team next week than the one we played tonight...
Completely agree. We looked like we came in scared of them. Zeke hardly touched the ball. I could go on and on....
Couldn't agree more, this is terrible!
Black uniforms were awesome, especially the black helmets with red buckeye leaves. I think JT should start, but I'll leave that to Urban. Finally got to see a more dominating win!
Go Falcons! Being a BG alumn, this is the only sport I root against the Buckeyes in. I think I'm going to go watch the game in BG tomorrow night.
I think there are a lot of good points above. My two cents: I think JT should be starting and we need to establish the power running game that won us the national championship last year. Zeke gets a couple good runs and they start running sweeps and putting Braxton in at wildcat, which hasn't worked since week 1. RUN THE BALL w/ZEKE!!! I know he has gotten 100+ yards every week now, but against the opponents we have played, he should have gotten 150+ easily. Once he gets going in a game, he is hard to stop, but he has to get consistent carries. Also the playcalling, when you have 3rd and short with a stud RB and a veteran offensive line, RUN THE BALL!!!
Anyways, I hope they figure this out, my blood pressure hasn't been as high as it was last Saturday since the 4th quarter of the Sugar Bowl last year...
If I remember right, in the '05 game against Texas, Troy Smith had gotten in trouble and Justin Zwick started and played the majority of that game. We scored a vast majority of the points while Troy led the offense. My personal opinion is that if Troy had played the entire game we would have come out with the W, don't look back and go undefeated. Penn State was our other loss that year. Final score was 17-10?
With the linebacking corps we had in '05 and the improvements that were made on both sides of the ball throughout the season, I honestly think we could have beat USC. It is my opinion that the '05 team was Tressel's best shot at winning another NC. We were great on offense in '06 but lets face the fact, our defense not up to par and it showed when we played Florida. We just didn't have the speed to keep up, even though Laurinaitis was an amazing linebacker. Our '05 defense could stay with anyone. If we could have only put the '05 defense with the '06 offense, what a team that would have been.
We have a much better defense than when we played them last year. I don't see them putting up 35 points on us again.
"Cie Grant was the man that pressured Dorsey...."
A complete player to say the least. Great blocking all season long.
Marshall is a great football player. It is going to be exciting the next couple years with him and Dontre.
Not only did he make a great play on the INT, he made some very nice tackles, one where he was the last line of defense on their RB. Bell wraps up nice, which is good to see based on how the secondary looked last year.
Hilarious, that is the funniest thing I heard all day.
People are stupid. I love Ohio State Football, but come on. Marshall is still a beast!