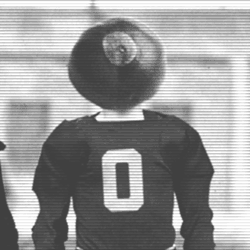 Tony
Seville, OH (via Dover, OH)
MEMBER SINCE March 20, 2011
Favorites
COLLEGE FOOTBALL PLAYER: Braxton Miller
COLLEGE BASKETBALL PLAYER: Evan Turner
NFL TEAM: Cleveland Browns
NBA TEAM: Cleveland Cavaliers
MLB TEAM: Cleveland Indians
Recent Activity
Proud graduate of Dover here. This is just kinda cool to see.
It's times like this that Per 36min stats are significantly more useful than Per Game stats. This eliminates the "he played more, so he is racking up more of the box score numbers."
Being in the ticketing business, I have a feeling a number of those comp'd season tickets are for people who donate to the university and get tickets as a side benefit. Additionally, the comps most likely include player and coach tickets, as well.
I don't believe sack yardage is included in QB rushing totals in college.
I'm a millennial, and I immediately thought of Mark Grace's comment.
http://www.chicagonow.com/whistling-while-we-work/2014/10/how-mark-grace-taught-me-to-bust-out-of-slumps/
Case Keenum, actually.
http://www.sports-reference.com/cfb/leaders/tot-td-player-career.html
Yep, my 14 year old daughter became a Buckeye fan this year. She was entertained by Carlos and team last year, and this year she is it. Her, along with my wife and mother-in-law, are forever fans.
Does the Maryland QB's pants have a QR code on them?
To that point, nothing felt better than beating Claymont in my last match in their gym. Dover represent.
So, one can reasonably assume he knew the urine test was going to come back negative.
Just a cover for his mini arc reactor. Similar to Tony Stark's.
I really just want Urban to be my personal life coach.
FYI -- Apparently that only happens when you do a zoom level in the browser. Little hard to test for :-P
@Jason -- Did you guys have the onmouseover logo be (what appears to be) 1 pixel higher than the non-onmouseover? It dances as you hover over it.
Holy giant text!
I'll be viewing at a solid 90% from now on :)
Looks good on Windows Phone 8, by the way. Good job, guys.
6. MINNESOTA (13-2, 2-0)
They should be 1-1.
The fan singing Wrecking Ball during the free throw was gold. That's a genius idea.
I ran in the race today. The wind was a bit cold, and I'm a bit out of shape, but those medals made everything worth it.
In addition to the sweet medals, we actually finished the race on the 50 yard line in Ohio Stadium.
Fun race!
BW3, the official hangout of the NCAA tournament?
I love advertising.
I was screaming at my television by myself. I find this to be very similar to what most people were doing on Twitter.