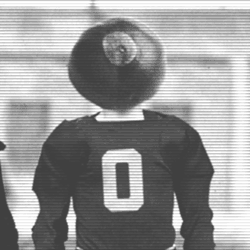 Tom Ramsey
---
MEMBER SINCE November 29, 2014
Recent Activity
How sweet to three-peat, TWO more Ws!
This team is playing scary good!
It seems as though our 3 point percentage is better than some recents teams free throw percentage.
The tenacity of this team reminds me of the Ohio State teams with Jim Jackson and Chris Jent, those teams were relentless. There is no Jim Jackson on this team, but overall I think this team has more talent.
To be fair, I thought the announcers gave our defense a lot of credit. I love the effort of this team, and the scoring comes from anyone. The second half was really good, we settled down and took care of the ball. We looked a little jittery in the first half throwing the ball away so much, otherwise we may have won by 35.
I still think that Byars didn't win the Heisman was because the voters were afraid of another Buckeye running back winning twice. He was that much better than anyone else. Unfortunately his was plagued with injuries his Senior season.
I know our guys will play hard, that has been the benchmark this season. We'll see how well Kaleb has really improved, in the past he's struggled against good big men, but he can get off the floor a quicker and higher than last year, so hopefully he will show improvement. If we can keep playing defense like we have so far, we can make it tough for anyone. I just wish the game were earlier. GO BUCKS!
Great Trifecta!
Now go out and start a trifecta of Wins Saturday night.
You didn't see Ahrens nearly break his neck diving for a loose ball? I think he has improved a lot, but he is put in to shoot. It seems like all of the returning players have elevated their game.
Way back when I was in school (Woody's era) we did not cross out the Ms. But either in 74 or 75 Xichigan's "art department" decided to spray paint the forbidden letter all over our beautiful campus. Maybe that's why it started. That made me dislike them even more. Then having to work with many of those arrogant &$@# during the John Cooper years was worse. These days they are pretty quiet, keep it that way!
There's still games to play and a lot can happen. Burrows and Hurts have no big regular season games left. Fields has two. We saw last year that most of the votes were in before the conference championships, or they already had their minds made up. In 1984 Keith Byars was by far the best player in College football, but Doug Flutie won the Heisman on one lucky Hail Mary pass in November, that and he was a Junior running back at Ohio State and they did not want another Buckeye to win it twice. (Same reasoning that could hurt Hurts this year)
I would maybe like to see that happen occasionally. But I enjoy it more when they are undefeated and we destroy their arrogant a***s and kick their bloody carcass to the curb.
This game is hard to watch, it must be painful to play.
I would like to see us try to get offensive rebounds. Big letup in last couple minutes. Need to get the hustle back.
This is the DW we've been waiting for
The free throw shooting has to improve and it should. Hopefully Carton is a better FT shooter than his 2-5 for the season so far, because he is going to torch defenses and get to the line a lot. I expect this team to get a lot better once they get used to playing together in games. It's unusual to have 3 or 4 new players that will get a lot of playing time, and two of those will handle the ball a lot. It is a huge upgrade to get two real point guards after having two shooting guards playing the point out of necessity last year.
Yes on the shot clock violation
Being that Chase plays for Ohio State, expect the maximum penalty from the NCAA. Moist other schools, no penalty. Many other schools, never reported.
Interesting to see the other polls, of course it will change with 2 vs 3 before the next poll, but they have fallen in line with the playoff ranking the last couple of years. I think they got the first four right, but they are really screwed up after that.
I think what should help all of the sophomores is the addition of true point guards. Carton and Walker should really tighten up the ball handling and also really improve the distribution. Last year the team was offensively stagnant much of the time due to the point guard play. The bench should be deeper/better at the guard position and Holtman should be able to have better rotations. Luther should be in better shape for the long season after having experienced it now. I expect a solid season for Luther, it's hard to say how each players roles may change bring in two dynamic point guards.
The scoreboard is already deafening. I want to hear more of the band.