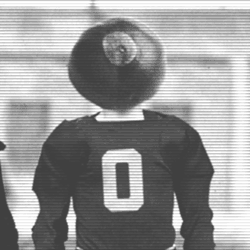 Tom Ramsey
---
MEMBER SINCE November 29, 2014
Recent Activity
The scoreboard is already deafening. I want to hear more of the band.
The scoreboard is already deafening. I want to hear more of the band.
Having a Buckeye BB alum as a head coach is going to be a big plus for his final two prep years. I expect his development to soar as his body matures, he looks young enough that he may even still be growing.
And it extends to MLS. Garber had absolutely no use for Columbus and Crew fans until the deep Haslam pockets arrived. Then he acted like he was part of the solution. FIFA has made so much money for a long time and was corrupt for a long time, it has probably improved a little since Blatter is gone, but US Soccer has been influenced by FIFA a long time and since the 84 World Cup they have been flush with money. CONCACAF has probably been even worse over this time, hopefully it is better since the house cleaning a few years ago
With hard work Andre became a solid player this past season. The teeth incident makes him a legendary buckeye in my mind. I look for a big season from him coming up.
I can't say that the other running backs on the list that are already in were better than Byars and they were awesome. He should have won the Heisman, ands these days, they would have redshirted him for the foot injury.
It would have been great toi see the recruiting articles on JN had 11 Warriors been around then.
I never liked Howard or any not the "Fab Five", but they were kids and their former coach encouraged their behavior. But they were kids, give the guy a chance, he had a good pro career and assistant coach career, Hiring any new coach is risky. I hope he does well but loses to the Buckeyes every time we play him.
Doug Etzler was just named coach at Crestview so he'll have a Buckeye connection on the bench the rest of his HS career.
That is fact. Amazing to have a rule change to try to make one player less dominant.
Joe Gatto is a comedic genius
I hope coach is very certain before offering this guy. Just being 7 foot tall does not make you a basketball player (reference Amir Williams). And I hope they don't want just a rim defender, I remember Ken Johnson was a great defender, but we need inside scoring too. If he is really that good, how is he an unranked recruit?, but then Williams was a McD's All American. We know how these recruiting services can be way off.
After Ahrens had already made five threes keyshon ignores the wide open hot shooter to take a wild one handed floater, but we overcame!
I think Ahrens is starting the rest of the year
I totally agree with this, and why not run some screen plays for them like we used to do for Diebler. I was really encouraged by Ahrens third three pointer when he made the quick turn and shoot, that's the confidence of a good shooter. Hate to say, but we often seem to play much better when Kaleb Wesson is off the floor.
Kaleb Wesson's best game in quite a while, more assertive with dunks instead of geting blocked on layups. Andre was OK, but he is still gun shy on threes, he had several open looks and didn't take them. It was good to see Washington hit a couple threes, he probably plays harder than anyone on the team, 5 boars, two assists, a steal and no TOs, good game. CJ Jackson only played 18 minutes and had one TO, that's about the right minutes for him, Woods best game for a while but still committed three TOs, and with his his shakey ball handling came close to more. Solid play from Young and Ahrens, Muhammad played solid D and committed no TOs , but I hope he can start finding the hoop again, we sorely need offense from him.
I still can't believe Archie Griffin is not the namesake of the running back award. Two Heismans.
Back in Woody's days this discussion would never happen. All home games started at 1:30. Then the TV networks figured they could get two games in an afternoon by starting the first one at Noon. I'm watching or going to the game regardless of when it starts, 6 AM no problem, midnight, I'm there. A night game might be good so the rest of the country can see what a real rivalry is.
The problem when Kaleb shoots threes is nobody else goes for rebounds, unless Jallow is in the game. It's not a bad thing when Kaleb drifts out to open up the lane, but we don't seem to take advantage of that very often.
This is a young team and I can understand freshman and sophs being inconsistent and making mistakes. But the two seniorsarethe culprits nearly every game. Jackson should not be handling the ball and woods should not be playing many minutes at all. I would rather see Mohammed and even Washington handling the ball more, at least they would be getting valuable experience. As for the NIT, it needs to go away.
What does it take to get a foul called on IU in AH? But we overcame that today, good job Buckeyes!
Woody may not have even had a QB coach. The QB mechanics were mostly the handoff, until Schlister.
This article says Michigan forced 19 turnovers; wrong, most were unforced which is our biggest problem. I expect the freshmen and even sophomores to commit these, but our usual turnover leaders are Jackson and Woods which is sad. Normally you'll see a lot of inconsistencies with underclassmen unless they are playing with solid upperclassmen. I think Muhammad, Washington, and Jallow show tremendous promise because they all have confidence. I hope Washington can get his shooting touch back soon, he can be a big time scorer.
We were hitting the boards in the first half, now we're just running to the other end