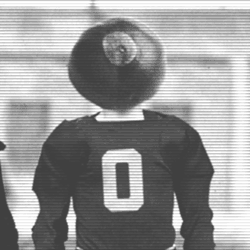 Tolumbus
---
MEMBER SINCE July 19, 2019
Recent Activity
Great reminder about Micah
Great share...
Kaleb Wesson is what he is—a possible NBA second-rounder, a possible two-way contract player or a certain starter in Europe if he can handle the cultural adjustment to living abroad.
That's spot on w/all I can see coming out of it. I thought the weight loss was helpful... But he HAS to gain back some lower body strength and explosion. Even if it's only 1 to 2 inches on the hops. It limits his finishes so much... And damn sure on the next level.
I'll never count that last one... Absolutely imbalanced game w/the calls. Next year is the Wrath of Day... If they dare show up
Give us Aikens and Towns... The chemistry should be there. Aikens reminds me of Washington... No fear. Lastly... I'd say Kaleb is staying, unless he's willing to play overseas (which maybe an even longer time to recover in most places w/corona), because the tourney would have been a stage to improve the NBA's interest in him. I don't see, based on the last season, teams drafting him.
I for sure wish him better in his mental health. I will say this though... Name one player that transferred out, off of MBB, and wasn't a bust elsewhere. Maybe you can say Jaquan Lyle but he wasn't a transfer and he's had more problems/controversy since then. Carton, by far, has the potential to succeed elsewhere. Somehow this just seems to add up to unhappy w/staff, teammates, homesick and etc. All around disappointing outcome. I really thought, based on his Mother's update, he'd still be on the roster. And how weird is that he was the leading scorer in his last game (@ NW) for the win and did the post interview and etc. And the next game was a week away (@ IN) and in between that time (4 days later) he's taking time away. What really happened? And trust... I get depression is ongoing. But usually something in the present still impacts it. We may never know... Unless you know someone in the know. It'll come out.
The best teams will have the leadership amongst it's players/captains to get together in their positions and work on skill sets... Like the should always be doing.
Not that he's anything close to this... But what in the world must have Orlando Pace's HS film looked like... HORROR FILM
These are the ones that would, at times, head for MSU or otherwise w/out an offer and play out of their minds when they played us. Really like how he expresses himself.
Switch his number to 24.... So we can dream (and I'm well aware his brother wears 29 in the pros)
Hoping he really flashes in the spring game. I'd imagine they will be throwing the ball 50 plus times on both sides w/the needed reps from the freshmen. So opportunities abound...
Great info... I was trying every search angle on google w/no luck
Love it.... Rest... Come back fresh/renewed... And annihilate PeeYew St & ttun
Excited to see Tyreke, Zach, Cornell and Javonte step up to the challenge. Perfect 2 game run to do it over and even prepare for future starts if somehow needed. In the meantime... I have NO DOUBT... Chase will be back.
E+R=O
Go time young fellas
Like many have already said... I only see a 2 game suspension. But... If they can dodge the bullet on it being an agent vs a "family friend"... One game suspension at the most. And then it's... SMASH PeeyewSU... Reality Rub ttun... Flipping row boats (Wisky will lose just to avoid another one of dem whoopins)... And it's PLAYOFF time. In the words of Tedd Ginn Sr (about Cardale's first start)... We're not even putting that out in the atmosphere (doubts)... THIS IS OUR YEAR
Look at how Davon Hamilton has come on... And know your time will arrive... Work while you wait
I promise you... Crowley is better than what we, collectively, are anticipating. What I don't know is if he's holding up in pass pro. If he is... He will have may push for the 2 spot.
If Victor, Tuf (even if as a backup he's going to play) and Dobbins play out true to their awards... This is HUUUUUGE
@ Wisconsin | @ Penn St | Notre Dame (later in the year than usual) | MSU | @ Indiana
I see at least 1 to 2 potential losses there... "On paper"
I pray we blow them out again... How sweet it would be... They wouldn't fire him... He'd resign
Love this... Get's us through that last month. Seeing Ross back in action... Plus how much Ravenel has improved. Now if we could ever get Deshaun Thomas in it
I feel ya... I pulled back and just decided to pull for the best man.... So many to root for. But I love the depth we now have here... Alabi was proven in the times he had to jump in... Petit-Frere winning the job means 2 years min of consistent play out of the position.
My first thoughts exactly... Fuller (all academic) seems to be so humble and I'm loving the previous history w/Hafley.
Whenever I have the chance to listen to him... He wins me over more and more. Now let's get to where it counts... THE GAME(s).