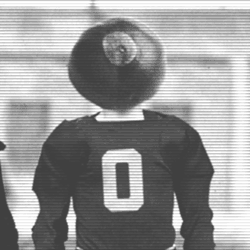 Toledobucknut
---
Northwood ohio (via Toledo)
MEMBER SINCE October 19, 2015
I am a surgery nurse from the Toledo area. I am a BGSU grad but lifelong Buckeye! I am married, have 3 kids and love to cook.
Favorites
SPORTS MOMENT: When The Ohio state university beat Alabama in the national semifinal in 2014 - 2015 and went on to win the championship!!
COLLEGE FOOTBALL PLAYER: Andy Katzenmoyer
COLLEGE BASKETBALL PLAYER: Aaron craft
NFL TEAM: Oakland Raiders and Detroit lions
NHL TEAM: Red wings
NBA TEAM: Cleveland cavs
MLB TEAM: Detroit tigers when
Recent Activity
Summer of 69 baby! I was born July 24th the day we returned from the moon!!
I was getting ready to be born.......July 24th 1969 I was born when they returned to earth
TGIF..........Thank God its Fleming
Score??? and how much time left?? I'm at work.......thanks!
My brothers inlaws got tix as well so we will be representin NW Ohio!!! Cant wait to get down there early a do some tailgating!
Dude, westie owner here. Whichever breed of dog you get, just make sure it is appropriate for your lifestyle. If you aren't going to be home much you don't want a high energy dog that needs to be outside a lot. My westie is awesome but she does bark a lot. I do have her trained to the point that I can walk her around the block off leash and she will stay with me. She does love to chase squirrels though. I also agree with above posters about checking out your local shelter. Lots of good dogs there.
Recovery room nurse here, have they talked about incerting a nerve stimulator for pain management?
This is all such Bull#$@! This whole thing is blown way out of control. This needs to be between a husband and wife. Don't get me wrong, I don't condone what Smith did to his wife. That being said, if I was a wife beater and my boss knew about it, I find it hard to believe that they would lose their job for not saying anything. This is so effed up that we might lose the greatest coach of all time over something that has nothing to do with football or the team.
NICE ! Looks like I may have to get season tickets that year to get a good seat in the shoe for a face value price
This kid is a stud! He wrestles for my kids arch rival at Genoa. Even though they are D3 it is a powerhouse program!
The money will always be there if he makes a team. There are sooooo many players across the country that come out every year. Look at all the great college players that come out every year that never pan out. GET YOUR DEGREE young man. The league aint goin nowhere.
Hopefully with a good week to rest and prepare we can beat PSU. Don't like the probable matchup with Penn St. I don't think we match up well with that team. I would almost rather be the three seed and get a game under our belt before facing those guys again.
I also have been a long time reader / stalker and post from time to time. I actually had to look to see when I officially joined (Oct 2015). I hail from the same school as one of our new young Bucks, Mr Dallas Gant. I love to hear everyones take on different topics. You all keep me well informed!
I know Vincent was among the top DTs this year, where does he stack up against top tackles from the last few years?? Anyone??
Doesn't look to happy in his gator gear! LOL
Recovery room nurse here, this is a minor surgery. With that being said there can always be complications. He will probably have som swelling and pain which will also limit his mobility. I am sure he has a world class surgeon and they may get him to the point where he can play. They will probably have him jacked up on steroids and have him ice and stay off it as much as possible. He may only be 75% by game time. Personally, I don't see how they can play him if he is slowed down with limited mobility. Wisconsin would eat him alive.
hey 419, St Johns grad here. How are my Titans looking this year? Havent been paying much attention. My kids go to Lake and hopefully we will give you a game this year in the playoffs. Our girls team was also ranked in the top ten.
I heard on the radio in a pregame interview with Paul Kiels last night that Kiels said that comment by Meyer was supposed to be off the record. Meyer was being interviewed by a CBS sports reporter when he made those comments. FYI
With the facilities and support from the athletic department, this is a coveted job for coaches. I agree that we will never be a blueblood program with the likes of Kentucky, Carolina or Duke, but the opportunity to win is here. Todays game is all about recruiting and finding the right guys for your program. I am so tired of the one and done player in todays world. I think it hurts the college game as well as the NBA game. Most players are not ready for the league in 4 years let alone 1. I for one hope our coach goes after the type of player that will stay and develop after a few years. We don't need a superstar one and done player. Those types just set your program back after they leave in one year. I love to watch the teams in the tournament that have guys that have been around and battle tested. There is plenty of talent in Ohio to win with. We need to lock down the border.
Great to see someone from my alma mater getting the love! I just hope he picks the good guys and doesn't end up sucking like Marc Loving did in basketball. I trust Urban way more than Thad !!!