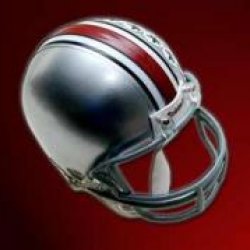 toledobuckeyefanjim
---
from Reynoldsburg
MEMBER SINCE July 11, 2011
Favorites
SPORTS MOMENT: Any time Ohio State beats Michigan in any sport. Same for Toledo over Bowling Green.
COLLEGE FOOTBALL PLAYER: Any Ohio State Buckeye or Toledo Rocket.
COLLEGE BASKETBALL PLAYER: Any Ohio State Buckeye or Toledo Rocket.
NFL TEAM: none, really.
NHL TEAM: Detroit Red Wings and Columbus Blue Jackets
NBA TEAM: none! Hate pro ball!
MLB TEAM: Detroit Tigers, Cincinnati Reds
SOCCER TEAM: none
Recent Activity
This "revelation" is nothing but yesterday's breakfast. Let's play some football, PLEASE!!!!!
With temps at 30 degrees with a few snow flurries at Camp Randall. That would be the ideal weather for the Bamas to play in Wisconsin. Real scenario: Late September and 65 degrees in Madison.
Hairball's still seething over getting his butt kicked last year by Meyer. All the goofy one is doing is firing up the Buckeyes for The Game to give him another butt kicking. It may not be 62-39, but I will take 42-21 over that team and goofy coach up north.
It's all sour grapes from Pollack's brain and mouth. Glad Fox is doing more Ohio State football games now. ESPN deserves the royal screwing it's getting from the Big Ten. ESPNU College Football show with Pollack and their other talking heads is nothing but a mouthpiece for the SEC now.

I just don't care about guys who do this, period. And I read other stories on this web site, too. Who the heck do you think you are by blowing smoke at me?
Let him yak all he wants now. He will be a wimpering, simpering little baby when he faces the Buckeyes in 2021.
Why should we here at Eleven Warriors even care about him? Why does Eleven Warriors waste its time and space by following kids who decommit from The Ohio State University?
You left Toledo off that list! LOL! Seriously, I'd like to see the Big Ten and ACC get together for a football challenge in September just like they do in basketball.
The kids now also use family reasons to transfer. Should coaches look at mom and dad to see how healthy they are before recruiting the kid? What about grandma's and grandpa's health? Sounds crazy but you wonder how much needs to be considered besides their football talent by coaches before they recruit players. The football player in today's world doesn't need much of an excuse to leave a school. Martell had weak reasons for leaving Ohio State -- couldn't start immediately when he showed up on campus, in my mind -- and he got his transfer OK'd by the NCAA.
This story is way, way, way too, too, too, early speculation at its highest level.
Those who stay won't be champions.
When I heard about Gattis joining the enemy up north, I was trying to remember who Hoke the Joke from Alabama hired to run his offense. Thanks for mentioning his name. Is he still coaching somewhere in college football? He was a dud of an offensive coordinator.
You folks at MGoPoop: No, they weren't secretly recruiting for the Buckeyes if you can believe the overall team ratings. The team up north supposedly got more points than the Buckeyes but that's due to them recruiting more players than OSU. The scUM got the quantity and the Buckeyes got the quality.
I suppose what holds back the suits in the playoff committee is which bowls become part of the 8-team playoff system and when would they be played...and how much money can be made off the new system, of course. Do they add the Peach, Citrus, Outback or Gator Bowls to the new format to go along with the Rose, Sugar, Fiesta, Cotton and Orange Bowls? Or do the keep the current bowls and just have the first round games go without bowl names? There are those logistics to figure out. But let's not wait 7 more years for an 8-team bowl playoff format to happen. Get it done effective with the 2021 bowl season!
None from the team up north on the list! Ha, ha! Harbaugh and gang can take a four-star recruit and turn him into a nobody with that 1980s offense he runs.
Buckeye fans, take some time to go to the Detroit News and Free Press web sites to read a lot of whining about their favorite team getting stomped by Florida. The Facebook comments at the end of the stories from the Meeeeeshigan fans up there will make you laugh for hours.
I cannot ever root for the team up north, no matter who they're playing. If they beat Florida, so be it. But I will hope the Gators chomp the Wolverines.
You got that right. Translation: 6th or 7th round. Maybe even an undrafted free agent like Jake Rudock.
Wish I could give you 10 up votes and 10 helmet stickers for your comment.
Good luck to him in the draft and NFL. Hope he can learn not to fumble in the pros. That's his biggest drawback as a running back.
Cleveland is a lousy baseball town now. You won't change my opinion no matter what you try to tell me. Yeah, I know they will never move to Columbus, but the point I'm making is the Indians do not get the support they have earned and deserve from the Cleveland area.
I'd really like to see the Indians move to Columbus. The Cleveland area fans don't support the Indians the way a first place team deserves. The Tribe didn't even draw 2 million fans for a first place team. San Diego's last place Padres outdrew the Indians! Move the Tribe to Columbus and you will see them draw at least 2.5 million every year with a 40,000 seat stadium. I know I'm dreaming, but it's time baseball's big shots realized that Cleveland is no longer a major league baseball town.
The entire scUM defense is overrated. No team's defense is great or elite when it surrenders 62 points to its rival or any team, period. And what's so great about Don Brown, after all? Yeah, I judge him on this one game because it's The Game and he and his defense choked up in the big game.
It should be interesting who else leaves early. Bush will likely go to the draft, too.
How about new coaches for the offensive line and secondary, too? Those areas need a lot of help for next year.
I'm also a native Toledoan and the story that I could have been living in that state up north really gives me a Thanksgiving Day downer. I now live here in the Columbus area and am happy and thankful I no longer live in Toledo or anywhere near that state up north.