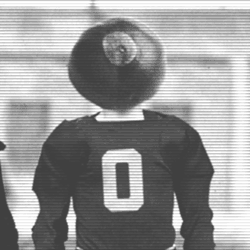 ToledoBuck5
---
Member since 24 March 2014 | Blog
Recent Activity
I think they operate by pigeon carriers
Awesome thanks for the information. Ill keep an eye out for those players as well.
We had Florida scheduled at one point? I don't recall that I do remember having Georgia and Tennessee at one point but I think they cancelled those games because of the 9 game conference schedule.
I do wish we could schedule Florida and get some payback for the national title game and to a lesser extent the outback bowl(i think that was the one). Regardless of what bowl it was we shouldn't have accepted the invite anyways.
Also I wouldn't mind scheduling South Carolina. They've always annoyed me since the 2 bowl games in the early 2000's.
The running back might be one too watch. Not sure how accurate his offer list is, but according to that he was offered by a few high profile teams.
As I said before I was asking because maybe someone on here already knew how his class looked, there are a lot of intelligent and knowledgeable posters on here. AND I was trying to create a conversation about his recruits not just look at a screen and say "oh cool he landed a 4 star running back" maybe someone on here is familiar with some of his particular recruits.
Exactly. I was trying to create conversation about his recruits. Outside of Ohio state and a few other big schools I don't follow recruiting much anymore. So I was curious if he landed any solid recruits. So maybe if I catch a game or 2 next season I can pay attention to those kids if they see the field.
Thanks for the comment that actually contributed to the topic. I too am curious how his offense will be down there compared to how Ohio states offense ran. I want the guy to succeed and hope he can land a few recruits to get his program turned around.
Right but I also said in my initial post I haven't had the time to look myself. I'm taking care of a sick 2 year old and a sick wife. I just got lucky to get a few minutes to get on here and figured I'd ask and maybe somebody already knew.
Damn a bunch of asshats. Sorry for trying to make conversation.
I could but I figured I'd try to make conversation that wasn't about weber, webers high school coach or haurbaugh.
Any decent recruits? 89th isn't great but he had less than a month to solely focus on recruiting. I'm rooting for the guy.
Has there ever been a school that had the 1st 2 picks in the draft? That would be amazing if Bosa went 1 and Cardale went 2.
If I were him I'd go. Hopefully if he goes he gets drafted by a team that doesn't have a huge need at QB and he can sit for a year or 3 and learn.
Mine was after Ohio states first touch down and I yelled "touchdown!!" Only for my almost 2 year old son to yell "touchdown!!" with me, I think I smiled more after hearing him yell that then watching the rest of the game.
Geez a win is a win. Especially in that environment. Marshall fumbled twice and we had a pick 6 called back on a phantom PI call. This game should have been a blowout, a couple errors by 1 player kept it close.
As the saying goes in baseball you can never have enough pitching I think the same can be said for football . You can never have enough running backs. If these 3 all want to be buckeyes and they are that good. You don't say no and let it figure itself out later.
It was 3rd and goal and the niners had a timeout left. So even if he didn't get in they could have called timeout and either went for the win or tie the game. I thought he got in actually. That white line you see in the gif isn't the goal line it's part of the niners logo in the end zone. I'm pretty sure his elbow was on the goal line.
I would have never guessed perry had that many tackles since the announcers were fondling Hulls testies the entire game.
Has anyone questioned Hoke about where he was on Sunday? That's a lot of crisco to be stealing even for you brady.
Lack of rain hasn't helped either. I think I can probably count on one hand how many days it's rained this summer. I love that it hasn't rained much but we need it bad. Rain and wind would break up and push the algae back out into lake erie.
What some of these people and businesses have/are doing by price gouging cases of water is disgusting. One guy was selling cases for 25 bucks a piece. Other businesses also selling cases for 10 bucks or more. Even going on Craigslist to sell them. Luckily some of our news anchors were all over that and actually called some of the people and put it on the news lol. With that said as much negative that's been going on there is way more positive. One guy drove all the way down to Columbus filled the bed of his pickup truck full of cases of water drove back here and gave it away for free. That's just one example of the good going on.
Awesome! Glad to see him have patience and finally get the offer he wanted. Welcome to buckeye nation !
Why was the game played in Findlay? I would think there would be a little more interest if the game was closer to the border? Maybe play it at Toledo Whitmer, that stadium is literally a minute or less from the border. I do agree these games sound like a good idea to play in hindsight it's probably a bad idea. Wait til that first kid tears an acl. This game will be over before you can even blink.