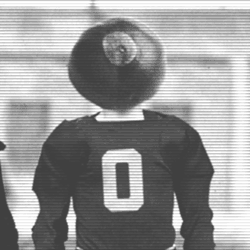 Toilrt Paper
---
MEMBER SINCE October 07, 2011
Recent Activity
There is no Percy Harvin on the roster.
DUH! U of M has gone from a 2 TE offense to a spread. They have 12 TEs on their roster. LOL
Coaches tell QBs to err on the side of overthrowing. An under thrown pass is much more likely to be intercepted. A little more air under them will give the receiver the opportunity to go get it.
Many knew Joe was the most accurate of the 2 in the QB competition leading up to the 2018 season. The OSU staff thought he was the one more likely to stay if made the back-up. They were wrong about that as well..
Watch a video of the game.
DB first round picks don't have as many holding and pass interference penalties as he had last year. Cris Carter knew he needed to come back and be coached up.
If Ryan Day finishes his coaching career at Ohio State with a .900 winning % and 2 National Titles. He will then be Urban Meyer's equal.
Would you rather be worrying about how California's Tate Martel handled the cold??
Josh Myers
It's not a coincidence the O-line is playing so well. When most were concerned about the unit, due to their inexperience. Center is the focal point of the O-line.
I'd rather see this team out in front, with a good rear view mirror.
Unlike some transfers, he's choosing to transfer because he wants to play. Do you really think he's going to be the starter at Ohio State next year? I seriously doubt he'd consider coming to Ohio State.
If these guys can't play for UT, why in the heck would Ohio State want them?
This is why I will NEVER have direct TV. They're blackmailing criminals.
What a bunch of ding-a-lings.A 2019 thread about linebackers some how turns into YET ANOTHER, Dwayne vs JT fiasco. Almost 2 years after the fact. How embarrassing.
Hmmm......interesting. Werner goes from the most disliked LB last year to who Mattison says is his best LB this year. Just goes to show how little we "experts" know.
There was a good reason Zeke's dad moved to Columbus to keep an eye on him, while he was at Ohio State.
So was Zeke, then there was the only player in college football history to win two Heisman Trophies
Jim Brown and Ernie Davis were men among boys.
Hartline has done a great job. He wouldn't be doing as well if not for Ryan Day's offense and Duane Haskin's record breaking season.
57 is way too young, 27 is crazy
I wouldn't be surprised to see a couple of transfers, which would open up more schollys for 2020 class
All one has to do to see the importance of a running back is look at the emergence of Nick Chubb in Freddie Kitchen's and Baker Mayfield's transformation of the Brown's offense into a top tier NFL offense.