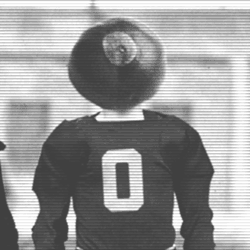 Toilrt Paper
---
MEMBER SINCE October 07, 2011
Recent Activity
I wouldn't be surprised to see a couple of transfers, which would open up more schollys for 2020 class
All one has to do to see the importance of a running back is look at the emergence of Nick Chubb in Freddie Kitchen's and Baker Mayfield's transformation of the Brown's offense into a top tier NFL offense.
That's assuming Fields leaves after this coming season, when we have not seen him play in a game yet, nor the outcome of the season.
The REAL questions is.....Will McCord sit behind Miller or transfer?
Must lose 20 pounds to get drafted after next season.
The wildcard? What does that prove. Blow this mess up NOW, should have made a seller 2 years ago.
Trade Lindor before he gets "Machado type money".
From last year to this year Clevinger's fastball increased 3 MPH. How did that happen? The muscle in his back could not the stress, will it ever be able to?
Ramirez think'a he's a 40 home run per year guy. Since that got in his head, he over swings, swings at bad pitches and with his severe upper cut pops up the vast majority of the time. OBVIOUSLY he won't listen to the hitting coach or Tito.
When they failed to sign Brantley they gave up on the best hitter and team leader in the American League.
They ABSOLUTELY should have traded Kluber LAST year. We've seen what he's NOT capable of the last 2 years in the post season. He will be worthless to trade now. He used to be able to get away with some of his mistakes, but can't since he lost 2 miles per hour off his pitches.
EVERYONE knew Bauer will be gone after this year when he's a free agent, Now he will only be worth what a team in contention will pay to rent him for a couple of months.
EVERYONE knew Lindor would NEVER sign with the Indians when he turned down a deal better than Ramirez signed for. He wants the BIG money that Cleveland can't afford when they average 10,000 fans/game and have one of the worst TV and radio deals in the American league.
Management is so stupid that they thought they could compete in the Central Division with starting pitching only.
The Indians MUST have a player or easily trade for one that's better than an old 20 LB over weight 2nd baseman.
Why did Day to come to Ohio State? 90% of the assistant coaches in the country would like to have this on their resume, "Assistant coach for Urban Meyer".
Ohio State has had 5 head coaches in the past 68 years.
Looks more athletic than Thomas.
He averaged 15.8 in the PAC 12 last year. No one did that for Ohio State .
He'd start this coming season if he was eligible. WAY better than Wesson the elder and Jallow.
He looks more skilled as a Freshman at getting to the basket than anyone on the Ohio State roster this past season. Only shooting 30% on 3's he'll have plenty of time to work on that sitting out next season.
What is the criteria for "what the market wants"?
What do you pay a player that's going to be a high draft choice? What do pay a player that's never going to play in the NBA ? What do pay a walk on? What do you pay a player that's injured and not playing due to being a medical red shirt? If ALL players aren't paid, expect dissension.
If you pay men basketball players you MUST pay similar money to women's basketball players. Title IX.
.What do you pay players at Ohio State vs what you pay players at Montana?
If you pay basketball players CERTAINLY you should play football players? What universities can afford that. Do you pay baseball players, they make just as much pro money as basketball players.
Start the slippery slope, expect lawsuits from athletes on other sports teams.
.....and where do you think he'll go in the up coming draft?
Makes sense, who wouldn't want to sit for 2 years at Ohio State vs sit 2 years at Kentucky?
The recruits that were at Ohio State Saturday have NEVER EVER seen more people watching a scrimmage
Yet another college athlete that has a disdain for going to class.
Arnette holds the Ohio State record for most pass interference penalties by a mile. He should be playing safety of in a defense that plays mostly zone coverages.
In Cleveland, Beckham's $95 million contact will be more like $125 million. Not having to pay the highest State and local income in the country and the cost of living in New York City is about 3 times that of Cleveland.