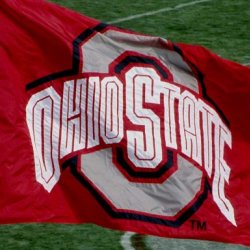 ToetotheFace
---
MEMBER SINCE December 31, 2013
Favorites
SPORTS MOMENT: Having the luxury of watching Joe Bauserman's beautiful passing.
NFL TEAM: Cleveland Browns
NBA TEAM: Cleveland Cavaliers
MLB TEAM: Cleveland Indians
Recent Activity
He looks special in limited play time.
He looks special in limited play time.
I remember people here saying he wouldn't play at this level when he signed with tOSU. He just shut that notion down today.
Nature of QBs is that if you're a backup you barely have a chance to prove yourself. Coaches used to go with seniority at the position a lot back in the day, especially since back then most QBs were more game managers than anything else. I do hope it eventually settles down a little more than how it is now, but I totally understand why QBs transfer so much.
I didn't know Mike Tyson was on Eleven Warriors!
I'm disappointed Tate didn't try to compete for the starting role through spring ball, but I can't make any judgements, because I don't know what may or may not have been said behind closed doors to him by Day. Unlike some people, I realize these guys are just 20 year olds, and as a 20 something myself; we don't always handle things the most mature and professional way. Good luck to him going forward in any game where he isn't playing tOSU.
I only see Saunders playing H in passing situations. He is a crossing route slot type WR, not a guy you would want to run screens or sweeps with.
We ran zone read the year we beat Bama and Oregon. We ran zone read when going 12-1 in 2015 and 12-0 in Urban's 1st season. I don't think zone read was somehow what was holding us back against other schools, especially when teams like Clemson and even Bama now still run it. I think we just didn't have an elite passer in JT Barrett. It is possible for a QB to be a capable runner and thrower.
You don't know what Day has told him at this point. He may not be managing it the same way Urban did.
They may help each other improve
A lot of assumptions that Fields will get his hardship waiver. Personally, I don't think that is guaranteed, and the fact that his sister is currently enrolling at Georgia after the event doesn't look good for the argument that it is an environment the Fields family feels unsafe in. Personally, I don't think he gets it.
As for the QB drama, why can't the people in this fan base just appreciate all our players? I used to get in to the position drama when I was younger, but now I realize it is stupid to root against someone who is still a Buckeye. Best man wins, and regardless of who that is, they will be a Buckeye. No reason to tear down one of our own players.
We did QB runs and read this year at times. We probably would have done it more if our run blocking didn't suck ass.
Not only that, but I feel like everyone is just assuming he is going to get the hardship waiver, when that definitely isn't a sure thing.
Being able to throw AND run is a thing. JT was just limited when it comes to arm talent/mechanics.
Yep, plus what is the coach going to say, we sucked and I don't think we have the talent to win that game?
JJ Watt was more dominant than Vonn Miller when completely healthy. Had 2 of the greatest seasons for an NFL defender in the league's history.
Sounds like bullshit to me.
As much as people don't like him now, Herman was also a really good hire for Urban. Dan Mullen as well.
This is my opinion too. I hate how antagonistic people get toward some QBs because of position battles. I feel like we don't see that nearly as much with most other positions. Haskins was the better QB, but I wish Joe the best, and would love to see him also make the NFL down the line. Would love to see LSU succeed even more than their first year with Joe, especially since that would mean Bama losing.
I don't agree with those that are automatically assuming Fields will start. I don't think we should promise him the position, he should have to compete with Tate and Baldwin. As long as he is willing to do that, do whatever it takes to get him a tOSU.
And this is the exact reason I don't want to take Fields if he needs a starting guarantee. He has to compete here to be a starter, while some people are assuming he could come in and start immediately.
In that case, I wouldn't take him. There has to be a competition, we have too much talent with Martell and Baldwin to just give him the job.
Tate is a competitor. He'll go out there and try to prove he is the best, and I don't doubt him.
I'd rather him be the next Baker.