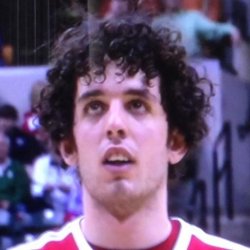 TobyMagic
---
Member since 21 July 2013 | Blog
Favorites
SPORTS MOMENT: Evan Turner smacking a half court shot to beat Michigan
COLLEGE FOOTBALL PLAYER: Scooter McDougle
COLLEGE BASKETBALL PLAYER: Aaron Craft
NFL TEAM: Cleveland Browns
NHL TEAM: Detroit Redwings
NBA TEAM: Detroit Pistons
MLB TEAM: Tribe
Recent Activity
Yeah used to love Ramzy's work, now he just comes off as a pretentious prick..
Kind of looks like OSU might have learned a little something about protecting their assets and not folding to every idiot with a social media account.. too bad they didn't immediately react this way in the Spring
I played college ball it was just a generalization.. everyone is the best where they came from.. having the ability and resources to sit around partying/kicking it all day gets to the majority of these kids in the first year.. half of those guys get their head out of their ass and the other half run home.. I could've written my first comment better
These transitions are tough for young men.. Trev couldn't sit around getting high, playing 2K all day and still ball out on game day. Once it became real he had to work his ass off for what he wanted he bailed.. now pops has to tell stories to his boys to pass the blame..
It's a false key.. usually coincides with a play action fake.. makes LBs crash down or freeze to open up midlevel/midfield routes
That snap was on the money at least, just happened to have a motion man in the way lol
What's up with that? MJ get praise from every direction and outlet but he's the only center in America that can't get the ball back to the QB.. his snaps ruin the timing of the offense so often and it goes over looked, and today it caused a TO in the redzone..
He's the leader of the offense.. I listened to JT bashers for years put it all on his shoulders, what's changed? I think DH is an amazing talent and stoked he's on our side, just hope he's ready to put in the work to take the team to the next level..
Can't agree more.. if they were 8-0 and rolling it'd be one thing.. guess he's pumped for his legacy to be the most prolific passer in OSU history who couldn't score in the redzone
Just meant he's not solving anyone's DE issue next year.. RS Fresh/Soph year? Watch out
He's currently an athlete.. I don't think he'll make a huge impact next year at either school
I mean OSU could slow play him, wait til he signs w Purdue and lights em up for 250 yds and a couple scores.. pretty sure there's no turning away talent right now, need momentum
That's a scary thought, if the guy the coaches deemed the best at the position can't play then what does that say about the position group as a whole?
I think this cold streak has much more to do with the Urban health news than the ZS saga. Although they were both large blows, I just don't see how Urban can walk into living rooms and tell parents/prospects that he's going to be at OSU for four more years. They say kids should commit to schools and not coaches but don't kid yourselves..
Any streams? Can't get onboard this BTN Plus
Wow, was literally told the exact opposite from 'someone in the know' 3 days ago..
OSU needs to offer that other guy 7 mil/yr right now..
I know you all hate these posts, but I was at mother Hubbard's in Chicago yesterday drinking next to 3 Maryland alum. They were singing the fight song after every touchdown (which got old) and I asked the guy next to me what he thought was gonna happen to coach. He said he has a friend on the board and Durkin was going to fired they just haven't announced it yet.
Probably why they're flying through Recruiting writers.. they're useless now
That's part of being an OSU Fan.. finding something to complain about in everything
Everyone I talk CFB w says this to me.. 'where OSU's athletes at linebacker?' then they look around and say 'they're all slow white guys..'
I think it's more indecision then lack of speed.. I wish they'd send them more.. especially with the lack of a consistent pass rush.. more of a Greg Williams or Don Moore approach.. get creative on stunts and blitzes and be aggressive.. were giving up big plays anyway at least with an aggressive scheme you'll make more plays
Yeah, stop calling the hardest play to defend in football..
There's 85 scholarship football players and walk ons. There's a depth chart for a reason. If a few of these players get a chance at generational wealth then they need to do whatever they need to secure it. In Nick Bosa's case he probably would have been better off not playing at all this year. But he was forced too by ridiculous rules that ensure NCAA football is a free farm system for the NFL. NB getting hurt early in the year, getting his 3rd year, and having time to get healthy and prepare is a blessing for him.
He of course could have played all year, stayed healthy and dominated. Got drafted early and helped OSU reach all of its team goals. This would be, I assume, what we would all prefer. But he's done everything required of him to enter the NFL and now it's about Nick not the Bucks.. The Bosa's did more for OSU than OSU did for the Bosa's. It was great to watch them on Saturday and will be even better watching them on Sunday. Beat Purdue
There's already a thread for stuff like this..
I officially flopped on this.. I have no stake in this school or program, just want W's on Saturdays.. so bring him in to compete..