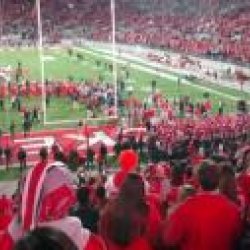 TMac511
Columbus, OH (via Huntsville, OH)
Member since 06 February 2013 | Blog
Favorites
SPORTS MOMENT: Being in the 14th row for the 2015 CFP National Championship Game
COLLEGE FOOTBALL PLAYER: EzE
NFL TEAM: Cleveland Browns
NHL TEAM: Columbus Blue Jackets
NBA TEAM: Cleveland Cavaliers
MLB TEAM: Cincinnati Reds
Recent Activity
In need of an update. It gets even funnier!
Great article! I was wondering how the Herman move would affect the recruits we have coming in. With Urban as the closer, and the Bucks in the Playoff, I don't think it should change a whole lot. Really looking forward to this kid getting on the field in the future!
Personally, I like JT Barrett a lot. He's a great kid, very heady, and he can distribute the ball to the right playmakers. But, what if Torrance Gibson comes to OSU, and plays QB like the coaches have been promising him? Presumably Braxton will play next year, and Gibson would take a redshirt to learn under BM and JT. Under the assumption that there will be games where Braxton gets beat up, JT Barrett will come in in relief (a la Kenny Guiton). But what happens after next year? JT will still have two years, and Torrance Gibson and Joe Burrows will be right there with 3-4 years of eligibility, with Danny Clark being in his senior season in high school. I have no clue what will happen, but this is a good problem to have- a surplus of QB talent.
Us engineering students are just waiting for our opportunity to bust out of the library... Crazy bunch of kids
Because all undergraduate engineering students are sooo dumb
I see what you are saying about the back 7 looking improved despite a few plays, but I don't know about the whole press coverage thing. I didn't think we played press coverage enough. We were content with playing 5 yards off the line on 3rd and 5, then backpedaling and letting the receiver catch a hitch route right in front of us for a first down. With all the speed we have on offense, Doran Grant is still the fastest player on the team and it isn't like he is lacking strength. I don't understand why he can't be in press coverage. I like that Eli Apple and Vonn Bell were on the field last night, but they looked foolish more often than not. On that first touchdown, all Bell had to do was turn his head. I believe he is a very good safety though, but I think with an offense like UC's, Cam Burrows, a former cornerback turned safety, should have been in there. All in all, I will take giving up 28 points to that offense, 21 of which came on big plays.
$20 says we still drop in the polls because we're Ohio State.
Definitely not a better arm than Braxton. BM has an NFL caliber arm, but his mechanics are inconsistent and that makes some of his passes inaccurate. I would, however, take freshman JT or freshman Braxton all day. JT throws such a beautiful ball and his placement is impeccable. Lots of his balls are put in places where only his receiver can go up and get it. He's a very good decision maker, and a very heady player, which is what you want in a quarterback.
It's great that we pissed down our leg during the biggest recruiting weekend for us. Home opener in the Shoe, with LeBron James in the house, record crowd, and we simply pissed down our legs.... #smh
Our quarterback is also short. When we throw short routes at a blitzing defense, they're going to have their hands up and bat a lot of balls. As a former quarterback, the worst feeling in the world is seeing a tipped ball. Screens would have worked for sure, and slants would work if JT can get the ball out pretty quickly. But tunnel screens and stuff like that over the middle wouldn't work out too well.
I've been screaming for Johnnie Dixon to be more involved since the Spring Game. If he and James Clark don't play this year, we'll have the same problems next year when Devin Smith and Evan Spencer graduate.
This is supposed to be Herman's year to go earn himself a paycheck too. Everyone is predicting that he's such forward thinking offensive mind and he's going to go get a HC job somewhere after the season. Well good, I hope he does. He's hurting his reputation right now and he's killing all Ohio State fans inside every time he runs that stupid ass power option. If he doesn't leave on his own free will after the season, then I think it's time for him to go.
Seriously though. What the hell was going on with Corey Smith? ESPN had him as our impact player on offense but he still only has one catch on the season?
I still don't think Devin Smith is the answer nor do I think that Evan Spencer is the answer. At least Devin Smith can blow the top off a defense. Where is Johnnie Dixon? Why is he not playing? If the receivers can't get open it's worth a shot putting him in.
As a former quarterback in high school where I had no receiver play and no offensive line, I feel for JT. And I can guarantee he will be sore tomorrow. The offensive line is letting everyone through and the receivers aren't open. You can't just throw the ball away when you're sitting in the pocket. And you can't get it out to a receiver who is getting mugged on the outside. This whole game was just frustrating!
I was wondering who was going to be the vocal leader after Aaron Craft and Lenzelle left. I'm glad that someone with some playing experience like Sam Thompson has stepped up (or maybe he was the only guy interviewed?). I'd like to see the same out of Shannon Scott, seeing as how he is our new floor general. Excited to watch these freshmen along with Sam Thompson banging on some dudes!
Pat Eiflen seems pretty nimble footed. Excited to see what he brings to the table for a full season.
Check the analysis link, James Light showed that the crack back is designed. Heuerman does it in all three videos, but in that one he frees Miller up for a big gain. In the first video, he and the pulling guard (Eiflen), are both there to block somebody but there was nobody there to block.
I noticed the same block in the second clip, and the block Norwell laid on that lineman. That offensive line last year was a thing of beauty, and those guys will be sorely missed.
Comments like that are the reason I hate Nick Saban with a passion.
He did do one thing right though...
I'm sure my opinion on this is an unpopular one, but cheating is everywhere in college football. It is morally wrong, and it should never be practiced, but let's be honest here and realize that it happens all the time. Even in college, the players are a bunch of prima donnas.
Shabazz Napier did his whole thing about being hungry after the National Championship game this year, but I think that cheating is running rampant in college football. Before I say this, don't get me wrong, I LOVE Ohio State football, and I am a student at the greatest university on Earth. Has anyone seen the way that Braxton Miller dresses, and how he dresses his kid? Those baby Jordans aren't cheap, and the watches he wears aren't cheap either. Huber Heights is not a place where there is a lot of money, so I doubt his parents are loaded. The money is coming from somewhere, and I don't think he's working a job making that kind of money during the school year. While on campus, I've seen plenty of players driving around in very nice cars. I saw Philly Brown over Spring Break in Columbus driving around a brand new Lexus with vanity plates. I have no clue who it was, but I have seen players (I know by the letterman jackets and Nike football bags that every player gets), get out of a souped up Charger with tinted windows and a matte finish paint job. I don't think those players pulled their money to buy that car.
But look around, it's everywhere. Derrick Henry in his Challenger, Oklahoma State with drugs and hookers (allegedly), and the list goes on and on. I guess it's true, that if you're good, you can cheat and get away with it. Personally, it makes me sick. I'm sure there are a variety of reasons why it's going on, but I don't want to hear it.
As a college student, I know that college loans suck. Even if it's in-state tuition, I am getting bogged down with debt, and I'll spend a ton of time repaying that. These athletes should be happy that they don't have to face this situation, and they don't need to seek compensation. The school is paying $25,000+ per year for them to play football. Whether they choose to attend class or not, it's their "choice," but that education is free.
How did all of those Maryland unis not crack the top 5!? Ugliest state flag in the States all over your body.
I remember seeing Kenny G run in for a TD in some of his first action against Eastern Michigan in 2010. He came out of nowhere for the most part, so why can't Cardale Jones or JT Barrett? It's hard to say Barrett is coming out of nowhere when he was one of the QBs tapped to attend the Elite 11 camp. I think getting these guys some experience will be beneficial for the future of our offense. I hope with our revamped defense and attacking offense that we can kick the crap out of some teams this year, and get those guys the valuable game experience they need.
Agreed. Sending Andrew Wiggins to Minnesota would be the worst thing that could possibly happen to his career. I think if he stay with LBJ, bring in Love before the trade deadline or wait until free agency next summer, would be the best thing that happens to him. Gets sent to Minnesota= average career, never reach potential. Stays in Cleveland= learn from the best player in the world, become "Pippen to LeBron's Jordan," become a perennial All-Star, and take over the franchise during LeBron and KLove's twilight years.
Trade talks involving Wiggins frustrate the crap out of me. Send Tristian Thompson and Bennett. Anyone but Wiggins, LeBron, and Kyrie.
It seemed to me that Vannett's production dropped off last year from the previous year, and it seems like Brax only looks to them on the deep routes (except for the snag route in the redzone). I would like to see these two catch a quick out or something to that effect and get in space against a linebacker. Both are freakishly athletic and could do some damage if they break a tackle and get into the secondary.
I'm loving the humility he is showing as a true freshman. He knows he has a chance to be on the field on August 30, but he wants to earn it. Excited to see him.
Being an Ohio State student, and reading this article, it sounds like I have some thinking to do. I have always wanted to move somewhere warmer and with more opportunity for my chosen profession, but I know I will miss everything about Columbus and my Buckeyes.