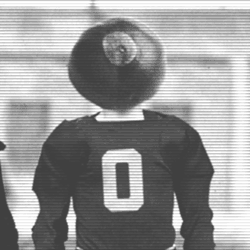 tkrussell
---
MEMBER SINCE March 22, 2018
Recent Activity
Woody, Braxton, and Urban
Both of these teams look smaller than what I've seen in the big ten. Reminds me of 2015 and how much bigger and more physical we were than Oregon
Michigan hates online classes because all of their accomplishments predate the internet
I think it may be because they obviously needed to make changes, and there would be even more questions if he went out and hired a new OC/QB coach without even addressing Tim Beck's future, that would make everyone just assume Beck is gone 100%. This atleast "tells" recruits he will "still be on the staff" as opposed to a giant question mark by saying nothing.
I guess those geniuses in ann arbor couldn't finish that time machine in time for the game since its still 2019 and not 1969 lmao
Losing to FIU would make me want to commit there too lol best of luck.
No i contend that he played running back in high school, and needed to add more weight to play running back in the big ten like most high school running backs would. Ohio State currently lists him at 194 pounds up from 182 on his 247 profile, so he's obviously added weight but I'm sure RBs and WRs have different diet requirements and workout regimens due to the amount of hits the running backs take. So your snark was unnecessary.
We already have a 5 star running back on our roster. In a perfect world we would've packed 10 pounds on Jaelen Gill and let him play running back instead of letting him waste away on the bench this season, and we wouldnt even need to recruit a rb this year. We could've moved Steele Chambers to linebacker, let demario mccall stay at H back to back up KJ where he already was and have Mookie Cooper back him up next year turning the position into a true slot receiver role like it looks like it'll be after mccall leaves. We'd have thunder and lightning with Teague and Gill. Gill could be the best running back in the Big Ten next year if given the opportunity. Atleast he's gonna make alot of noise next year in the slot.
Exactly what I yelled out when I was watching earlier. Many literal laugh out loud moments in this video. He opens the video claiming Michigan was going to win The Game with Bo beating Woody in 1969 as his sole reasoning. Deep analysis. Later on, his guest tries to spin the idea that them losing to us so many times recently is actually an advantage for them somehow. Hilarious.
I think an additional detail that is being overlooked is that in the last five games (the same sample size of games steve deace claimed the two teams were equals in according to analytics in the video posted above) both teams had 4 blowouts and a close game to PSU, Michigans avg. points diff. is 22.8 points vs Ohio States 37 points, but the difference in those 5 games is stark. Over those 5 games Ohio State's starters have blown the doors off of teams in the first half and sat most of the 2nd halves or the 4th quarters at the least, whereas Michigan fans are complaining that the Michigan backups (quarterbacks specifically) haven't gotten any reps at all this season. This shows you that not only does Michigan lack quality players in backup roles, but those games didn't truly become blowouts until the late 3rd/early 4th quarters due to Michigan adding empty points to make wins seem more convincing than they actually were. In the notre dame game specifically I remember Shea patterson throwing a deep TD late in the 4th qtr when they were up 20+ points already. This tells me they've been able to wear down weaker teams over 4 quarters because they've played their starters for entire games and their starting lineups have generally been better than their opponents. That won't be the case here. Our starters are better, and we're deeper. They will probably be the team that gets worn down like they have the previous 6 games.
It's not the fact that they were voluntary, but they were completely avoidable and shouldnt happen.
Doubtful, according to the Buckeyetalk podcast, this has happened before, (I believe it was the Maryland game) where they had to ask sports information whether or not his absence was due to an injury and they said that it was not.
The D only gave up 99 yards total rushing at 2.7 yards per carry. Obviously sacks make those numbers look better, but the defense played a great game. They have to take better care of the ball. Playcalling was suspect for stretches as well. Probably Should've taken more shots down the field once the offense line settled in in the second half. Gotta clean up the reads on the zone reads as well. Should've been a 42-7 type game.
I think it's possible, but we'd need help. The easiest path would be for Wisconsin to win out and win the Big 10 championship game vs Penn State, as I believe we'd easily get in over the 2 loss Wisconsin team we blew out as the Big Ten representative. If Penn State or Minnesota win the Big Ten championship then at the very least we'd need LSU to beat Georgia ensuring Georgia gets eliminated (Bama losing to Auburn wouldn't hurt either). If 2 SEC teams get in then there won't be 2 big 10 representatives. Penn State would obviously be in, and although our chances are much better against a 1 loss Big Ten champion Minnesota team, I will never feel confident again leaving our fate up to the committee. Assuming nothing unexpected happens we'd have a 1 loss Ohio State vs. 1 loss Alabama, 1 loss Pac 12 champion Oregon/Utah, and 1 loss Big 12 champion Oklahoma/Baylor all vying for the final playoff spot. I think we'd have an argument, but the committee has burned us way too many times to be sure. One completely unrealistic scenario and only real chaos opportunity would be if Clemson lost in the ACC championship, then all bets are off and I think we'd certainly get in with a loss in any of our remaining 3 games.
You forgot step (8.5): Lose bowl game
Lol losers
They boat raced ttun and nd, but they did it with essentially a triple option offense. They didn't really have any success throwing the ball all year (excluding VT) that's why they weren't going to be able to beat the elite teams in 2015. They had the talent but not the scheme.
He probably didn't play enough snaps to qualify. I believe there's a minimum snap requirement.
Its not ios 13. I still have ios 12 and every time I open the menu there's an ad covering the forum button.
Rutgers driving on this "stout" Michigan D lmao
Buckeye walk-ons outscore redhawks after tight first quarter.
6 is probably the perfect number of contenders in an average year, but playing one extra game is way too big of a disadvantage to put a team at. Imagine the wear and tear of an Ohio state team That has to play georgia in the first round then turn around and have to play an idle alabama team the next week thats not even close to a level playing field. That disadvantage is based strictly on the eye test when very few top teams from different conferences even play eachother to tell us which conferences are actually stronger. Thats why 8 is the only reasonable direction they can go in. This year 1-6 are obvious right now and notre dame and ucf would also be reasonable inclusions imo.