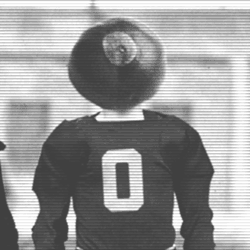 Tkebuck1
---
MEMBER SINCE January 20, 2014
Recent Activity
Buh bye, Johnny football.
I like to smell my own farts.
I like to smell my own farts.
Super poor tackling by secondary. Rudock just carving up these db's. Converting all of their 3rd downs.
I like to smell my own farts.
Probably the worst move I've seen all year from Meyer is the book tour during the bye week. THAT, my friends, is leaving the barn door wide open...all in the name of more money. And then JT is dwi. Leadership from both sides went awol. Huge huge brain fart. Kiss the potential special season goodbye after that.....
Saturday Slobberknocker in the big house. Ugh
Nothing wrong with Zeke. I wonder how many others in that locker room are nodding their heads.
Please beat the weasels saturday
Sounds ominous. I know it's only one loss, but the players see it as a really bad problem with the staff and it's sounding like the simmering coals are HOT. Might see him change colors.
Dantanio hasn't won a natty...urns has.....but with what he has to work with up there, he's really been sliding it up urb's rear end.
None of us have any idea what urban will do with the coaching staff....I assume nothing with beck since urbs wore the headset and has veto power on play calls, and since he only hired him this year...so, basically, he won't pull the plug this quickly. But that really frustrates me, because it's like a coach staying loyal to a player having one bad game after another because he recruited the player and the guy's a senior.
I like to smell my own farts.
Watching the playoff swirl down into the abyss of a frothing toilet indeed creates a reason for mourning...a damn good reason. Sorry that you're not dialed into today's pitiful performance. Next week's game is big, but not as big as it used to be. Find another topic.......
3rd and 9....
lets throw for 5.
wtf!!!!!!
I think two controversies are now over:
two qb dilemma...still don't have one
coaching hires:...not so good
Gotta give dantanio credit. Out coaching urban. Outcome up for grabs. Bucks not looking worth a shit.
Bosa serving it up to sparty. Great player, not so great mind.
Yeah, I know...but since I can't get rid of him, voicing what I think is really important. Btw...the genie is out of the bottle.
I don't give a rat's ass that the acrimonious tweet is off limits because it wasn't actually posted on the 11W site. The ramsey tweet is ugly, it's revealing, it's embarrassing, and it's cause for serious concern. I will downvote him until the system crashes. Everyone needs to read it.
I missed the game due to travel, so I'm not in a position to critique, but 9-0 is sweet. I guess we'll see JT piloting this fighter jet in Champaign. Good hunting Buckeyes!
I'm sure the cop saw the id and said "fuck."
Decker's comment about telling JT directly to "get Jones ready" speaks volumes about Decker's role on this team...very impressive.
I don't know why, but I'm not ready to jump out the window. A few beers. Registered over the limit. But not by much. Pay the fine. Move on. This is not a season buster.
Like all the words of support for this guy. When it's all said and done...this IS a pretty damn good family.