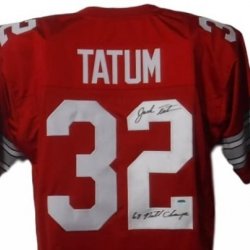 TkeBuck
---
MEMBER SINCE January 21, 2013
Favorites
SPORTS MOMENT: 0:00 2006
OSU 42 um 39
COLLEGE FOOTBALL PLAYER: Spielman
MLB TEAM: Reds
SOCCER TEAM: US Women
Recent Activity
roger that. i was at both of those. stayin home for this one.
i'm a bengals fan, but i don't want to see big ben go out like this.
ok, so here's my fear....night game coming up in Lincoln. first of the season for these buckeyes, many of whom haven't experienced a truly hostile environment PLUS never having played a B1G game at night. big problems lurking ahead for this one???
as the years roll by, my memory slips...but this year's bucks are as evenly balanced as any version that i can remember. the players have not only bought into rd, but each other as well and it shows. continue this surge and ket's hope for NO iowa's or purdue's this year.
the coaching staff is loyal to a fault in playing captains regardless of liability in some (one) case. what an embarrasing play...chasing 20 yards behind your assignment.
#32 just gifted a td. painful.
hate to see fields getting slammed from behind. ouch
love teague. long strides. get out of ny way!!!
ramsey is on a roll. need an angrier rush
i hope the bucks can adjust to ramsey.
im hosting a bourbon tasting fund raiser today at Pompilio's that begins at 3:30. after 8 beers during the first half of today's game...i should be in fine form.
actually the first 2019 B1G tussle isnt this weekend, but last weekend between Rutgers and Iowa...wait, is rutgers still in the B1G?
ok....brick wall time. go bucks!!
peyton ramsey picked us apart last year, so he shouldn't be taken lightly, but having said that, the osu defense looks light years better than last year's. 45-21
was in bloomington for the 2012 slugfest. remember the pregame iu fans were really respectful, but after the game, they morphed into penn state assholes and were downright nasty. bucks to score early and often and quiet those stone cutters. 45-21
my take on all of this. i find it curious that the hoosiers' qb is michael Penix...and de james Head is their Sacks leader. i see what they're doing there.
those damn hoosiers are always scoring a bunch of points on us, but this year we rip out their hearts early and often. I-O !
teague's all nuts and bolts...'linebacker fills the hole to make the stop,' he squares his pads and runs thru him. guapo-esque!
whisky looks more organized than ttun and will crush them with an awesome running game. the jump around will be especially nuts leading to the fourth quarter.
nice read. and nice posts. experienced team might put up some points against the bucks, but the good guys will score and keep pouring it on. 45-21
cleveland desperately and stubbornly clings to its traditions. these traditions are warm and fuzzy.
teague plays a lot bigger than he really is. hits the holes and falls forward. no hesitation when he gets the ball.
ramsey threw for more than 300 yards last year in the shoe...and this year he's Second String! Haskins threw for 455...and he's gone. the bucks will put up some points...and so will iu. good guys 45-24.
maybe not so funny, but everyone in our section had a big laugh watching tuf borland get caught from behind by a 300 pound offensive tackle after the deflected pass interception. living proof that he has absolutely no speed...at all.