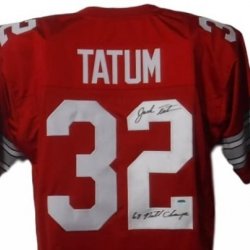 TkeBuck
---
MEMBER SINCE January 21, 2013
Favorites
SPORTS MOMENT: 0:00 2006
OSU 42 um 39
COLLEGE FOOTBALL PLAYER: Spielman
MLB TEAM: Reds
SOCCER TEAM: US Women
Recent Activity
i hope the bengals win out so joe doesnt end up in mike brown's meat grinder
the only thing i dont hate about the entire fox network is gus and joel. THE...!
everyone is happy as hell that chase young will return to the field against penn state, but where's the anger that he's missing two games that may have vaulted him as the leading heisman candidate? i'm mad as hell!
the bucks will beat ped state at noon or whenever...but as far as Fox's biggest ratings ever claim, we should all know by now that anything coming from Fox, and i mean anything, is probably rounded up, fluffed up, or made up.
6'4"....,...gotta love his chances on a 50-50 ball.
i love numbers. give me more. how many plays did each have in their first 8 games? how many carries/yards did their running backs have in the first 8 games? percentage of td's when in red zone? how many third down conversions? give me more!!!
i'm with ya brotha. start the season second weekend of september. second bye week is a mojo killer.
chase young = stevie wonder
hey wisconsin! you don't like us doing jump around? ....Deal With It!!!!
#2 osu v #4 psu in 3 weeks? epic home game.
4 and 3. hold the line bucks!
32 has lost his jock strap 3 times on this wisky drive
pass rush is awesome. double teamng young doesnt seem to faze him. 3 and our!!
sorry. wade could have played it a wee bit better
your stable genius pmay calling is gonna get fields killed. is that better you sensitive down voters? lol
short crosses expose wisky lack of speed. if def holds up on this next series, bucks will waltz to a big lead
short passes or crosses. wilson you mother f*****. your play callin is gettin fields killed
bucks better start blocking or they're goin to get dumped
you shitting me?
fields takes another sack...punt gets blocked...wade looks like a pop warner bench warmer on hail mary
wisky getting way too many free shots at fields. he's going to get hurt today if this keeps up.
where are our TE's on play calling? these are perfect conditions for short passes. enough of jk up the middle.
killing coan with this rush!