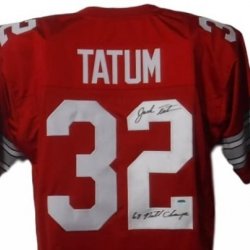 TkeBuck
---
MEMBER SINCE January 21, 2013
Favorites
SPORTS MOMENT: 0:00 2006
OSU 42 um 39
COLLEGE FOOTBALL PLAYER: Spielman
MLB TEAM: Reds
SOCCER TEAM: US Women
Recent Activity
right on brother. compete score celebrate.
First of all I love the USWNT. With all due respect, they could easily hand that bunch of gingers on the USMNT their ball sacks. Secondly, you can't and shouldn't take away red meat from a hungry dog. These women were trained to fight, scrap, and scratch for every spot on that roster. Third, Thailand should never have been awarded a spot in the WC. They truly suck. Really suck.
Fourth, a 3 max sub rule kept the coach from emptying the bench. What do you tell your subs...lay down and play out the clock? Did Urbs call off the dogs against the skunk weasels...no fucking way. 62-39!
And points DO matter in this WC format. I'll follow these winners to the championship in Paris against the whiny fucking French frogs. Take it to em.
i'm pretty sure it's drake.
count me in as sold on this young fella. many miles to go, of course, but his future as a buck may very well be outstanding. welcome aboard!
i've never had a run-in with any 'enemy' B1G fans except one...penn state. small band of bravehearts confronted me and a date in state college and cursed us, the players, tressel, woody, OSU, and the state of Ohio. outnumbered, we had to take the abuse from the six macho little pricks for 10 minutes before they moved on. haters gonna hate.
gotta feed fleming the rock. i got the feeling those angry buckeyes from ohio state are headin full tilt toward a natty. get on that train and ride it.
most of us, both adults and children, are so respectful of doctors that this is a perfect example of putting your total trust in whatever they do or say... for football players to be taken advantage of (like these guys apparently were) is a perfect example of deference to authority. such an outrage... may strauss spend eternity in some special hell.
remember that scene from jurassic park when the glass of water is rippling due to the approach of t-rex? that's right buckeye fans... the juggernaut cometh!
i'm getting to like this miller kid.
i wrote a venomous letter to the B1G office complaining about the in conference officiating. i will update Eleven Warriors when i receive a response.
glad this little drama is finally over. no more updates on this guy please. we have a stable full of buckeyes eager to compete...let's talk about them instead. let's go bucks!
eddie george. now THAT's an ambassador for our great university. upvote you sir.
when they kept the kick inbounds, they were indeed... the silver bullets! we're gonna have a great year! go bucks!
i gotta say that his physical appearance looks like shit. he looks like a bum and acts like a thug. if he gets suspended or injured this year, the cowboys will cut him loose. running backs have a short shelf life and there's a whole lotta wanna be's waitin in the wings.
ok. great. is this bolling kid a buckeye? no? then i put all my chips on ted ginn, jr!
i dont know that i expected much from this story especially since the accompanying photo was our guy, tuf borland, typically chasing an opposing rb from behind and, of course, ol pete nowhere to be seen... maybe my sarcasm, maybe not. please get better lb's, please get better!
agreed that fowler is a little bitch, but herbie's got a helluva gig (big bucks) and has to cowtail a little to espn's game plan. i like him. always a buckeye.
what in the world could MAC teams possibly have/offer that we can't run circles around? shaking my head.
really want to see browning have a breakout season. wish hilliard could develop into a ball busting lb as well. lets go bucks!
i think we all agree on two basics: 1.it is ridiculously expensive to go to a game in the shoe and 2.we ALL hate the guy in the red hat and khakis.
the whole tathan thing is a mess. kid gets backed into a corner after waiting 2 years and his coach quits, and the public goes instantly gaga over fields, and starts ripping his comments. i feel for him, hope he does well at the U, and now i'm soooo ready to move on. let's go bucks!!
we all know about supply and demand and elasticity, but the only thing that keeps sweaty asses out of pricey seats is a couple of losing seasons...and that, my friends, aint gonna happen. full stop.
say what you will about buckeyes past present and future ... about buckeye tradition ...about 'buckeyes forever' ... the portal ... the decommits ... the big games ... the transfers that can't stand up to competition ... this man haskins is a reflection on what's good about our school, about respect, about our values.