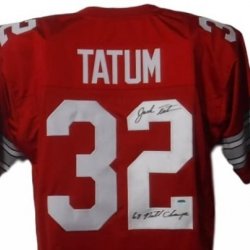 TkeBuck
---
MEMBER SINCE January 21, 2013
Favorites
SPORTS MOMENT: 0:00 2006
OSU 42 um 39
COLLEGE FOOTBALL PLAYER: Spielman
MLB TEAM: Reds
SOCCER TEAM: US Women
Recent Activity
is it too late to say Fuck Clemson !!?
i guess we've got a qb with a gimpy wheel and they've got one with a sore shoulder. hmmm
poster says "we'll figure out that red zone offense"...but question is when will clemson offense finally wake up?
script being written for clemson comeback. we've left 12 points on the field so far. wtf
fields is incapacitated with this knee injury. key weapon GONE
hate to be a debbie downer, but settling for short field goals is a recipe for disaster in this game.
ditto on chicago's comment. bowl games...all bowl games, are important to the kids and their programs. i tip my hat to every coach juggling limited time between recruiting and bowl prep.
he IS going to be a star and a leader for this team next year. a cincy kid with a great attitude and work ethic. go get 'em justin!
who among us could have predicted three years ago that a second string buckeye qb would lead a doorstop lsu to the 2019 playoff and that a second string SEC qb would lead the bucks back to the playoff? the portal has changed college football forever.
was the lb play THaT bad in the first half or was it only a couple of plays?
ok. we have a lot of depth on this roster...bur no one, and i mean no one, can replace JF.
3 and 2 and you rough the passer? wtf?
let's hear a fucking BOOM warriors!
god almighty. who's callng the 3 and 1 pass?????
oh brother. harbaugh's got the momentum against a defense that has spit the bit. afraid of the ending here.
tremendous punt bottle boy.
ok....fields to wilson for redemption. keep stompin these filthy skunk weasels!!
didnt he put one on the turf against ped state???
me too! in chiang mai!! go bucks!!!
holding can't be so blatant that they're missing every single one.