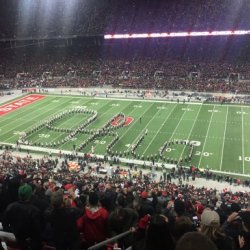 tjshaffe
---
MEMBER SINCE March 11, 2012
Favorites
SPORTS MOMENT: OSU - Standing in A deck to watch the Bucks v. ttun in the battle of the century.
Tribe Time - Rajai Davis - Bottom of the 8th, game tying two run HR. Damn, we were amped. (Series outcome notwithstanding)
MLB TEAM: Cleveland Indians
Recent Activity
I forget where I saw this, but when Martin was asked about how he saw all of this ending he was noted saying that he could see the wind blowing leaves over a bunch of headstones.. So everyone dying could happen.. I am quite pumped for the final season.
Knar -
I'd agree - Wayne obviously had forgotten where he was and made the call to be picked up, however there was a moment where his emotion changes slightly and I interpreted that as him realizing again where he was and who he was talking to. I believe he opted not to speak to Julie about it in an effort not to ruin a beautiful life she has now. When his son and daughter pick him up, hes happy and I think at peace with where he was in all of this and as you mention later at peace with his memory of his wife...
Cheers!
Knuck -
I'd agree. I was guilty of that, too. I mean the the show delivered these conspiracy ideas to us - Elisa the documentary film maker made these connections and quite literally showed us how this may be tied to season one or how other conspiracies were at play. So, it was easy to go down that path.
Cheers!
ASJ - excellent points.
I looked at the jungle metaphorically as well and came to a similar line of thought about him or his mind rather succumbing to his condition. I would agree the season was aimed more at Wayne and his family's journey, but also about relationships in general - how they are formed, how they play out over the years, and how these relationships can be affected when orbiting around something - this case the investigation.
Nice nod to Spafford. I was introduced to them a few years back and have been following them since. Really talented and fun live.
Cheers!
Yup.. A test I have conducted myself. My wife, she passed.
SS11 - I came here to get at the same thing. I have a tendency to unnecessarily ruminate, not so much self pity, but more over actions of others, the way the world is etc.. The point is that I found help through a mix of things, healthy habits, hobbies, sleep/wake routine and mindfulness. I cannot stress the importance of controlling thought through mindfulness activities and being self-aware, all of that was introduced to me through a cognitive behavioral therapist. It takes constant work as with most things, but it has helped me and this approach perhaps may help others.
OP - I do wish you the best feel free to message me if you'd like to chat in greater detail.
Cheers
most newer music sucks
Loves
Caliente
Takes
+1 for Khraungbin - just recently discovered them and really dig their sound.
A very appropriate gesture - thoughts, prayers, good vibes what have you sent to his family and friends. Oh, and F#*K cancer.
TATE MARTELL CONSIDERED TRANSFER BEFORE THE 2018 SEASON, ATTORNEY SAYS COACHING TURNOVER PLAYED A MAJOR ROLE IN TRANSFER DECISION, PER REPORT
Tate Martell considered transfer before the 2018 due to the fact he was not named starter. Martell to sit again in 2019, so attorney spins the story and says coaching turnover played a major role in transfer.
Best of luck at the U. Moving on..
"And this one belongs to the Reds"
My grandfather introduced me to baseball and I remember driving around listening to Reds games just talking baseball. Some of my favorite memories, supplemented with Marty on the call.
Agreed..
His journey thus far has indeed been incredible. Here's to wishing Shazier nothing but the best.
"the program is going in a different direction."
Navy - I tend to think honest conversations were had and it was determined Martell's skill set did not align. It's unfortunate he put a lot out on social media and had to come back from that, but c'est la vie. Hopefully there was a lesson learned in it all and I wish the kid luck.
Cheers!
Tate was not Day's guy. Plain and simple
Bingo.
This would be hard to believe, but what do I know... I feel Urban is the chief or nothing at all.
Agreed. I am inclined to think Day had an honest conversation with Martell. Our philosophy is this.. your skill set is that.. Which I respect.
Caught Arcade Fire for the first time at a festival last summer and it was a treat for sure. I would absolutely love a Talking Heads reunion as they are a favorite band that I have never seen live. I did, however, catch David Byrne this past summer and was blown away with the performance / show / overall awesomeness.
We would be great concert friends. I never had the opportunity to see Rage Against the Machine, so I'd add them to this hypothetical.
Cheers!
I feel that a great modern day Philosopher summarizes this perfectly... "I mean I know I'm gonna get got. But I'm gonna get mine more than I get got tho."
Cheers!
Thanks for everything, man. Now go get yours!