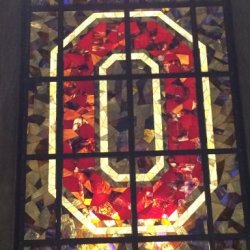 TJG32
---
Worthington OH (via Cambridge OH)
MEMBER SINCE January 15, 2015
Buckeye born and Buckeye raised. When I die, Buckeye dead.
Favorites
SPORTS MOMENT: Any and all Buckeye championships, any victories over ttun.
NFL TEAM: Browns
NHL TEAM: BlueJackets
NBA TEAM: Cavs
MLB TEAM: Reds
Recent Activity
Got to trust in the coaches. After all, it's THEIR livelihood we are talking about. Not yours.
Got to trust the coaches. They aren't going to f around with their livelihood.
Thanks, Colin, for the confirmation. Keep up the good work on the B-ball front.
Nice. Looks like he still grow a few more inches.
How tall is he really? I have seen 5' 11" in the Dispatch. 6' on an earlier article. And now 6' 2" above. I like 6' 2".
THE.......there I wrote it. Sue me.
The 2020 class is going to be special. The 2021 class could be even more special. Could be the best back to back classes the Buckeyes have ever put together.
Just how I like my coffee, black and HOT.
Have depth, will travel. Keeping guys fresh will pay big dividends in the fourth quarter. We have the same at the wide receiver position as well. Going to be fun watching these guys this year.
I'm conflicted. I like the sound of that, and I don't like the sound of that. Well, they do say defense win championships.
Anxious to hear some things leaking out from "friends of the program" on today's scrimmage. Particularly how Fields looked as well as the o-line. Also linebackers and db's.
You win with people......I heard that somewhere.
Man, I love the progress the o-line has made so far in fall camp. So critical to our success this year.
Has Forde responded to this? If so, can someone post his response?
I heard Diebler say on the radio yesterday that Matta was on vacation at Marco Island. But I bet he was watching his boys while sipping an adult beverage!
Nice! His brother has big shoes.....I mean shirts to fill.
If my math is right, that's a 5-6% reduction, not 4-5%. Maybe Gene rounded down.