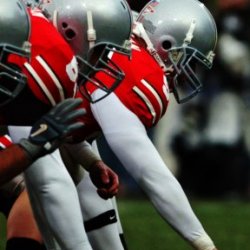 tjbaldauf519
United States (via Marion, OH)
MEMBER SINCE February 24, 2015
Favorites
SPORTS MOMENT: Events I was at:

First Michigan game in the 'Shoe (2014)
Upsetting undefeated Illinois in basketball (2005)
National Championship over Miami (2003)
The Browns beer bottle game against Jacksonville (2001)
Deal With It versus Wisconsin (2011)
Cashmere Wright buzzer beater to lift UC over Alabama (2012)
Sugar Bowl vs A&M (1999)
UC Basketball Senior Night (2014)
NFL TEAM: Cleveland Browns
NHL TEAM: Columbus Blue Jackets
NBA TEAM: Cleveland Cavaliers
MLB TEAM: Cleveland Indians
SOCCER TEAM: USMNT
Recent Activity
And bringer of the wood to Illini.
I assume Urban or whoever told everyone to wear a scarlet/gray/black tie. If they didn't own one the team provided them with one.
Do any of the back-ups have potential (size/skill/strength) to play WDE or Viper or whatever Urban calls it? We could use the depth on the D-line and it sounds like LB is pretty full at the moment.
I only count it because the NCAA counts it. If they didn't, I wouldn't.
4 days left! Keep on voting!
An Iowa guy just won not by pin. Now it's guaranteed that we won't be sharing the title. UNDISPUTED!!!
Edit: we're leading the fencing championships right now!!!
He might wanna beef up. At 250 he's still 35 pounds under the limit.
http://www.ncaa.com/championships/wrestling/d1/championships-schedule best schedule I could find
hopefully the competitive fire speeds up this process!
I assume they were from the freshman. Collier hasn't learned the ways of the 3 QBs. He's like d'Artagnan right now.
Cardale: Remember that time we played in that cool 3 QB system and won every game by 90?
Braxton: No Cardale, the wins were only by 30. You're mixing up those games with games with kids at Children's Hospital.
Cardale: Oh yeah.
JT: Who cares what the scores were? All I know is that Jim Harbaugh cried after we beat TTUN. Then Saban retired out of shame after losing to us in the CFB semi again. And then we steam rolled TCU in the finals.
The time between the end of the NBA Finals and the start of college football is brutal. At least some summers we get the World Cup or the Olympics. But those other two... *shudders*
please not organic chemistry *cries*
I don't think a clean slate is gonna fix Amir...
bringing the talent home!!!!
I'm going under as well. El Guapo only got 7.3 his senior season. I'm guessing the 6-7 range.
what about a figurative bear?
live and die by the natty
I'm seeing a serious lack of Dolodale in that picture :(
That seems a bit aggressive for just saying he looks like a good basketball player.
I tweeted at him asking about it. Will update if I hear back.