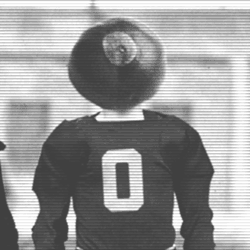 Titus Rubles
---
Pittsburgh, PA (via Cleveland, Ohio)
Member since 11 March 2016 | Blog
Favorites
SPORTS MOMENT: Taking high school to first WPIAL playoffs
NFL TEAM: Browns
NBA TEAM: Cavaliers
MLB TEAM: Indians
Recent Activity
Was that a hint at Anthony Cook being a silent commit!?
Love watching these former basketbucks! Lighty was a personal favorite of mine back in the day and it's great to see him be the star today. I can't help but think that if Scarlet & Gray win it all, it'll only help to continue the good momentum the current basketbucks team is seeing and might help future recruits want to come aboard!
I like it! I saw a lot of people calling for Chip Kelly (a total longshot), but we ended up with someone with the same philosophy. Now I wonder if we are done with staff changes or if there are more to come (i.e. what happens with Warriner). GO BUCKS!
That was a good win for them, glad they showed enough focus, discipline, and energy to whoop a vastly inferior team. That is the type of effort that should have happened against FAU. Oh well, need to continue to improve and we can do some damage in the B1G!
I never said they were the reason we lost, just noting that I didn't think they were on top of their game. I agree that everything you mentioned is why we lost. But still, I thought we played pretty well considering it was against the #2 team in the country.
I'm not normally one to complain about calls, but the refs seemed to do an especially poor job in this game. Maybe it's because I'm a buckeye fan, but it seemed very one sided for a lot of the game. That being said, I though the bucks played well. Loving in particular is stepping up and showing all of the Loving haters on this site that he is a very good player. If Kam can find his stroke from earlier in the season (he did hit a couple nice shots today) and the basketbucks can consistently match this level of play, I believe we will be top 4 in the B10. Now, that is a very big if, as the buckeyes have been extremely inconsistent thus far. All in all, not a terrible day for the bucks. Hope they can continue to build on this.
He's actually shooting 43% from three this year but yeah, same thing
Unbelievable, can't fathom how a team with this much talent can lose to freaking penn state. Their team isn't even good, but somehow we let them come back from 21-7. Things that came back to bite us: offensive play calling (shocker, been our achilles for the past two years), O line play, and most of all special teams. Also doesn't help that the refs blew a blatant PI call that neutralized our final drive. If we beat TTUN, this is still a successful season in my opinon. Time to focus on making michigan our bitch again!!
Bball recruiting definitely isn't on the same level of the Football squad. Seems like he can shoot, hopefully plays good defense. We shall see!
It's been said by many on this thread, but I just want to chime in. This young man is a stud, a class act, any positive adjective you want to throw at him, they all would fit. I truly hope he has a great college experience and that hopefully he can make his dream of playing in the NFL a reality. He seems to be a hard worker, and you can already see he has a great attitude. Wish he could've been a Buckeye, but I'll still root for him wherever he ends up. Best of luck Danny, a true Buckeye!!
What a stud. Bucks looking damn good in the first half. Loving our secondary play!!
I have a feeling we are going to hear all this talk about Shaun Wade up until the deadline..does anyone know if he has set a date to announce yet? It seems weird typing that because he already "announced" that he's committed to the good guys. At this point, its anyones guess where he ends up, but it sure would be nice to have him in Cbus!
That would be awesome to have L'Christian to play bball and football! I always hoped Terrelle Pryor would do that but tress wouldn't let him. Anyone know urbans stance on this?
Excited to see him suit up for the scarlet and gray! And even more excited for this season to start up!
He's gonna be a beast this year. That crossover against oladipo (a great defender) is one that the rest of the Big Ten is going to see a lot!
**EDIT** I looked it up, and indeed, Caleb is Jake's younger brother. Always good to see the buckeye family legacy (possibly) continue! Best of luck to Caleb, would like to see him end up a Buckeye!
Is this the same Stoneburner family that gave OSU the TE a couple years ago? I think his name was Jake Stoneburner?
Okay, I'll admit it. I initially had a sense of panic when I saw Giddens and MItchell were out, with Grandstaff already gone and rumors (now confirmed) of AJ leaving as well.
That panic lasted all of 10 minutes. Come on Buckeye fans, think rationally. We are keeping our core and best players (Kam, KBD, Lyle, Loving, TT, Tate), adding two young bigs, and from what I'm hearing, it is likely that we add Andre Wesson as well as a really really solid PG in Markell Johnson. Call me crazy, but I actually think that this purge of players could end up being a blessing in disguise. If those guys don't want to be here, they are toxic to the culture. Personally I'd rather have a motivated group of guys that love Ohio State and love their teamates. And don't forget...THESE GUYS LISTED ABOVE ARE STILL QUITE TALENTED!!
Those who are expecting the Buckeye's BBall program to decline could have another thing coming. Go Bucks!
Big loss. I really liked what he said about getting better this offseason and thought he had a chance to develop into a great leader for us.
However, I don't think that this necessarily spells the end of the world for the Buckeyes. I am excited to see Lyle, Kam, Tate, Loving, Diop, Mitchell, and (hopefully) Harris. If we are able to get Markel or Trent Jr. then the future is bright for OSU. All that being said, next year is crucial for the program. Go Bucks!
I coach high school basketball in Pittsburgh and we played against both Lamont Wade and Phil Jurkovec this season. Lamont Wade was very underwhelming as a bball player. I thought that based on athleticism alone he would be decent but he not only had a poor jumper, handles, etc. but he also had a very low motor. Hopefully (and most likely) it is different for football.
As far as Jurkovec, he was a good but not great basketball player in terms of skill. As an athlete, however, he was tremendous and I can see why he is so highly recruited. He had a full court pass that showed off his arm strength and accuracy, and he was quite fluid given his size (6'5"). It seems like he is leaning towards going to Pitt or ND, but it would be great to see him be a Buckeye! Can't wait for this season to start!!