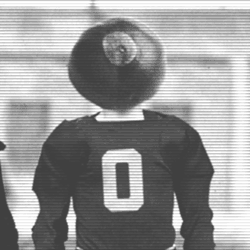 Titus Rubles
---
Pittsburgh, PA (via Cleveland, Ohio)
MEMBER SINCE March 11, 2016
Favorites
SPORTS MOMENT: Taking high school to first WPIAL playoffs
NFL TEAM: Browns
NBA TEAM: Cavaliers
MLB TEAM: Indians
Recent Activity
Crackstreams is where it's at - good quality without dealing with popups 24/7
When did the Office decide stop hosting OSU game crowds? I had gone there for the penn state game each of the past two years, and since it was a great outcome both years, was planning on going again this year. Admittedly, it did seem a little dead last year and I was wondering why, but there was a decent showing 2 years ago!
Went to the game last night and had a blast. Talking some shit to my twins buddies is always a good time, and especially when the pitching matchup is Clev v Gibson. Got a little too close for comfort down the stretch but a win is a win. Take 2 of the next 3 and we're tied for the central with 2 more series coming up against the twins. Looking forward to some important august and September baseball to lead into the playoffs!
Really seems like the additions of Puig and Reyes have helped the depth of this lineup. Jose hitting like old jose means we have legit hitters all through the lineup with no easy outs. I put money on them winning the central when they were +5000 cause Tito is a magician, and it looks like it could pay off.
Heck of a back and forth we got going on here. Lighty balling out
8 star Saturday!! Simon and Henry will both have a major impact at OSU
BOOM! Elite QBs want to play for Day!
Thank you CJ, Keyshawn, and Joey!! CJ provided great leadership all year, even as he was forced to play out of position (should be SG). He hit timely threes against teams all year and again had some heroics against Indiana. Keyshawn really brought his A game at the end of the season and played like a 5th year senior should. And you can't say enough about Joey - that dude was the heart and soul of the team and will be missed dearly. I am very excited about the direction of the program, and think we can have a top 3 B10 finish next year if the guys gel quickly. Go bucks!!
Sheesh I may have spoken too quickly...lets close this out boys!
Looking more and more like the Iowa game (Kaleb allowing space for shooters). This team is not half bad when he plays! Hoping we can continue the good play against MSU - we've been up at halftime both games against them and then fell apart in the 2nd.
This post aged incredibly well. Ahrens absolutely smoked Iowa on Tuesday. I love watching the basketbucks. The end of the season will be fun, and next year will be a blast!
I suspect this will (temporarily) calm the fears that some have over day's recruiting ability. Jack Sawyer is going to be another in a long line of LJs top 5 picks!
BOOM!!!
Genius, but brutal, wordplay with the LLL in the title. That one hurts.
I'll' be at the game in enemy territory, go bucks!
I think we will be just fine with Day as our head coach, but I do wish that Lejond reaffirmed his commitment as he is a very important piece of the class. UFM was second to none when it came to putting an emphasis on recruiting, and I do think he will be missed greatly. Day has big shoes to fill, but I believe in him!!
321
Does anyone know if the OSU team from last year is still going to play, the one with Sully, Craft, Ravenel, and Lighty?
I love that you guys are making this a weekly series! While I love the attention that football gets, Basketball is my first true love when it comes to sports. I think Holtmann will continue the resurgence that began this year, but recruiting is absolutely key in that mission. It'll be great to hear weekly updates on who we are pursuing and who is likely to be the next great buckeye!
Here's how it plays out IMO:
Win 0 or 1 games in the B1G Tournament - 4 seed
Win 2 games - 3 seed
Win it all - 2 seed.
Love the position that Holt has us in, time to rest up and get ready for a deep March run!
Any update on the recruits visit? Could we be seeing a #BOOM anytime soon with Alonzo Gaffney?
I'd say there were more buckeyes, but there were a good number of gopher fans too. Probably 60/40 split in our favor. It was my first time at the Garden and the buckeyes won, so definitely a great time!
Went to the game! Even though we didn't shoot well the defense carried us to a blowout win. Loved the dunk by Young at the end!!
Tate being more aggressive, that's what we need. He and diop are going to lead us. I like how musa started the game...hasn't done a ton since but ya know, he's 17 haha. Like his potential