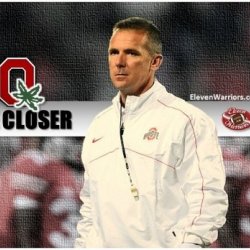 TimmyZ
Member since 20 August 2013 | Blog
Favorites
SPORTS MOMENT: 2001 Bowling Green at Northwestern football game. I was a sophmore at BG and Urban Meyer was our football coach. 30 seconds left in a high-scoring shoot-out and Urban goes for two with an end-around to a WR from Alaska. Ballgame.
COLLEGE FOOTBALL PLAYER: Ever? Eddie George. Current? Zeke Elliot
COLLEGE BASKETBALL PLAYER: Aaron Craft
NFL TEAM: Browns
NHL TEAM: CBJ
NBA TEAM: Cavaliers
MLB TEAM: Reds
Recent Activity
That..... That made my crotch fabric a lot tighter.. My lawd!!
Can we stop calling manziel and Winston "freshman" that won the heisman?? They were RS freshmen. A full year adjusting to college and learning the system. They didn't show up in June and win the heisman in December. I know it's semantics, but it's annoying, IMO.
we haven't had a commit in, like, 15 minutes. WHAT's GOING ON URBAN?!?!?!?
All the more reason to GIVE THE FUC*ING BALL TO CARLOS HYDE in the 4th quar... Goddam it I'm depressed again....
I also thought I heard they were getting out of that realm.
The new design looks amazing! Congrats to all involved in it's development and inception!!
We can, but I think Obama has enough to deal with, such as the petition to get Bieber deported.
Maybe, but I can't pick them out on the schedule.
I've never seen an Ohio State team give up full-court, straight drives to the hoop with the raw efficiency that this team is doing. I looks like a lay-up line out there half the time. Teams in years past, that weren't great scoring teams, could always hang their hat on defense. I have no answers at this point.
I was so disappointed with the way this season ended. Then I come to this fantastic (and free) site and read about all the upcoming players/recruits/positions battles/etc and I get all tingly inside again. I can't wait for spring ball to see how these position battles shake out.
The staff of this site does an incredible job bringing us up-to-date and exciting info on a daily basis. Kudos to you fellas. GO BUCKS!!
me neither. Sounds made up..... like Art Vandelay
I thought I had heard that they were moving Bogard (and Daron Lee) to Linebacker.
upvote if i could. i love me some good snark.
Is it just me, or does Jae'Sean Tate's jump shot look like he's unfolding a rusty lawn chair?
If it's 2am and you're only semi-intoxicated, you're doing it wrong.