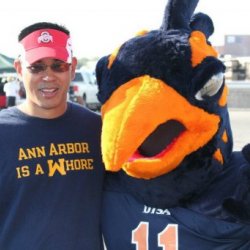 Timmah
from Dublin, OH
Member since 18 December 2012 | Blog
Recent Activity
Wifi would be nice to watch the replays with.
I know we won and it shouldn't be an issue but the reffing sucked last night. At least two missed face mask calls that spun the player around. Lots of pass interference calls that the refs sat on their whistle for, the touchdown on kick off that wasn't, the crazy amount of holding that they let the Sooner offensive line get away with, they were clearing in the bag for the Sooners and I was horse yelling at my tv for all the bad and non-calls.
Is it just me or is it odd that almost half the scoring came off the bench?
That's OK, I gave him one for you
Great stats but they only tell part of the story. We didn't pass against Penn State because they couldn't stop the run and it is always the safest option. "Three things can happen when you pass and two of them are bad." I also think the QB derby played a lot into the fact that we weren't passing well. They were forcing the ball into coverage trying to make the big play with a difficult throw when they should be looking for the open guy and taking what the defense gives us. They were telling us that they were going through their progressions but we could all see they weren't. When you target fix on your first option and stay on him even though he is covered and try to force the ball in there anyway you just aren't making your reads.
JT basically said as much himself when he got the starting job. The QB-Derby was mishandled and instead of driving up performance it drove up mistakes.
Hopefully now that is over with and Cardale has learned that lesson so we can continue to march for number nine.
I was reading on another site and they said Bellisari was hammered drunk passed out behind the wheel and blew a 0.22. JT (as I understand it) was in the .02-.08 range because of the little tolerance for drinking underaged he was cited for OVI and released to Cardale.
Not that I care about Hack-a-sak but you also have to remember that PSU hasn't had a full complement of scholarships for much of his tenure. We know he's not a very mobile passer so if his line can't give him 4 seconds to throw it he's toast. Playing with walk-ons is no way to compete in the B1G.
You guys pick the weirdest spots to stop the recordings.
He's XBrax1. The system has been upgraded ;)
I really think the offense moves better with JT. Cardale just doesn't have the wiggle JT does on those zone reads that play heavily into our offense.
The "Sleep monitoring" program at Tennessee sounds an awful lot like a defecto bed check. "Why didn't you hit the rack until midnight?" "What were you doing?"
If he would have won National Championships, we wouldn't have wanted to fire him. Instead he turned into a drooling window licker when we faced the teams up North.
My old rear projection TV was on wheels. With that said, no donation place wanted it when I updated so it when out on the curb with the remote taped to its side and it was gone that night.
Not just a lineman, their Nose Tackle.
Kyle, you're talking about this year's game, he was about 2006.
Not true, they had a Ray Guy award winning punter that was going to be a Junior there at Florida when Townsend signed. Florida was the school he always wanted to go to but they didn't have a spot for him until late in the process so when they offered, he jumped.
I believe it's "Ixnay on the wittertay"
Cardale threw a pass out of bounds deep into the Ohio State sideline during the Title Game and JT was still on his scooter but he caught Cardale's pass. Just thought it was funny at the time.
I was in the East endzone top level Standing behind some Duck fans.
Chance favors the prepared mind.
You have to remember who was the running back at the time when Pryor started playing... Beanie Wells. I think Pryor adopted Beanie's running style aka the "DB Launching Pad"
I think we've all seen teams get burned by trying to knock it down too.
I am hoping that they come to a stadium near me in a few weeks.
For you see, I live in Dallas...